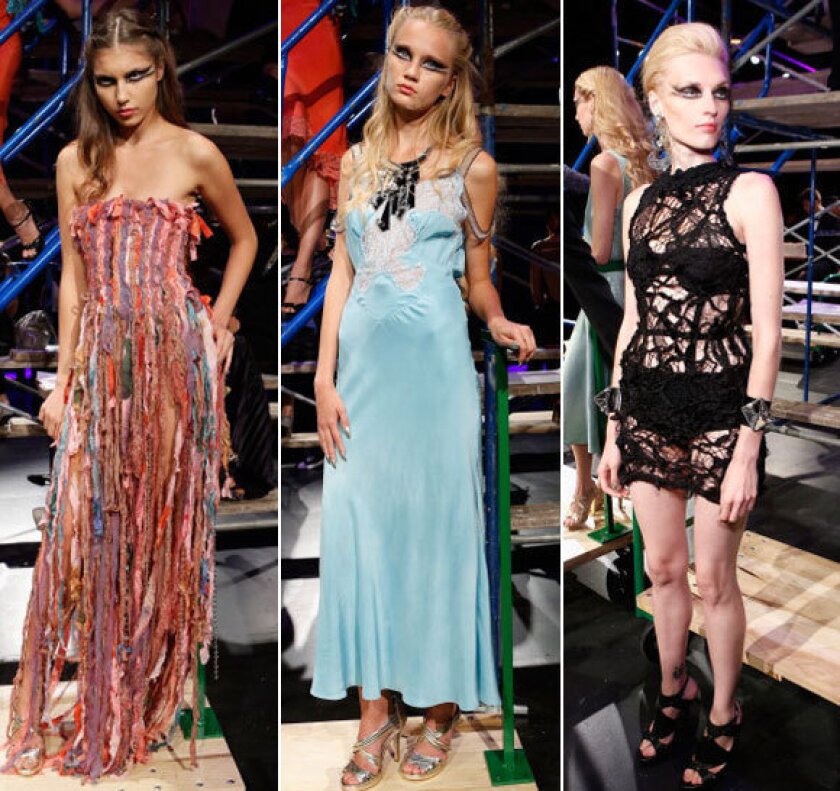 Fashion Critic
NEW YORK – Favorites of First Lady Michelle Obama, Beyoncé, Rihanna and others, Karen Erickson and Vicki Beamon built their business on jewelry design. They have since expanded into ready-to-wear, showing their second collection on Sunday with an installation at Lincoln Center. The designers created a spectacular tableau vivant of models and fashion muses such as Chicago boutique owner Ikram Goldman, DJ and actress Becka Diamond, and socialite and beauty biz entrepreneur Julie Macklowe wearing their designs in silk, lace and crystal.
The soundtrack of mystical music was provided by the collective called UFO.
Photos: NYFW Week celebrity sightings
The inspiration: William Klein's 1966 cult film, "Who Are You, Polly Maggoo?," a satirical sendup of the fashion industry.
The look: Jewelry for the body. Cocktail dressing in rich shades of violet, magenta, coral, blue and black with lingerie influences and decadent details. Silk slip dresses worn with knit or beaded shrugs; knit gowns with cobweb backs, crystal straps and beaded bodices. There were also dazzling jewels aplenty, including crystal collars, headbands and drop earrings.
The scene: So visually stunning, people just wanted to linger. It didn't hurt that they were serving spiked shaved ice treats.
The verdict: Gorgeous, but in an intimate, personal way. It was fun to see the lingerie-inspired slip dress of 1990s fame making a comeback. And the pretty beaded shrugs have a lot of appeal as a way to jazz up that black dress that's already in your closet.
ALSO:
New York Fashion Week spring-summer 2013: Tracy Reese
New York Fashion Week spring-summer 2013: Marlon Gobel
New York Fashion Week spring-summer 2013: Diane von Furstenberg
Bottom photos: Looks from the Erickson Beamon spring-summer 2013 collection shown during New York Fashion Week. Credit: Cindy Ord / Getty Images.

---