14 budget-friendly eats on Jonathan Gold's 101 list
If you're looking to make your way through Jonathan Gold's 101 Best Restaurants list on a budget, the following are 14 restaurants on the list that won't break the bank — from bowls of Chongqing-style noodles to tacos to things on toast to plates of Thai barbecued chicken.
Guerrilla Tacos is perhaps the most vivid illustration of what is possible in Los Angeles, a chef who worked with the likes of Gary Menes, Walter Manzke and Alain Ducasse ditching the world of fine dining to make tacos in a truck: carnitas made from sustainable Cook Pigs Ranch pork, tostadas with the same Santa Barbara uni sushi chefs covet, swordfish tacos with peak-season Brentwood farmers market corn — even the occasional Perigord truffle quesadilla. It's essentially a $115 tasting menu, except the ingredients are served on tortillas, the sauces are both fresher and better, lunch is maybe 10% of the price, and you eat it sitting on a curb.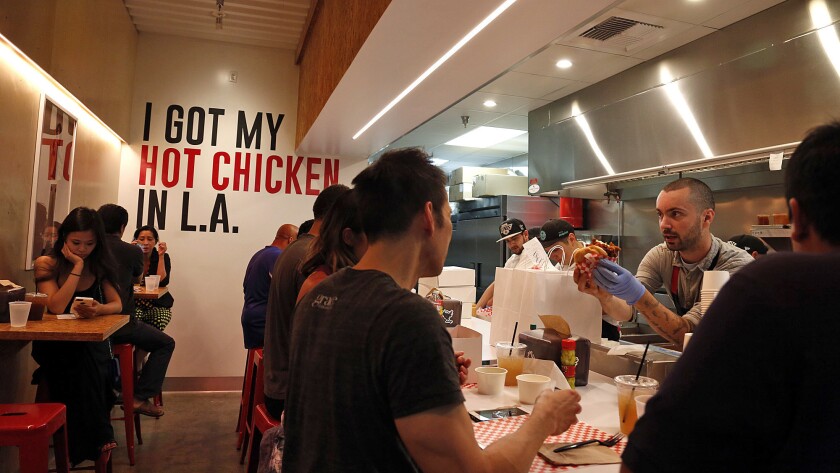 Under the direction of its manager George Yu, Far East Plaza has become the white-hot center of the new Chinatown food scene — if you go on a weekend afternoon, the line for the life-changing hot fried chicken at Howlin' Ray's may snake through the mall, around the stand selling panda backpacks and chirping toys, past the wonderful coffeehouse Endorffeine, the vegan-friendly ice cream shop Scoops and nearly all the way to Chego, Roy Choi's takeout restaurant, whose rice bowls topped with Technicolor concoctions of rib-eye, tofu and pork belly, tossed with a rainbow of spicy sauces and more Asian vegetables than you could identify on a snap quiz, jump-started the revival in the Paleolithic era of 2012. Shaanxi-style Qin serves slippery Guilin noodles and Chinese pork sandwiches; the Taiwanese street-food restaurant Lao Tao opened in mid-September. Alvin Cailan, the auteur of Eggslut, started Ramen Champ upstairs and has Unit 120, which he operates as a restaurant incubator: Amboy sold pork belly on banana leaf out of its window until it was more or less replaced by Easy's Burgers; Monday nights, see crunchy, dense Detroit-style pizza; and weekend evenings see Chad and Chase Valencia's semi-permanent Lasa, a tasting-menu restaurant at the forefront of modern Filipino cuisine.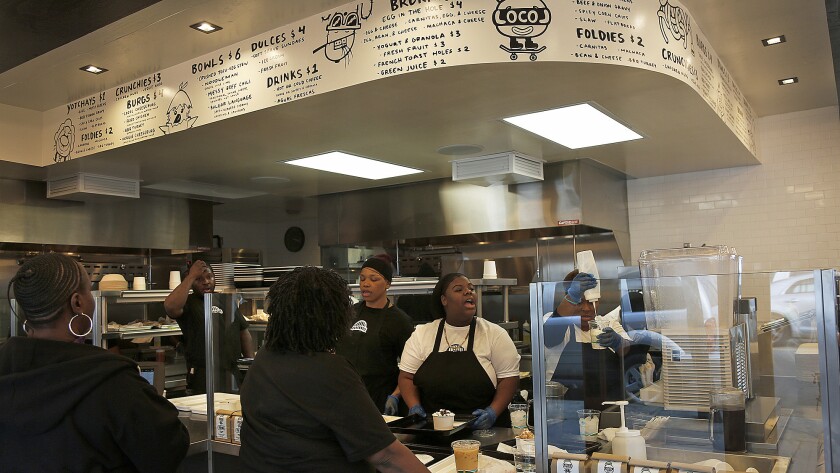 The burgers and sandwiches are served on soft, griddled buns developed by Chad Robertson of the famous San Francisco bakery Tartine. The flat, bean-filled tacos are "foldies," stuffed with carnitas or spicy barbecued turkey. The employees are nearly all from the immediate neighborhood. And you'd think that the involvement from high-profile chefs would result in a slick product, but the food feels handmade, inspired by the neighborhood rather than imposing itself on it. If the future of the food movement results in places like Locol, we may be in better shape than we'd thought.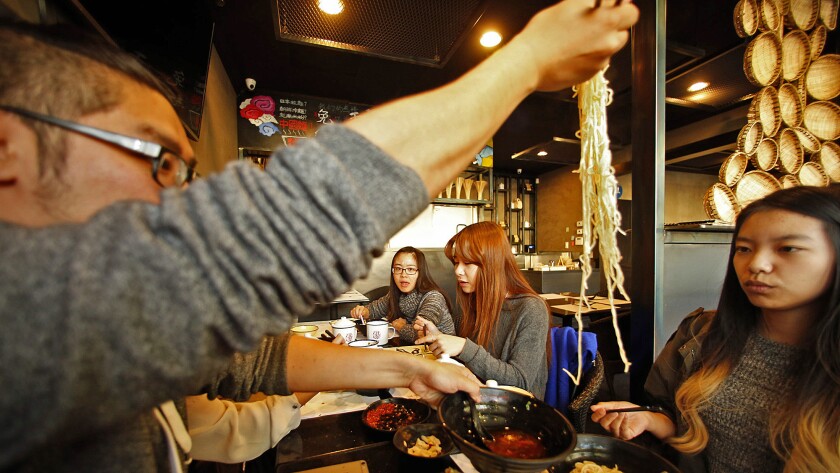 There are other Sichuan noodle shops in the San Gabriel Valley, but there is nothing quite like the Chongqing-style noodle house Mian, opened by Tony Xu, the chef behind Chengdu Taste. The flavors are bright and clean, informed as much by the tart funkiness of Sichuan pickles as by pure chile heat, and the handmade noodles have an integrity and chew you might associate with good Italian pasta. The spicy beef noodle soup is excellent, easily as good as the renowned versions at No. 1 Noodle House in Rowland Heights or Dai Ho in Temple City, but the draw here is probably the zhajiangmian: noodles with a mean streak, a potent lashing of hot chile and oil, and laced with just enough numbing Sichuan peppercorn.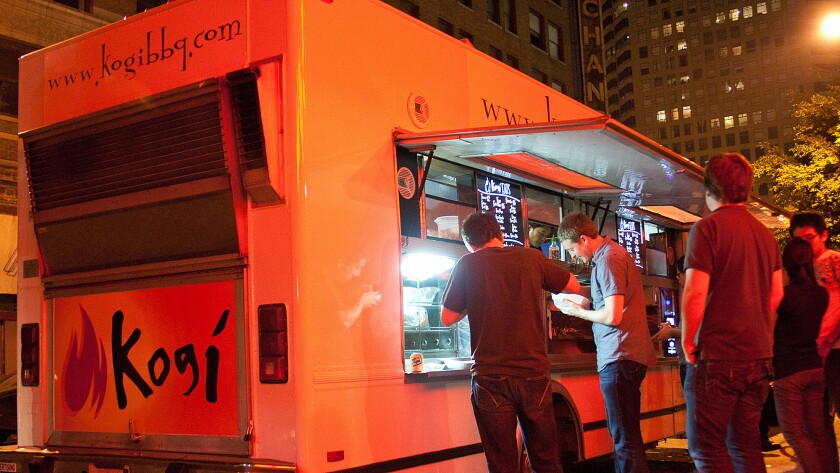 Kogi is cheap, unbelievably delicious and unmistakably from Los Angeles, food that makes you feel plugged into the rhythms of the city just by eating it. The new-food-truck revolution in America had to come from somewhere, and it is the luck of all of us that it happened to start here.
The last year has seen the grilled-meat skewers at Bar Moruno and the handmade pasta at Knead join the fish stews at Bombo, the modernist falafel at Madcapra and the Thai-style chicken rice at Sticky Rice. DTLA Cheese may not be the largest cheese counter in Los Angeles, but it is among the most interesting, stuffed with an ever-changing selection of small-producer rounds from France and the northeast U.S., an encyclopedia of barnyard smells. Belcampo draws crowds for its wonderful cheeseburgers and for its butcher shop featuring grass-raised meat raised in the shadow of Mt. Shasta; Wexler's Deli for its superb custom-smoked lox and pastrami; and Eggslut for its breakfast sandwiches. Owner Adele Yellin has managed to renovate the old market, a downtown fixture since 1917, without losing the splendid carnitas from Villa Moreliana, the dried chiles at Valeria's or the gorditas from Roast to Go. There has been controversy. But people on both sides of the gentrification debate seem to agree on the Eggslut poached egg with potato purée.
There are other restaurants serving cauliflower hash, organic-rice bowls with sorrel and leafy tartines. Jessica Koslow is not the only chef who lacto-ferments chiles for hot sauce, prepares turmeric tonics and finds a way to slip a poached egg onto almost everything. But when a long, lazy morning comes around, it is easy to find yourself slipping into the endless queue outside the tiny restaurant, feeling for a while like a real citizen of the town.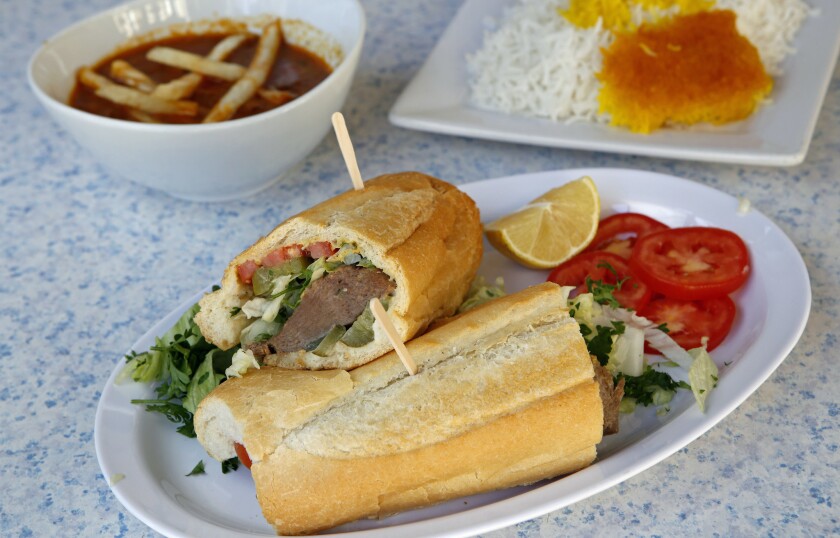 An Attari sandwich is close to a perfect thing: a length of toasted French bread, a layer of beef tongue, a cutlet, or the vivid-green herb omelet kuku and a few spiced, supertart Iranian pickles. You're probably going to want some of the eggplant, stewed down almost to a jam and served with a tangle of crisp onions, or possibly a bowl of the thick vegetable soup called osh. But if you're here on a Friday afternoon, the obvious choice is ab-goosht: mashed chickpeas and simmered lamb served with a basket of lemony herbs, thin flatbread, and a cup of their essential juices to enjoy as a soup.
I'm happy to eat at places like Maple Block or Barrel and Ashes, where the barbecue is really good, and you can wash it down with craft beer instead of strawberry pop. But the best barbecue in town still comes out of the battered steel pits down at the original Bludso's in Compton: deeply smoked sausages, lovely chickens and brisket that sometimes seems to flow from plate to mouth more as kind of a beef-flavored plasma than it does as actual meat. Kevin Bludso is also behind a fancy barbecue restaurant up on North La Brea Avenue (also one in Melbourne, Australia, of all places), but Compton is the place to be when the urge for barbecue strikes.
It is Serge and Sossi Brady who have defined the local Lebanese-Armenian kitchen in Hollywood since at least the mid-1980s with their splendid array of the garlicky small dishes called mezze; roast chicken and barbecued quail, fried sardines and grilled sausages; Lebanese wine and house-made jallab. The photomurals of the Cedars of Lebanon have faded, but the cooking becomes more vibrant year after year. Try the crisp, rose-scented knafeh for dessert.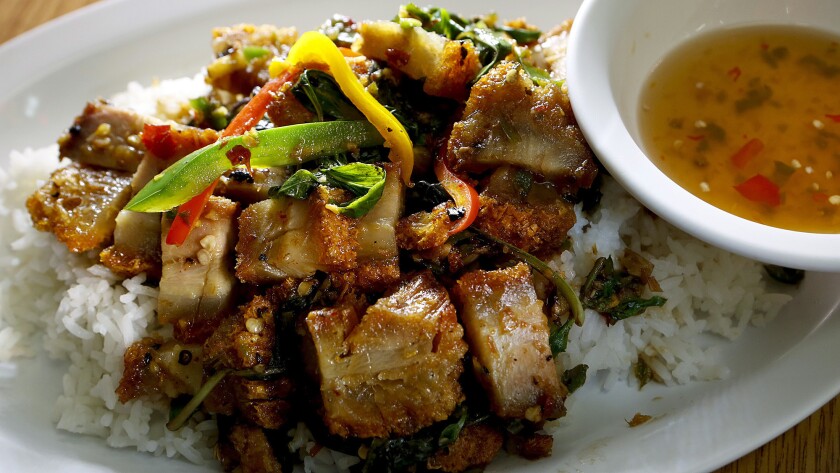 What Sapp serves is Thai food cooked for people who eat Thai food every day. as long as I've been going there, as many meals as I've eaten, I basically get the same thing: the funky, spicy, glowing compendium of beef broth, ground blood and offal called boat noodle soup, which may be my single favorite dish in Thai Town. I mean sometimes I get it without the offal on mornings when boiled liver just seems too much, and if I'm with someone else I make them get the jade noodles, tinted green with purèed spinach and tossed with Chinese barbecue, or the fragrant duck noodle soup. My kids grew up on the barbecued chicken.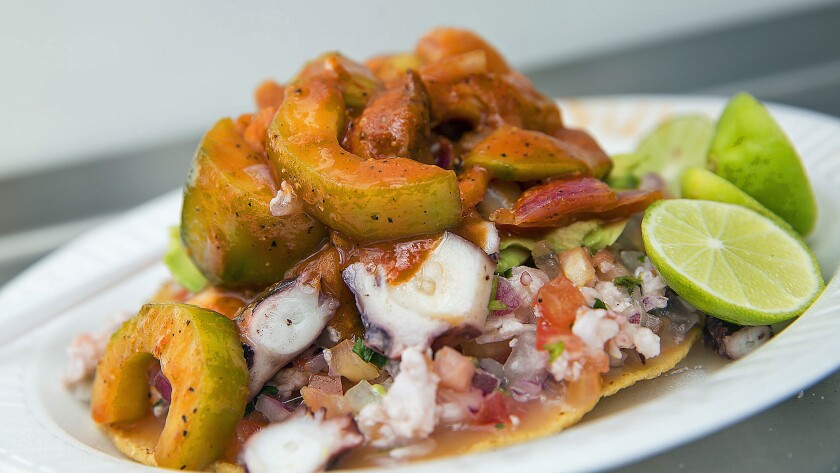 If you want to understand Los Angeles in a single bite, you should probably escape that line at Pink's and find your way down to the Mariscos Jalisco truck out in Boyle Heights. Order a taco dorado de camarones — you can get away with a simple "shrimp taco." The taco will be fried crisp around the edges but slightly leathery toward its middle, moistened with a fresh chop of tomatoes and onions, with a bit of ripe avocado on the side. When you chomp into it, the sensation is of salt and corn and clean oil, a hint of spiciness, a bit of tartness from toasted cheese, and then the subtler crunch of well-handled shrimp. Raul Ortega has been making these tacos on this patch of street for decades; he lives in the complex just across the street.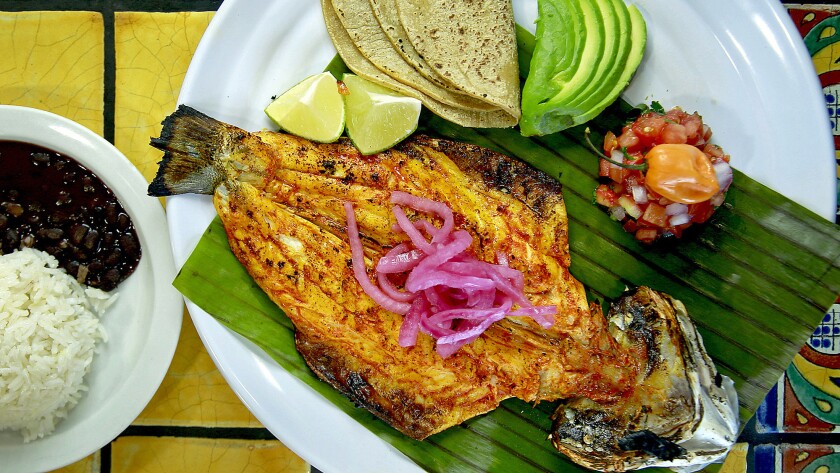 Chichén Itzá, a lunch counter in the La Paloma complex near USC, is the most serious Yucatecan restaurant in town, specializing in Mayan dishes like codzitos, egg-stuffed papadzules, and cochinita pibil that may have pre-dated Columbus, as well as modern Yucatecan dishes such as poc chuc and the Merida version of Lebanese kibbe. Wash it down with vivid-green drink made from the chaya leaf or the refreshingly tart agua fresca made from guanabana.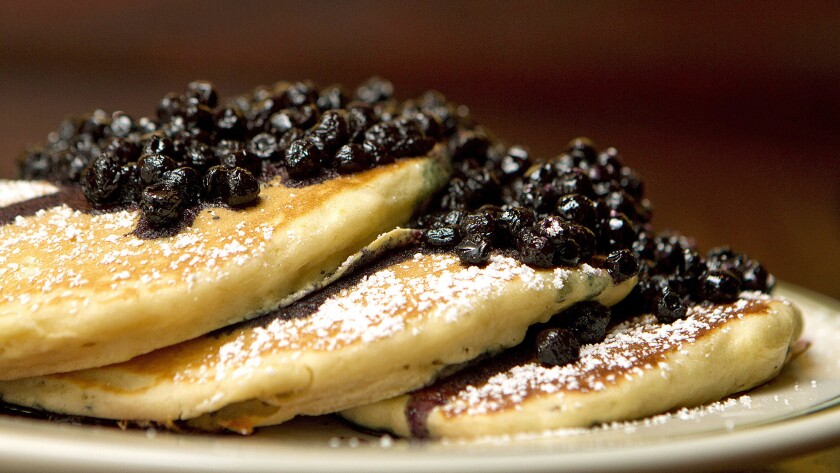 Nickel may attract more loft-dwellers than artists these days, there are leeks and fontina in scrambled eggs, and the pastries go beyond bacon-maple doughnuts now, but this is still deep downtown, a half-block from the infamous stretch of 5th Street that troubadours like Tom Waits used to sing about. Pancakes and thick-cut bacon, fried catfish and corn cakes, Lowrider Burgers and Hangover Helper — that's why you go to the Nickel, which caters as much to the local street people as it does to the tax attorneys who roll in on skateboards.
ALSO:
Jonathan Gold's top 10 restaurants
Jonathan Gold tells you where to get brunch
---
Get our weekly Tasting Notes newsletter for reviews, news and more.
You may occasionally receive promotional content from the Los Angeles Times.