5 great fish tacos in L.A., and why you need to drive to La Puente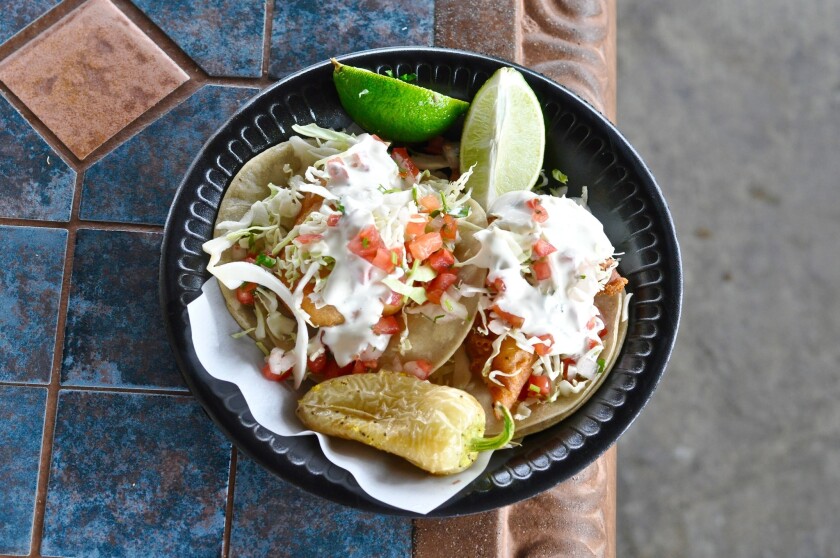 If you love fish tacos and have the misfortune to live in Los Angeles rather than San Diego or Baja, you've probably already got a folding chair with your name on it in the parking lot where Ricky Piña parks his fish taco truck in Los Feliz. In which case we've probably seen you there.
But there are other very good fish tacos in this town besides Ricky's — although not enough of them. Here are a few to try out, in alphabetical order since you should just eat them all.
1. Best Fish Taco of Ensenada

This low-key taco stand is not, of course, in Ensenada, but on Hillhurst in Loz Feliz. It's a Baja-style taqueria — with an outdoor patio as big as the shop — and a counter inside where you can watch the fish being fried in vats of oil. There's also with a giant salsa bar. The fish here (they have shrimp too) is battered and fried almost tempura light, then served to you with shredded cabbage on a pair of (sadly not house-made) tortillas. Load it up with pickled radishes and crema, grab a bottle of hot sauce and head to the patio. 1650 Hillhurst Ave., Los Angeles, (323) 466-5552, bestfishtacoinensenada.com
2. Colonia Taco Lounge

If you have to ask if it's worth driving to La Puente for Ricardo Diaz's tacos, then you haven't been to Colonia Taco Lounge. It's not only worth the drive, it's maybe worth getting a hotel room. The fish taco here is made of fried mahi mahi, bacon aioli, cabbage and pico de gallo — all on a house-made corn tortilla. Yes, we said bacon aioli. Obviously, get more than one. Instead of beer, try one of the many chalkboard special cocktails — a pisco cooler, or something lovely called a Berries and Rye. 13030 Valley Blvd., La Puente, (626) 363-4691.
3. Loteria Grill

Jimmy Shaw's tacos are beautifully orchestrated and small enough to get quite a few of them — which is of course why they make a sampler. At the original location, at the Original Farmers Market beside the Grove, you can sit at the counter and watch your corn tortillas being made. The fish taco is a classic, with beer-battered red snapper, shredded cabbage, pico de gallo and aioli. Wedge of lime, extra hot sauce if you want it. 6333 W. 3rd St., Los Angeles, (323) 930-2211, loteriagrill.com.
4. Say Fish Tacos

At Mark Alberto's taco truck, the fish tacos are the kind you want to eat on a beach in Ensenada — or actually, Sayulita, where Alberto opened a four-stool taco stand called Sayulita Fish Taco in 2011. Two years ago, he brought a truck to L.A., which makes sense, since he's originally from Long Beach. Alberto covers the fish in a garlic and beer batter, then fries them and tops them with shreds of cabbage, chopped tomato and his own special ST sauce — it's a creamy, spicy sauce made with dill cream and his secret spice blend. And he makes his own tortillas. sayfishtaco.com.
5. Taco Nazo

There are six locations of this Baja-style fish taco stand, but maybe head to La Puente, since that's the original — and you're already going there for Colonia Taco Lounge, which is conveniently Right Next Door. Taco Nazo started in 1978 as a lunch truck, and the original stand is still run by the owners; the other outlets are run by their kids. These tacos are composed of a lot of battered fish, pico de gallo, cabbage and crema — very traditonal, very good, and only $1.99 each. There are also burritos, tostadas and seafood cocktails, but those are if you're still hungry after your tacos. 13032 East Valley Blvd., La Puente, (626) 333-1166, taconazo.com.
Because taking pictures of food is almost as much fun as eating it, on Instagram latimesfood.
ALSO:
Where to get tacos in and around Pomona
The McRib is back! But how do you find it?
SIGN UP for Jonathan Gold's Counter Intelligence dining newsletter >>
---
Get our new Cooking newsletter.
You may occasionally receive promotional content from the Los Angeles Times.