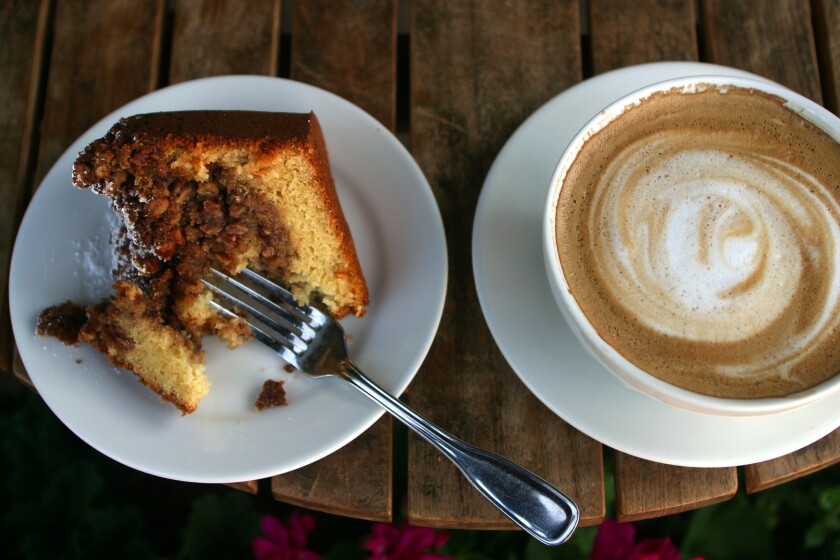 Some mornings, you just want to dig into a thick slice of coffeecake.
Whether topped with a crumbly streusel or studded with chocolate chips, layered with crumbled bacon and sautéed tart apple, or simply flavored with a hint of cinnamon and the gentle tang of buttermilk or sour cream, coffeecake is a no-fuss way to start the day. Grab a slice and go, or savor it in the quiet of an early morning as you nurse a strong cup of coffee.
Here are six of our favorite coffeecake recipes to help you start your day off right.
Heirloom Bakery and Cafe's sour cream coffeecake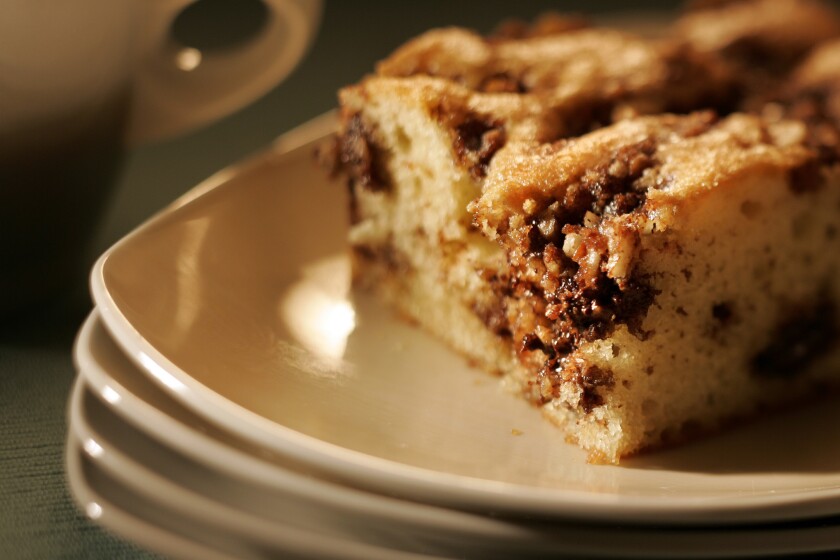 You'll love the light texture and subtle tang of this simple coffeecake, marbled with a deliciously crumbly topping of brown sugar, cinnamon, pecans and chocolate chips. A slice of this cake is sure to brighten any morning.
Atlantis Steakhouse coffeecake
Coffeecake doesn't get much better than this recipe. Rich, tender butter cake is baked up with a sweet pecan filling and topped with a crumbly, aromatic streusel in this version served at the Atlantic Steakhouse in Reno. Savor a thick wedge of the cake for breakfast, or any time of day for that matter.
Apple bacon coffeecake
This coffeecake starts with a rich, cinnamon roll-type dough. Roll out the dough and sprinkle over sautéed bacon bits along with tart sliced apple sautéed with cinnamon, a touch of maple syrup and a little amaretto (the almond is subtle and pairs well with both bacon and apple). Lightly drizzle a glaze over the cake and serve it warm. Chunks of bacon and apple spill out — it's a wonderful play on flavors with just a hint of sweetness.
Sweet Butter's coffee doughnut muffins
Kind of like a miniature coffeecake baked into muffin molds, these treats are like some of the best hits of breakfast rolled into one, with a doughnut-like cake baked in muffin tins, then rolled in sugar mixed with espresso powder for added fun. Go ahead and try to eat just one.
1881 Coffee Cafe's Dutch apple walnut loaf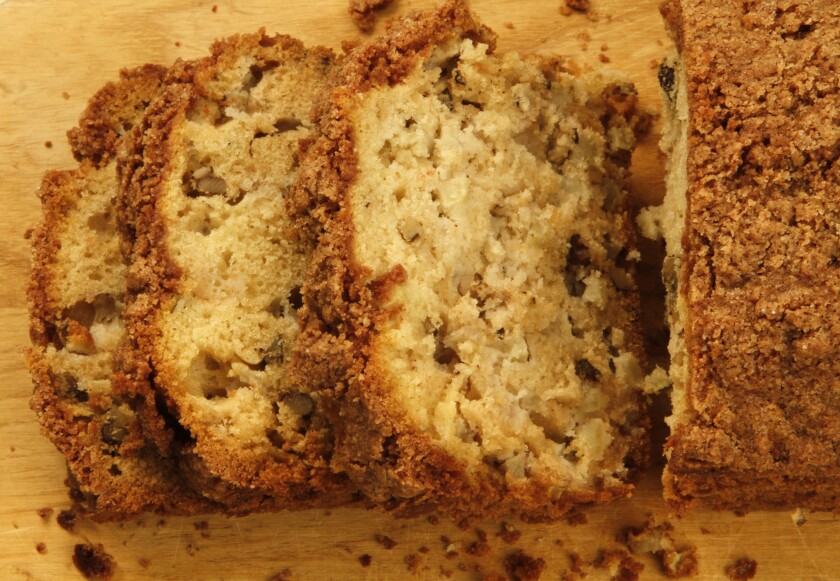 You'll be smitten with this recipe before it even comes out of the oven, with scents of cinnamon and apple perfuming the kitchen as it bakes. Cooled, the wonderfully crumbly topping reveals a light and fluffy loaf. It's only slightly sweet with a gentle tang from buttermilk, and with little chunks of apple and walnut throughout. Paired with a good cup of coffee, it's the perfect way to start to any day.
Rosie's pecan coffeecake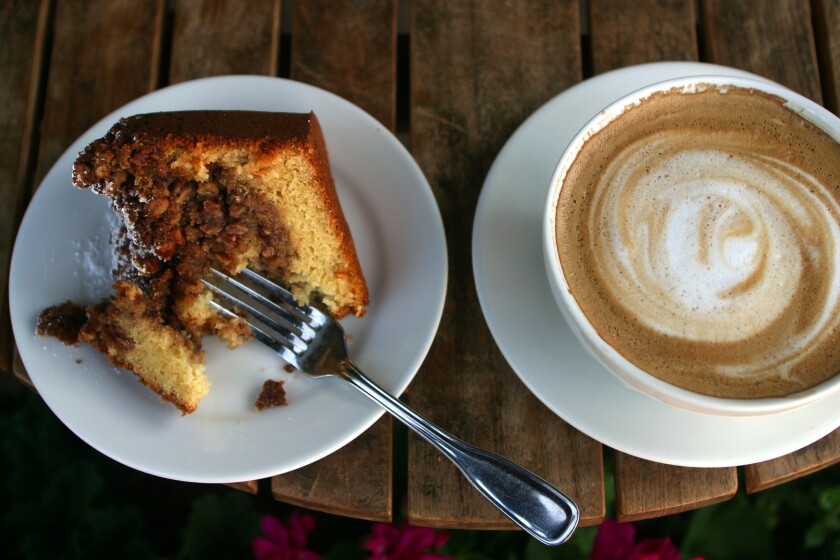 Sometimes it doesn't get any better than an old-fashioned coffeecake laced with brown sugar and pecans served alongside a cup of Joe. It's enough to turn any morning into a good one.
Love baking as much as I do? Follow me @noellecarter
ALSO:
7 great chili recipes to warm you up tonight

Shrimp for dinner: 4 recipes with fewer than 350 calories
There's a series of aphrodisiac dinners being offered in Beverly Hills
---