6 great weeknight chicken ideas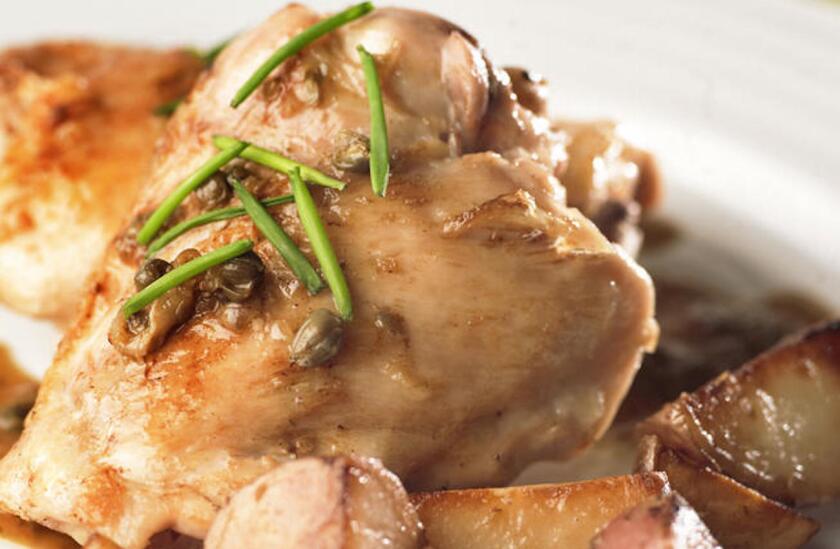 Why is chicken so popular? Well, it cooks pretty quickly. And depending on what you buy, it can be both flavorful and diet-friendly. It's versatile -- you can combine it with almost any flavor combination. Perhaps best of all? It's easy. Roast a whole chicken, or pick up your favorite pieces to cook on their own. Chicken doesn't have to be complicated, especially on a busy weeknight. Here are some ideas; just click on the photos for the recipes.
Old Venice's Greek lemon chicken
It only takes a handful of ingredients to make this tempting dish, roasted chicken and potatoes flavored simply with fresh lemon, oregano and rich olive oil. Serve the chicken and potatoes with a little of the flavored oil spooned over the top.
Daikon and grilled chicken chopped salad
For a dish that's both flavorful and low in calories, combine simple grilled chicken breast meat in a bowl with nappa cabbage, daikon, carrot, cucumber, green onion, cilantro and radish sprouts. Toss the dish with a bright dressing of lime juice, fish sauce, sugar and fresh black pepper and that's it..
Chicken thighs with honey, olives and oregano
Chicken thighs are marinated with a simple medley of flavors: red wine vinegar, olive oil, capers, garlic, oregano and olives. Just before baking, the chicken is topped with a little wine and honey, the flavors slowly harmonizing as the thighs bake to golden brown perfection. Don't be intimidated by the total time on the recipe; while it does require a little advanced preparation and marinating time (this can be done first thing in the morning before you start your day), there is very little active time involved.
Tuscan chicken stew
Chicken thighs are braised with white beans in a light tomato sauce, and the stew is finished with fresh spinach and lots of grated Parmigiano-Reggiano.
Basque-style chicken
Pound boneless, skinless chicken breasts until thin (this helps the breasts cook evenly -- and quickly). Pan fry the breasts for just a few minutes until done, then, in the same pan you cooked the breasts fix a quick Basque-style sauce. Olives, tomatoes, herbs and rich pancetta come together in a quick and flavorful sauce. Hungry yet?
Braised chicken with capers
It's dinner in a skillet: Pan-braised chicken and new potatoes, flavored with tart capers and shallot and brightened with hints of sherry vinegar and lemon.
Love cooking as much as I do? Follow me on Twitter: @noellecarter
ALSO
From one rotisserie chicken, 25 ideas for dinner
Check out the thousands of recipes on our Recipe Database
6 ideas for the ultimate breakfast
---
Get our weekly Tasting Notes newsletter for reviews, news and more.
You may occasionally receive promotional content from the Los Angeles Times.