This new Little Tokyo restaurant is bottling its cocktails and putting strawberries on your pizza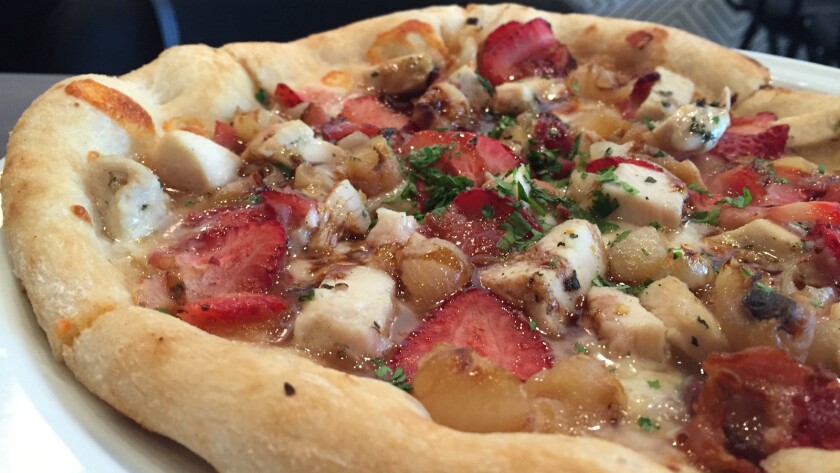 Name: Baldoria. It's a new restaurant and bar on San Pedro Street in Little Tokyo, next to the old Lazy Ox Canteen. The literal translation for the Italian word baldoria is "spree." Look up "spree" at dictionary.com and you'll find it means "a lively frolic or outing." Or more appropriately, "a bout or spell of drinking to intoxication; binge; carousal." Now we're getting somewhere.
Concept: Former Mozza sommelier David King and chef Duke Gervais (formerly of Pizza Antica and Cube) are behind the restaurant. The idea here is to share, and your server will insist you do so — maybe an order of the pistachio-crusted grapes or the smashed fingerling potatoes followed by a couple pizzas and salads for the table.
The food leans Italian, but not quite. There's arancini, ravioli and pizza on the menu, but the arancini is stuffed with braised bacon; the ravioli are filled with short rib then fried; and some of the more colorful pizza toppings include strawberries (more on that later), shiitake mushrooms and shishito peppers.
What you're eating: The pistachio-crusted grapes and the Sweet Mary pizza. Red grapes are coated in a gorgonzola crema, then rolled in pistachio crumbles. Just think of it as the best parts of a cheeseboard, in one bite.
See the most-read in Life & Style this hour >>
If you're the type of person who likes a little sweet with your savory, you may want to order the Sweet Mary pizza. It's topped with diced chicken breast, bacon, cipollini onions, diced strawberries and a drizzle of balsamic. There's also a pizza version of the Croque Madame sandwich made with Black Forest ham, Grand Cru gruyere, a brown butter bechamel and eggs. Because if you're willing to put strawberries on your pizza, why not top it with brown butter and eggs too?
Sip on this: This is the first L.A. bar to serve only house-made bottled or on-tap cocktails — all but one are created by King. The bar also features a guest bartender once every month or so, who creates a single cocktail. The current guest bartender is Michael Nemcik (former wine director at the now-closed Fifty Seven L.A. in downtown L.A.). He created the Velveteen Peacoat, made with rum, Giffard apricot, cherry pistachio shrub, lime and rhubarb. Only 120 bottles were made. If you're into gin, try the Eastside Is the Best Side, made with Junipero gin, muddled mint and cucumber, lime and just a touch of olive juice.
The next guest bartender will be Michael Lay, who created the cocktail menu at Faith & Flower (remember that amazing milk punch?) and is working with Ray Garcia's B.S. Taqueria and Broken Spanish in downtown L.A.
Baldoria also has a selection of craft beer, wine and spirits available neat or on the rocks.
Info: 243 S. San Pedro St., Los Angeles, (213) 947-3329, www.baldoriadtla.com.
Extra cheese or it didn't happen. Follow me on Twitter & Instagram @Jenn_Harris_
MORE FOOD
The Taste food festival returns Labor Day weekend to Paramount Studios
How to make those oh-so-addictive kimchi deviled eggs from Faith & Flower
Cookbook of the week: "K-Food: Korean Home Cooking and Street Food"
---
Get our weekly Tasting Notes newsletter for reviews, news and more.
You may occasionally receive promotional content from the Los Angeles Times.