Beer gift guide: 12 ideas for beer lovers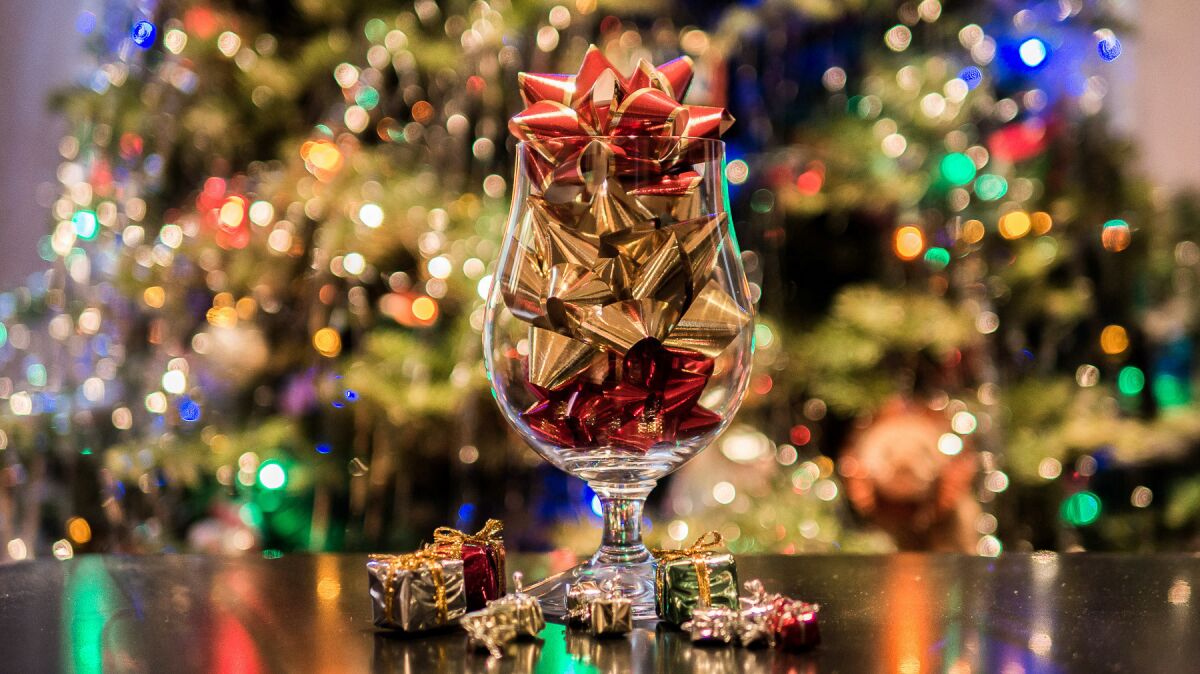 Beer lovers can be really simple to shop for — just give them beer. But if you're looking for something that's a bit more thoughtful than a six-pack of local suds (a perfectly fine gift), here are some ideas.
Books
We've offered suggestions for some of the best beer books around, but new beer books are coming out almost as often as breweries are opening. Several new volumes were released in 2015 that deserve a space in any beer-lover's library.
"The Comic Book Story of Beer" — This history of beer in graphic novel form tells the story of beer's 7,000-year journey from the birth of civilization to the craft beer revolution. The illustrated volume teaches the science and cultural impact of ales and lagers alongside the history, and it's a light and enjoyable way to raise your beer IQ. (Ten Speed Press, $18.99)
"Beer Pairing: The Essential Guide from Pairing Pros" — Penned by Julia Herz (craft beer program director at the Brewers Assn. and publisher of CraftBeer.com) and Gwen Conley (director of brewery production and quality at Port Brewing/The Lost Abbey), Beer Pairing is a pragmatic look at what makes beer and food work together. The reader will first learn about classic pairings and why they've stood the test of time before the authors break down the simple hows and whys of designing your own creative matches. (Voyager Press Books, $25.00)
"Mastering Homebrew" — Randy Mosher is a classic beer book that's required reading for anyone serious about what's in their glass, and "Mastering Homebrew" is Mosher's loving guide to making beer at home. From the absolute basics to the art and science of advanced recipe development, the book is brimming with charts and graphs that demystify the more mathematical elements of cooking up your own ales. (Chronicle Books, $29.95)
"The Beer Bible" — Veteran beer writer Jeff Alworth's long-anticipated "The Beer Bible" was published this year, and the tome lived up to expectations. With more than 600 pages covering beer history and explanations of more than 100 different beer styles, the book is exhaustive but still remains digestible. Even beer know-it-alls will learn a thing or two about their favorite beverage after they crack this one open.
Glasses, Gadgets & Growlers
Buying glassware for the beer lovers on your list is tricky. If your intended recipient is a seasoned beer nerd, chances are their cupboards and sideboards are already overflowing with specialty glasses, but if they're just getting into beer, an assorted beer glass package can be a welcome addition to their arsenal. There are a variety of sets available, but the 6-piece package from Libbey is both versatile and inexpensive (about $20).
Besides glasses, beer geeks tend to quickly amass a collection of growlers (jugs used to buy beer direct from local breweries) from their favorite breweries. In the past, craft breweries could only sell their beer in growlers with their own brand, but now California law allows brewery tap rooms more leeway to fill generic growlers. Look for a model with a 2-liter (or 64-ounce) capacity that uses a bail-top closure instead of a screw-on cap. The vacuum insulated model from Klean Kanteen is pretty much the gold-standard for beer geeks ($70).
The Fizzics is a crazy contraption that claims to help users make "draft quality" beer at home. The counter-top unit runs off a few AA batteries and turns beer bottles, cans and growlers into on-tap suds. A pull on the lever pumps the brew into your glass, and then allows you to froth-up the final ounce or two of the pour into creamy cap of foam. These "microbubbles" are the Fizzics claim to fame, and while the benefit of this device is up to the individual drinker, it does actually work. It's especially useful for drinkers who often fill growlers. It takes some practice to get the hang of the special pour, and the device requires regular thorough cleaning for best results ($170).
Memberships & Experiential Gifts
The Los Angeles Brewers Guild recently launched an "Enthusiast" program for local beer-lovers to directly support L.A.'s growing craft beer scene. The $45 annual membership comes with a special edition beer glass, access to special events, a monthly newsletter and a discount card for participating local breweries and bars. Gift memberships are available.
Beer geeks love to spend an afternoon visiting a few different breweries and tasting rooms, but the logistics of transportation can get tricky. Let someone else do the driving with the LA Beer Hop or LA Craft Beer Tours. Both local companies offer public and private tours to many of the region's best beer destinations that include tasting flights, brewery tours, and beer education. $49-$65.
Stocking Stuffers
Sure, you could type your tasting notes into your cellphone or use one of the beer review apps, but 33 Bottles of Beer pocket-sized tasting notebooks are well designed and a joy to use. The notebooks are available at many local retailers and online for around $5.
The Craft Beer Playing Cards Bicycle-brand deck of playing cards features 53 American craft breweries on the face with an attractive beer-themed design on the reverse. About $5.
There is nothing exciting about a bottle opener, but they are a tool that every beer lover uses every day. If you go this route, stick to the extremely functional choice of the pros: the speed opener ($5 for 2), or elevate the beer-opening experience with a classic waiter's corkscrew like this $12 rosewood model.
ALSO:
Stocking stuffer: barrel-aged cocktails for two
Stocking stuffer: Harissa in a tube for the Sriracha-addicted
Champagne a little too expensive? 9 alternative bubblies for the holidays
Get our L.A. Goes Out newsletter, with the week's best events, to help you explore and experience our city.
You may occasionally receive promotional content from the Los Angeles Times.