Fresh tortillas are a miracle — hot and sturdy, and with a real, honest-to-goodness corn flavor. The best of them are corny and salty, flecked with char and just the faintest hint of lime.
Like bread on a sandwich or an early round pick in fantasy football (is it football season yet?), a good tortilla can't guarantee a superior taco, but a mediocre tortilla ensures a bad one. This isn't news to the city's new crop of Northern Mexico-style flour tortilla enthusiasts, or to a few of the better corn-slinging taquerias around town. But we've witnessed too many fabulous fillings torpedoed by flavorless, stiff little circles of corn that disintegrate at the slightest fold.
This is not the case in the North Valley neighborhoods of Pacoima, San Fernando, and Sylmar, which may boast the highest concentration of excellent tortillas in the region. Almost every place you go, from tortillerias to restaurants, to taco stands and trucks, has excellent corn tortillas made by hand, in house. Here are five places to find great fresh tortillas.
Don Cuco Taco Truck
If you're cruising Foothill Boulevard in the North Valley, you could easily mistake the crowd at the Don Cuco truck for a block party. Music plays, families chat and laugh as they stand around plastic tables and lean against pickup trucks, and a string of people dressed for everything from the gym to the club stretches down the sidewalk. The line moves slowly but orders come out fast, so the wait feels shorter than it looks. However long you wait, it's worth it – the tacos are served on smooth and fresh corn tortillas. Barbacoa and lengua are the house specialties — tender and rich and juicy enough to justify the solid handmade tortillas. And on weekends, you can also fill up on the hearty Southern Mexican specialty morisqueta (rice, beans, tomato sauce).12898 Foothill Blvd., Sylmar.
Carnitas Loya
Jaunty paintings of pigs cover the walls at the Pacoima taco stand Carnitas Loya, which, in case you couldn't tell from the name alone, specializes in carnitas. You can peer inside the kitchen after you order and watch a woman ball up masa, press it flat, then toss it Frisbee-style onto the flattop. The tortillas are puffy and solid, larger than usual in both thickness and diameter, the better to contain a heaping helping of fatty long-stewed carnitas. Just two tacos is enough for a filling lunch, sluiced with a bit of lemon and house salsa, accompanied by a whole pickled jalapeno and perhaps a giant sheet of crispy chicharron. 10424 Laurel Canyon Blvd., Pacoima, (818) 899-4223.
Taqueria Mi Ranchito Truck
You can hear the rhythmic thwacking of cleaver on cutting board at the Mi Ranchito truck from across the street. Carne asada is the specialty here, and it shows – the meat is cooked as whole steaks, then chopped into taco-size pieces. The tortillas are made on the truck, too, thinner than some handmade varieties around, but still pliant and durable, a great vehicle for the carne asada. 13908 Foothill Blvd., Sylmar, (818) 744-2510.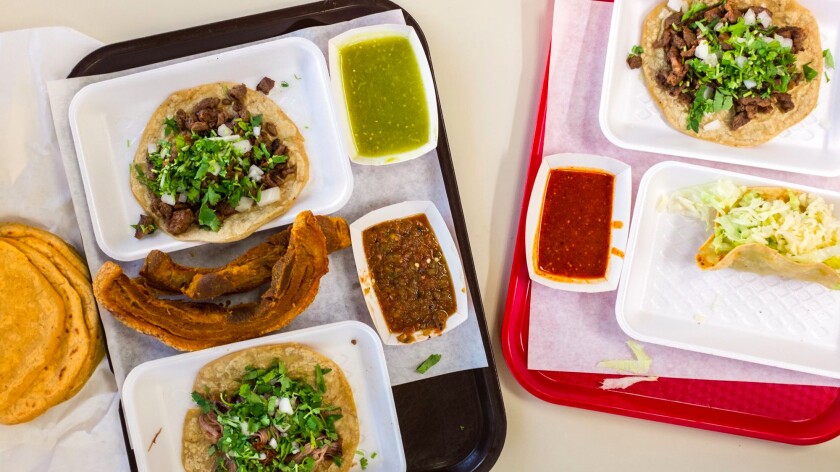 Carrillos
Carrillos bills itself as a tortilleria, so it's no surprise that the tortillas are good — large in diameter but thin, displaying great elasticity without being rubbery. The fillings they contain are great too, particularly the carne asada. They also make chicharrones in long, piggy sticks, salty and fatty and served warm like a savory pork churro. And if you like, you can buy a stack of their outstanding tortillas to take home with you. 1242 Pico St., San Fernando, (818) 365-1636, carrillostortilleria.com.
Birrieria Rosa Maria
When eating birria, the tortillas can be an afterthought. At Birrieria Rosa Maria, it's the other way around. The giant bowl of very good lava-red birria and chunks of tender stewed goat are mostly just an excuse to eat the tortillas. They are made to order in the kitchen, the size of a dinner plate in both circumference and height, with dalmatian spots of char. They are some of the most flavorful tortillas around, noticeably corny but also salty, and they arrive at your table hot. You will burn your fingers and your tongue pulling them apart and eating them, and you may forget for more than a moment that you're supposed to fill them with birria. 13667 Van Nuys Blvd, Pacoima, (818) 897-5085.
ALSO:
Three new craft beer tasting rooms to check out now
A single California restaurant is named to the World's 50 Best Restaurants list
How to make that amazing crispy rice salad (nam khao tod) from Night + Market
---