How to make that amazing crispy rice salad (<i>nam khao tod</i>) from Night + Market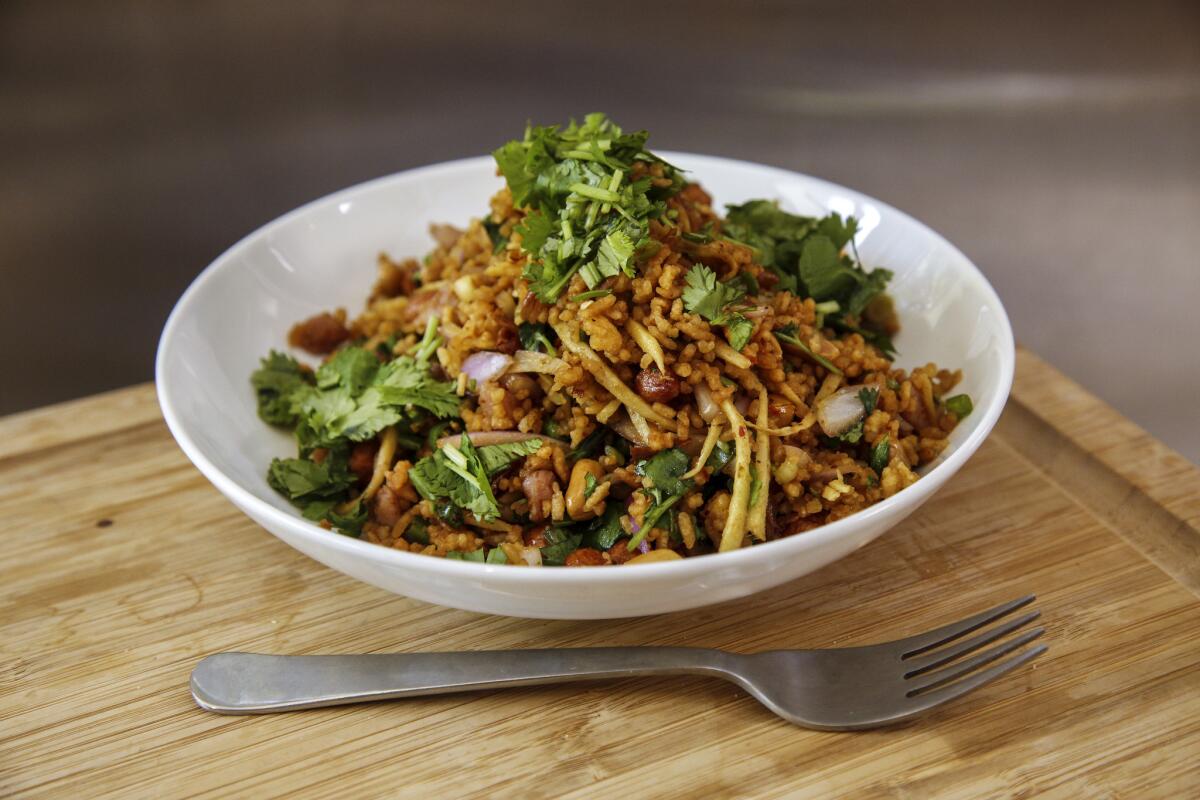 If you've been to Night + Market on Sunset Boulevard or Night + Market Song in Silver Lake, Kris Yenbamroong's Thai restaurants (another is coming soon to Venice), chances are you've experienced his nam khao tod, also known as the crispy rice salad. This is the dish you see on everyone's table, at both restaurants. And everyone orders his or her own — do not even try and share this.
It's an addictive mix of sour, spice and crunch — chile jam, fish sauce, Thai fermented sausage and ginger come together to create a delicious, perfectly balanced symphony of flavors. It's wonderful at the restaurants. It's also fun to make at home.
NAM KHAO TOD
Total time: 20 minutes, plus chilling and drying time for the rice | Serves 4
Note: Adapted from a recipe from Kris Yenbamroong of Night + Market. Fish sauce, rice flour, Thai chiles and Thai fermented sausage can be found at LAX-C supermarket in Chinatown, Bangkok market in East Hollywood and Silom supermarket in Los Feliz. Fermented Thai sausage is uncooked, which is how Yenbamroong uses it.
About 2½ cups cooked jasmine rice, preferably day-old
1 teaspoon salt
1 1/2 to 2 tablespoons red curry paste (nam prik kang ped)
About ½ cup rice flour
Vegetable oil for deep frying
1 heaping tablespoon chile jam (nam prik pao)
1 tablespoon sugar
6 tablespoons fish sauce
2 heaping tablespoons red chile flakes
1 1/2 to 2 teaspoons chopped Thai bird's eye chiles
1 cup slivered red onion
1 cup roughly chopped green onion
1 cup roughly chopped cilantro, plus more for garnish
Juice of 1½ limes
About ¼ cup Thai fermented sausage (naem), crumbled
1/2 cup roasted peanuts
1/2 cup julienned ginger
1. Fluff the rice and spread it out on a baking sheet. Chill the rice, uncovered, until ready to fry, at least 1 hour.
2. Remove the rice and season it with salt and red curry paste, mixing it in by hand to separate the rice into individual grains. Taste and adjust the seasoning if desired.
3. Sprinkle a few tablespoons of rice flour over the seasoned rice and continue working by hand, gently rubbing the rice to separate it into individual grains. Add more rice flour a little at a time as necessary. When you are done, the rice should feel very dry and separate. Return it to the refrigerator for 30 minutes to finish drying.
4. Meanwhile, add enough vegetable oil to a deep pot so it goes halfway up the sides. Heat the oil until a thermometer inserted reaches 355 degrees.
5. Rain in the rice, a handful at a time, to the oil. The oil will bubble profusely and slowly settle down as the rice fries to a light golden color. When the bubbles have subsided, about 45 seconds, remove the rice, using a fine mesh strainer, to a paper towel-lined tray to drain. Repeat with the remaining rice.
6. In a large bowl, combine the chile jam, sugar and fish sauce, stirring or whisking until combined to form a sauce. Stir in the red chile flakes, Thai chiles, red onion, green onion, cilantro and lime juice. Fold in the sausage, peanuts and ginger, then the rice, tossing quickly to mix. Divide the mixture into servings, and garnish each with a little more chopped cilantro. Serve immediately.
Love me some spicy crispy rice. Follow me on Twitter & Instagram @Jenn_Harris_
ALSO:
Try this lemon poppy seed muffin recipe for a quick breakfast or snack
The Taste food festival returns Labor Day weekend to Paramount Studios
This new Little Tokyo restaurant is bottling its cocktails and putting strawberries on your pizza
Get our L.A. Goes Out newsletter, with the week's best events, to help you explore and experience our city.
You may occasionally receive promotional content from the Los Angeles Times.