Bludso's BBQ in Compton closes, to reopen in a new location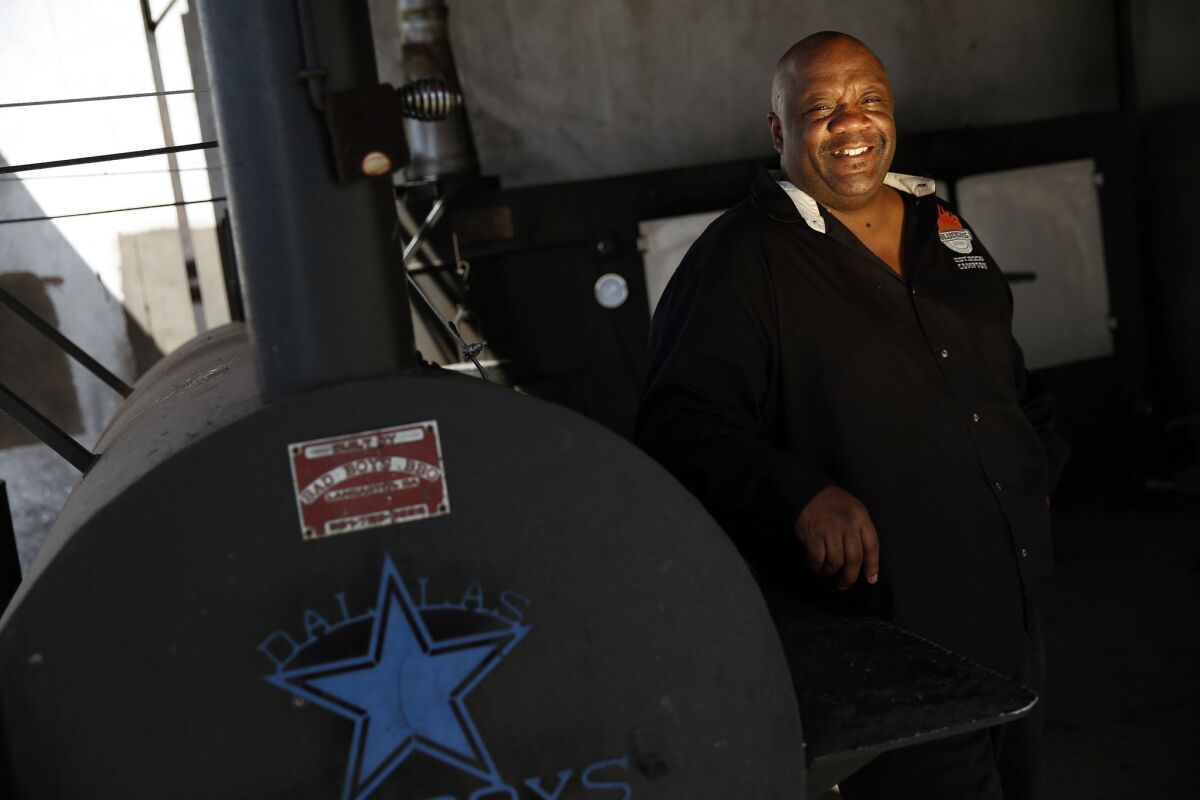 If you love Texas barbecue, you've likely beaten a worn path to Kevin Bludso's homey storefront in Compton, where he's been making some of the best in Los Angeles since 2008. L.A. may finally be in the midst of a relative barbecue renaissance, but good barbecue is nothing new to the part of town Bludso grew up in, nor to the pit master himself, whose late grandmother started making the stuff as a kid in Texas.
Since early September, Bludso's BBQ, a standard on Jonathan Gold's 101 Best Restaurants list (No. 77 this year), has been closed for what Bludso thought would be some overdue renovations. Now he says the closure will be permanent, as he couldn't reach an agreement with the owner of the building. Calm down and stop punching in flights to Dallas on Kayak. Bludso has been looking for a new location, with help from the mayor of Compton, who doesn't want him going anywhere, either.
"I'm not going nowhere," Bludso said Tuesday from his living room couch, a few blocks from the shuttered restaurant where he'd been making barbecue — recently as much as 1,000 pounds a day on five smokers, including the one that was his grandmother's — for the last eight years. "I'm gonna be doing pop-ups and catering. Compton is a priority; the city deserves something even nicer than what we had before."
Bludso says he'll use the break to regroup and to head back to Texas, where he spends part of the year near his family's hometown of Corsicana, about 50 miles southeast of Dallas. "I'm more creative when I'm in Texas," said Bludso, now 52, who had a health scare last month and spent four days in the hospital. "They wanted to keep me longer, but I snuck out." He's working on establishing a headquarters in Texas, a kind of barbecue retreat, where he can train people on the old cast iron and concrete pits he learned on himself and work on his retail line (bacon!) in a little smokehouse.
He's also looking for locations in addition to a new home base in Compton, including one in downtown Los Angeles and maybe one in Orange County. And yes, he's working on a barbecue cookbook. Meanwhile, there is Bludso's Bar & Que in Hollywood, with its nearby commissary, and a Bludso's in Melbourne, Australia.
"I'm gonna be at La Brea a lot," said Bludso, who is also planning pop-up dinners at that restaurant, featuring both local and visiting chefs. And if Bludso's beloved Cowboys keep winning, expect some NFL-related activities as well. (Bludso has been known to roast whole animals to celebrate a good Cowboys game.)
"We want the mother store in Compton to be back open before the end of 2017," said Bludso, who is anticipating doing a lot of catering himself in the next year. "The whole restaurant is in storage" right now, but he figures he can jigsaw his smokers around — now in addition to the five in storage, there are two at La Brea and one at the commissary — as he needs them. As for the new place, he says that he's looking for a location with more parking and more sit-down space, and that he'll wait until he finds what he wants.
"If I can't do it the right way, I'd rather shut it down until we can," said Bludso. "But the quicker we handle this and get back in there, the better. Compton is the priority."
ALSO:
Why you should be drinking whiskey with your Thanksgiving turkey
Want to eat out on Thanksgiving? 20 great restaurants we'd go to
Destroyer in Culver City disrupts the idea of fine dining like nowhere else on Earth
---
Get our L.A. Goes Out newsletter, with the week's best events, to help you explore and experience our city.
You may occasionally receive promotional content from the Los Angeles Times.