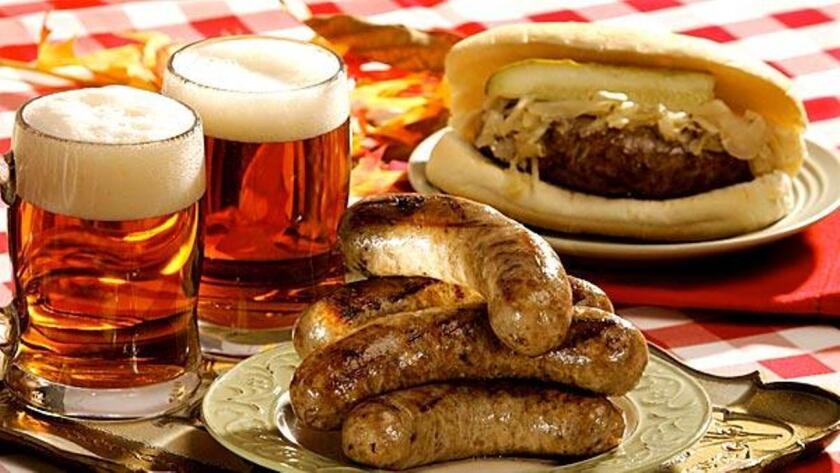 It's officially fall, and that means two things for sausage lovers: Oktoberfest and football. And while you can hit up any number of Oktoberfest celebrations here in the Southland — or buy your own sausages for your next tailgate party — why not make your own bratwurst?
This is a recipe for all you DIY fanatics out there, as homemade sausage can be a project, but it can also be fun.
Bratwurst is a rustic pork and veal sausage ground with a delicate balance of flavorings and spices. Case the sausage into plump, tender links, and they're ready to go.
Though the ingredients are basic, sausage-making can sometimes require special equipment available at kitchen stores or online. Consider purchasing a food grinder. Though not essential (you can ask your butcher to grind the meat for you), a grinder enables you to flavor and season the sausage mixture before it's ground. Hand-cranked and motorized grinders are available, as are grinder attachments for heavy-duty stand mixers. You can also grind the meat with a food processor, just be careful not to over-heat and over-grind the meat.
And while you can easily form sausage patties using your hands, you'll probably want a sausage stuffer if you plan on casing your sausage. Tube stuffer attachments are available for most meat grinders, which are great for small batches of sausages.
Stand-alone stuffers tend to be a little more expensive but are a good investment if you plan on making homemade sausage frequently, or more than a few pounds at a time.
Finally, don't rush the sausage-making process. Give yourself enough time to complete the entire recipe, from purchasing your ingredients to stuffing the links, in one day. Then you can worry about more important things, like having enough cold beer for your party.
BRATWURST
Total time: 45 minutes, plus chilling times | Makes about 3 pounds of sausage
Note: Adapted from recipes by Susan Mahnke Peery and Charles G. Reavis, as well as Bruce Aidells and Denis Kelly. This recipe requires a meat grinder and sausage stuffer. Casings should be properly flushed and softened before using; consult your butcher or the packaging.
1 1/2 pounds lean pork butt
1 pound boneless veal shoulder
1/2 pound pork back fat
1 teaspoon freshly ground white pepper (medium grind)
2 1/2 teaspoons kosher or coarse salt
1 teaspoon toasted and crushed caraway seed
1/2 teaspoon dried marjoram
1/2 teaspoon ground allspice
1 teaspoon sugar
1/3 cup heavy cream
About 3 feet prepared hog casing
1. Cut the pork, veal and back fat into 1-inch cubes. Freeze the cubes in separate bowls for about 30 minutes to firm them up before grinding.
2. Grind the pork, veal and back fat separately through a meat grinder fitted with a 3/8-inch grinding plate into a large bowl set over an ice bath.
3. Combine the meats and fat together with the pepper, salt, caraway seed, marjoram, allspice and sugar. Cover and freeze the mixture for 30 minutes. Remove and grind the mixture again using the finest grinding plate of the meat grinder. Add the heavy cream and mix well, using your hands.
4. Fry a small patty until done to check the flavor and seasoning (the sausage should be cooked to an internal temperature of 165 degrees). If necessary, adjust salt, pepper and other seasonings, then fry another small patty and check again.
5. Stuff the mixture into the prepared casing according to the manufacturer's instructions for your sausage stuffer. Prick any air pockets with a pin and twist off into 4- to 5-inch lengths. Refrigerate for up to 2 days, or freeze up to 2 months.
Each 4-ounce serving: 282 calories; 22 grams protein; 1 gram carbohydrates; 0 fiber; 21 grams fat; 8 grams saturated fat; 101 mg. cholesterol; 302 mg. sodium.
Love cooking as much as I do? Follow me @noellecarter
ALSO:
Sign up for our In the Kitchen newsletter
Five questions for sausage king Alex Lagger at Alpine Village
Craft brewing could be the next boom industry in Los Angeles County
---