When guns and grub collide: Bullets and Bagels shooting club noshes and networks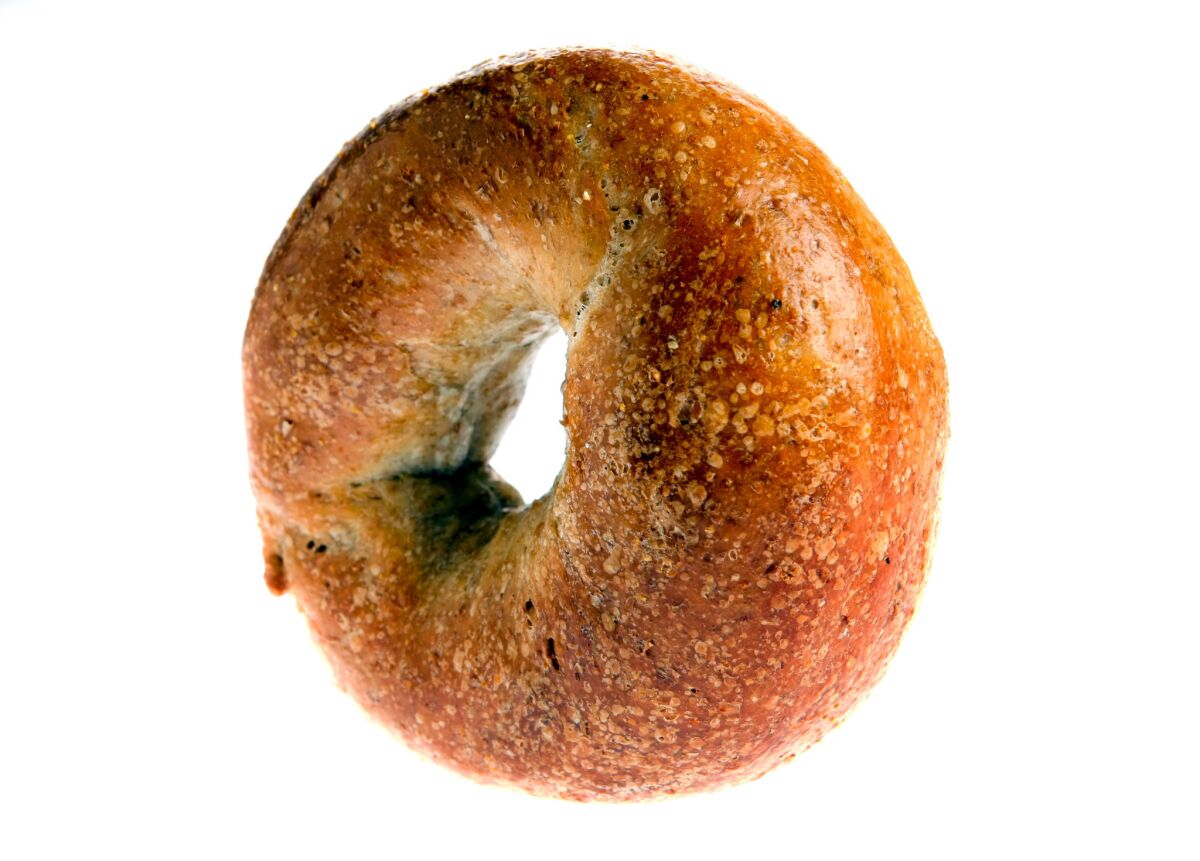 "If you feed them well, they will come." That's the philosophy behind Dr. Fred Kogen's Orange County shooting club, Bullets and Bagels. And the club's tagline? "Ready, aim, schmear."
Kogen, who is a mohel and a physician, started the club two years ago after he put a life-member NRA sticker on his Prius.
"I would show up at brises, and as I'm setting up my stuff to do the bris, guests would be coming into the house, walking past my bumper sticker and invariably comment," Kogen said. "Almost immediately after the bris, someone would say something, like 'Hey, Doc, I like to shoot too.' So I realized there seemed to be enough Jews out there who most people don't realize enjoy the shooting sports."
SIGN UP for Jonathan Gold's Counter Intelligence dining newsletter >>
After looking for Jewish shooting clubs without much luck, Kogen decided to start his own. But he wanted it to be more social than technical. So he brought in some bagels and coffee to the group meetings and events.
Since starting the club, Kogen has brought in food from multiple vendors, including Got Kosher Deli on Pico Boulevard, which makes special pretzel challah and Belgium chocolate challah for the group; Katella Bakery for deli food, bagels, catering trays and alligator coffee cake; Peets Coffee; Mangiamo Gelato; and Bon Jour Bagels in Los Alamitos.
"We certainly do not diminish in any way the importance of networking and noshing," Kogen said. "Noshing is ultimately what people think when they show up to an event, and it's the foundation of the club. We're not so much training people to be law enforcement or military."
And he insists the group isn't political — and everyone is welcome.
"We're non-exclusive, non-political, but we have a Jewish star in our logo," Kogen said. "We're not pushing a hardcore agenda. The events tend to be very friendly and jovial, but safety is our No. 1 concern."
The club has events every two months, with around 100 attendees at each. The next event will be co-hosted by the Israel Weapon Industries, and it's happening at the Mike Raahauge gun range in Corona on Sunday.
It will be a full day of general shooting of handguns, AR & AK rifles, TAVOR rifles and shotguns (with range safety officers and NRA certified instructors); various gun paraphernalia vendors; plus lunch from an Orange County Italian deli.
The event will raise money to support the Friends of the IDF, an organization that benefits social endeavors for the Israeli Defense Forces.
14995 River Road, Corona, (951) 735-7981, www.bullets-bagels.com.
I like bagels with cream cheese on them. Follow me on Twitter @Jenn_Harris_
ALSO:
Google has a food truck ... well, sort of
The Bellwether in Studio City is where all your pork dreams come true
Coolhaus comes out with pastrami and latke ice cream sandwiches. We tried them.
Get our L.A. Goes Out newsletter, with the week's best events, to help you explore and experience our city.
You may occasionally receive promotional content from the Los Angeles Times.