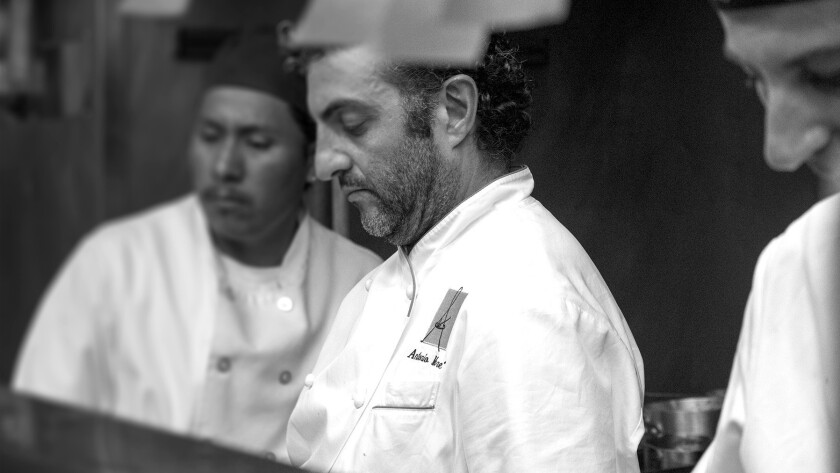 Antonio Murè is chef-owner of Adoteca in Brentwood. Murè was born in Portopalo di Capo Passero, Sicily, grew up in Parma, Emilia-Romagna, and his culinary style blends the traditions of both regions.
He graduated from the Istituto Alberghiero di Stato and worked in restaurants and hotels across Italy, including Il Meloncino in Cortina d'Ampezzo, Veneto. Murè moved to Los Angeles and landed a job as chef at Il Moro. He also has worked at Locanda Veneta and Allegria in Los Angeles and Valentino in Las Vegas.
In 2004, he opened Piccolo on Dudley Avenue in Venice, and then he and partner Paolo Cesaro opened Ado Ristorante and started the Ado brand, which includes Casa Ado in Marina del Rey and Adoteca in Brentwood. At Adoteca he has launched monthly wine dinners. May features Piedmont, and June, Sicily.
On May 12, with the wines of Marco Bonfante, Murè plans to serve Dungeness crab and braised fennel with salmon caviar vincotto dressing; pappardelle in a porcini mushroom and hare ragout; Castelmagno cheese and spinach flan with a Marsala wine and black truffle sauce; pan-seared filet mignon with a red wine and cherry sauce; and white chocolate mousse with hazelnut cake.
What's coming up next on your menu?
I always use seasonal ingredients, and summer offers lots of possibilities. Very exciting! I began to see cherries and figs at the farmers market, so pretty soon I will add to the menu a filet mignon with a cherry and red wine sauce, an escarole salad with fresh figs, gorgonzola cheese in a vincotto dressing and a risotto with cantaloupe melon, zucchini blossom and Montrachet cheese, just to mention some.
Latest ingredient obsession?
Live sea urchin. I love spear-fishing in California and everything that comes from the ocean. We just had an uni dinner, and I was so excited when I received more than 100 fresh sea urchins just picked a few hours earlier from Santa Barbara.
The one piece of kitchen equipment you can't live without, other than your knives?
My Imperia R220 pasta machine. She is my best friend in the kitchen. I can make any kind of dough, and I love fresh pasta.
Favorite kitchen soundtrack?
Bob Marley "Legend" is mandatory.
What's your favorite breakfast?
Espresso. I'm Italian.
Adoteca, 11712 San Vicente Blvd., Los Angeles, (310) 826-9222, adotecabrentwood.com; Casa Ado, 12 W. Washington Blvd., Marina del Rey, (310) 577-2589, www.casaado.com.
---