Chef of the Moment: Egg Slut's Alvin Cailan loves his cheesy grits and sausage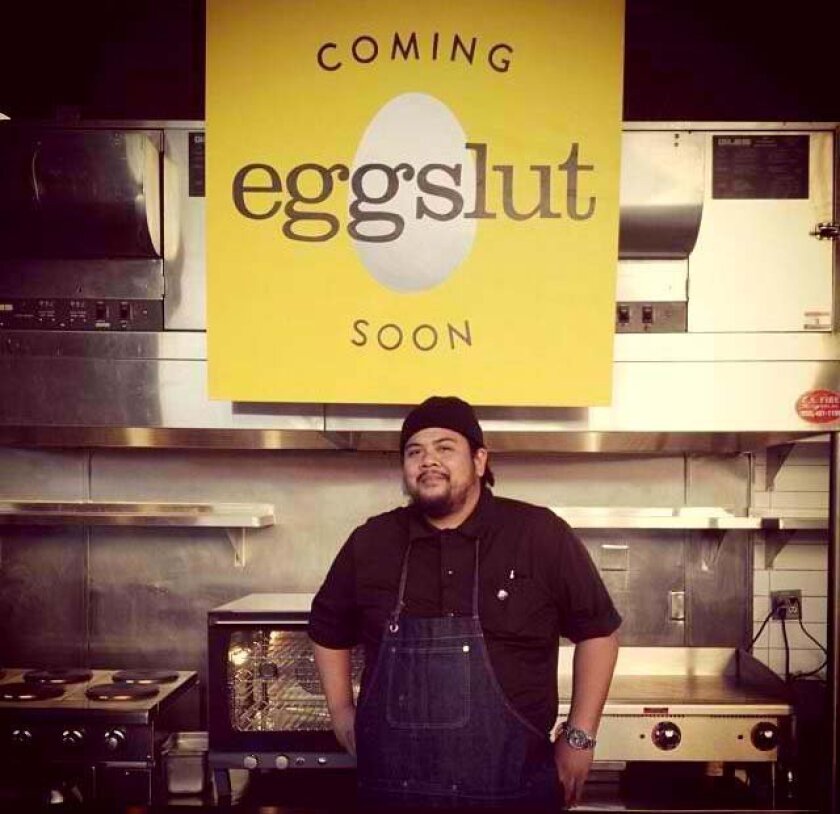 Alvin Cailan is chef and co-owner of the Egg Slut truck, which drew breakfast sandwich devotees to its various parked locations (Handsome Coffee, Palihotel, Coffee Commissary) and now the brand-new Egg Slut counter at downtown's historic open-air Grand Central Market. Cailan graduated from the Oregon Culinary Institute and worked in Portland restaurants such as Castagna and Ten01 before returning to Los Angeles and helping to open David LeFevre's Manhattan Beach Post. When Cailan launched the Egg Slut truck, it was an instant hit (Ruth Reichl tweeted poetic about the dish dubbed Thee Slut, a coddled egg with potato puree served in a jar). Egg Slut's expanded upgraded-diner-esque menu at its 20-seat Broadway-facing counter includes coddled, poached and sunny-side-up eggs in sandwiches, salads, a burger and nachos.
What's coming up next on your menu?
Sourcing and collaborating with fellow vendors at Grand Central Market and trying to make an amazing biscuit.
Latest ingredient obsession?
Smoked ham hock glacé. I infuse the smoky and fattiness into everything, especially sauces. So good.
The one piece of kitchen equipment you can't live without, other than your knives?
I can't live without my steel French pans! They sear to perfection.
What's your favorite breakfast?
Cheesy grits and sausage. Always order it if it's on the menu.
What chef has most influenced you?
Chef David McMillan from Joe Beef. I think it's because of his style, "trailer-park French." I cook that way every day. He takes familiar flavors and ingredients and turns them into amazing, mind-blowing dishes.
Egg Slut, Grand Central Market, 317 S. Broadway, Los Angeles, www.eggslut.com.
ALSO:
Comme Ca's Attila Bollok, fleischnaka maker
Rustic Canyon's Jeremy Fox can make do with his bare hands
Whipped-cream lover Pascal Achcar to open 'cloud cake' bakery
---
Get our weekly Tasting Notes newsletter for reviews, news and more.
You may occasionally receive promotional content from the Los Angeles Times.