Celebrate National Cinnamon Roll Day with a 2-minute cinnamon roll waffle hack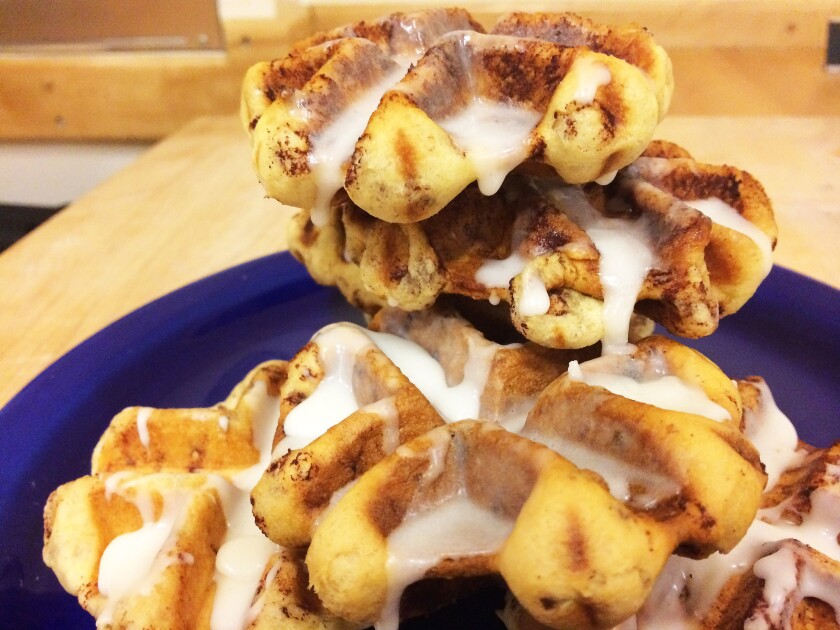 A plate of cinnamon roll waffles.
(Jenn Harris / Los Angeles Times)
Some pre-made cinnamon roll dough.
(Jenn Harris / Los Angeles Times)
Place the dough in the middle of the waffle maker.
(Jenn Harris / Los Angeles Times)
After two to three minutes, the cinnamon roll waffle is done.
(Jenn Harris / Los Angeles Times)
Use plenty of icing.
(Jenn Harris / Los Angeles Times)
A cinnamon roll waffle tower.
(Jenn Harris / Los Angeles Times)
Waiting for a batch of cinnamon rolls to bake can be torture. It's easy to get hangry (angry because you're hungry) as soon as you smell the scent of cinnamon wafting out of the oven.
For National Cinnamon Roll Day -- yes it's an actual food holiday, and it's happening Thursday -- we decided to speed up the cooking process. Instead of waiting half an hour for your rolls in the oven, try two to three minutes of cook time in a waffle maker.
All you need is a waffle maker and nonstick spray. Make your favorite cinnamon roll recipe and icing or buy pre-made dough from the store and have it ready on your counter. Heat up the waffle maker and spray it with nonstick.
Place one of the rolls in the middle of the waffle iron and close the iron. Cook for two to three minutes then ice.
The cinnamon roll waffles get a little crisp around the edges and the icing falls into all the nooks and crannies created by the waffle iron.
Like to play with your food? Follow me on Twitter: @Jenn_Harris_
ALSO:
ChocoChicken to open a second location, in Santa Monica
Easy dinner recipes: Three simple ideas for peanut butter lovers
You won't miss the booze with these fancy non-alcoholic drink pairings
---
Get our weekly Tasting Notes newsletter for reviews, news and more from critics Bill Addison and Patricia Escárcega.
You may occasionally receive promotional content from the Los Angeles Times.