Dinner tonight! Rice salad with shrimp and arugula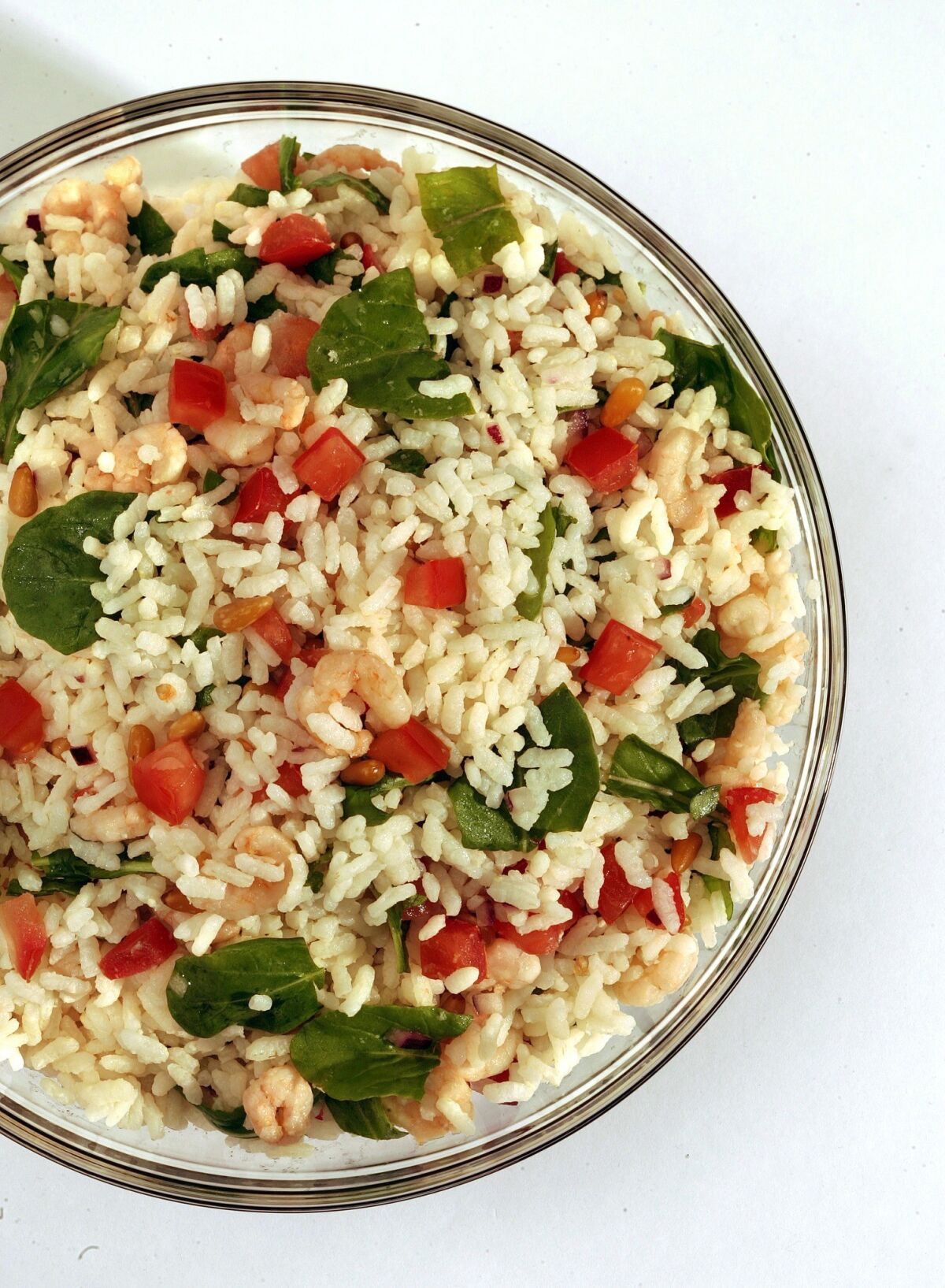 Rice salad takes a colorful turn with cooked small shrimp, fresh arugula, tomatoes, minced red onion and toasted pine nuts. The whole dish comes together in about 45 minutes. /
For more quick-fix dinner ideas, check out our video recipe gallery. Food editor Russ Parsons and Test Kitchen manager Noelle Carter show you how to fix a dozen dishes in an hour or less.
ALSO:
Go behind the scenes at the Test Kitchen
134 recipes for your favorite restaurant dishes
Browse hundreds of recipes from the L.A. Times Test Kitchen
You can find Noelle Carter on Facebook, Google+, Twitter and Pinterest. Email Noelle at noelle.carter@latimes.com.
Rice salad with shrimp and arugula
Total time: 45 minutes
Servings: 6 to 8
2 cups medium-grain rice, such as Arborio
Salt
3 tablespoons good-quality olive oil
3 tablespoons fresh lemon juice, divided
1/2 pound cooked small shrimp (about 1 1/2 cups)
1/4 cup minced red onion
1 cup diced tomato
1 tablespoon red wine vinegar
1 1/2 cups torn arugula, loosely packed
3 tablespoons toasted pine nuts
1. Bring a large pot of liberally salted water to a rolling boil. Stir in the rice and return the water to a boil; reduce the heat to maintain a rapid simmer. Cook until the rice is tender, 15 minutes. Drain the rice in a strainer and rinse quickly in cool running water. Line a large mixing bowl with a tea towel and empty the rice into it. Fold the tea towel over the top of the rice and set aside to cool, about 5 minutes.
2. When the rice has cooled slightly, add the olive oil, 2 tablespoons lemon juice and salt to taste, stirring lightly with a fork to avoid crushing the tender rice grains. (The rice can be prepared to this point a day ahead and refrigerated in a tightly covered container. Bring to room temperature before proceeding.)
3. When almost ready to serve, combine the shrimp, red onion and tomato in a medium bowl and season with red wine vinegar and one-fourth teaspoon salt, or to taste.
4. Add the shrimp mixture to the rice along with the arugula and pine nuts. Stir to combine well, taste and add more salt or lemon juice if necessary. (The recipe can be prepared to this point up to 30 minutes in advance.)
5. Transfer to a serving bowl and serve at room temperature.
Each of 8 servings: 300 calories; 10 grams protein; 45 grams carbohydrates; 1 gram fiber; 8 grams fat; 1 gram saturated fat; 55 mg. cholesterol; 139 mg. sodium.
---
Get our L.A. Goes Out newsletter, with the week's best events, to help you explore and experience our city.
You may occasionally receive promotional content from the Los Angeles Times.