After drought and warmer weather, local farmers are taking time off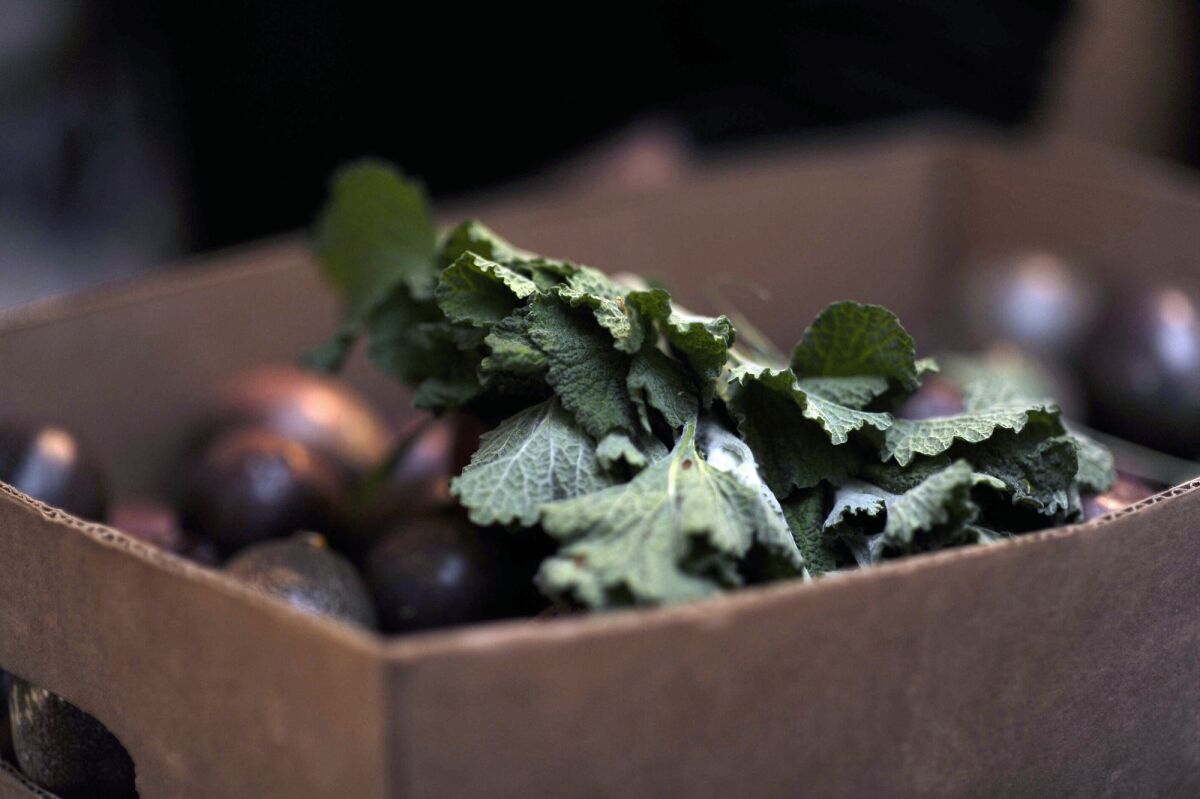 Four years of drought and unusually warm weather have exhausted the patience and the resources of many local farmers, and the result is empty farm stands at Southern California farmers markets. For the first time in 30 years, farmers Jerry Rutiz of Rutiz Family Farms in Arroyo Grande and Chris Caldwell of Tutti Frutti Farms in Lompoc are taking time off.
Last December, Tutti Frutti hauled eight tables' worth of winter crops to the Wednesday Santa Monica and Sunday Hollywood farmers markets. This year, its broccoli, cauliflower, leeks and spinach were decimated before they could be harvested. Saturday's Santa Barbara market will be the farm's last market until April; Wednesday sees the last trip to the Santa Monica market.
"It was bugs," said Barbara Whyman, who has been selling produce for Tutti Frutti for three decades. "They just cleaned us out." Whyman said warm temperatures and a lack of rain allowed pests to flourish.
The bagrada bug, a pest that was discovered in California in 2008, has been a particular nuisance, devouring acres of brassicas such as broccoli, kale and Brussels sprouts. In years past, the bagrada population was kept at bay thanks to cool summer evenings and hillsides of wild mustard that distracted the bugs from row crops. But this year, warmer evening temperatures and bone dry hillsides left farmers exposed.
"There are no natural predators, and so far there is no organic solution," Whyman said. "I know one farmer who is just walking through the field with a blow torch. I guess that's an organic solution, but he's a small farmer. We couldn't do that."
Rutiz agreed that this fall was worse than previous years'. "We saw the bagrada bug starting in springtime and it was really bothering us up until a month ago," he said. He said that rather than fighting the pests, he converted 15 of his 28 acres to cover crops and plans to reevaluate his plantings for spring.
Water and Power is The Times' guide to the drought. Sign up to get the free newsletter >>
In addition to bugs, water shortages continue to be an enormous hurdle for farmers. When Goleta water rates tripled in August, Tim Heuer at Fairview Gardens decided to take an extended leave of absence from the Wednesday Santa Monica market. Frog Hollow Farm in Brentwood, Calif., (not to be confused with Brentwood in Los Angeles) reduced its market visits to every other week when the water bill jumped from $20 per acre-foot to $650 per acre-foot.
Produce buyers lament that it has been substantially more difficult to find product this year. FreshPoint's Karen Beverlin visits the Wednesday Santa Monica market every week, looking for specialty items for high-end restaurants such as Per Se in New York and Providence in Los Angeles. She said that this year she has to explain to chef clients that all bets were off; she simply didn't know what she'd find.
"It's frustrating for us, but it's devastating for the farmers," Beverlin said. "We're just going to find something else, but for farmers it's a serious situation. They can't just go put something different on the menu."
ALSO
Dine L.A. restaurant week returns in January
We're updating our Los Angeles area farmers market list. Want to help?
Jonathan Gold: Five of the tastiest Chinese restaurants in the SGV with the name 'Tasty'
---
Get our L.A. Goes Out newsletter, with the week's best events, to help you explore and experience our city.
You may occasionally receive promotional content from the Los Angeles Times.