Toxic algae delays California's Dungeness crab season
As expected, the opening of the commercial fishing season for California's treasured Dungeness crab will be later than usual.
The California Department of Fish and Wildlife on Friday evening announced that, because of a toxic algal bloom that could be related to warm temperatures brought by El Niño, the start of the commercial season will be later than the traditional Nov. 15 date.
This follows the delay in the recreational fishery announced by the California Fish and Game Commission on Thursday, and a Wednesday afternoon announcement that the California Department of Public Health had recommended that people not eat any California-caught Dungeness or rock crab until further notice.
"Crab is an important part of California's culture and economy, and I did not make this decision lightly," said fish and wildlife agency director Charlton H. Bonham in a statement. "But doing everything we can to limit the risk to public health has to take precedence."
According to a public health agency spokesman, the agency will continue collecting samples up and down the California coast on a weekly basis. "Once the levels of [the toxic algae] decline in the coastal waters, we usually start seeing the levels of domoic acid in bivalve shellfish (i.e., mussels and clams) and small finfish (i.e., anchovies and sardines) start to decline. Crustaceans such as Dungeness and rock crab are usually the last animals to flush the domoic acid out of their systems."
The recreational season for Dungeness crab was scheduled to start Saturday. It will remain closed until it has been determined that there is no longer a risk. The bulk of the commercial harvest is supposed to start Nov. 15 — and its future is still under consideration by the California Department of Fish and Wildlife.
Domoic acid is a neurotoxin that can cause nausea and dizziness at low levels and short-term memory loss and seizures at higher levels. In some cases it can even be fatal.
It is present in a form of algae called Pseudo-nitzschia, which is normally rare but which has flourished in the warm ocean waters brought by El Niño. According to the state Department of Fish and Wildlife, there is a massive bloom of the algae along the California coast. After testing crab from eight fishing ports from Morro Bay to Crescent City, officials have determined that the neurotoxin has spread throughout the fishery grounds.
The commercial Dungeness crab fishery is vital to small fishermen on California's Central and North coasts, accounting for about $60 million a year. The bulk of that comes in November and December, as celebrating the holidays with cracked crab is a treasured ritual for many families.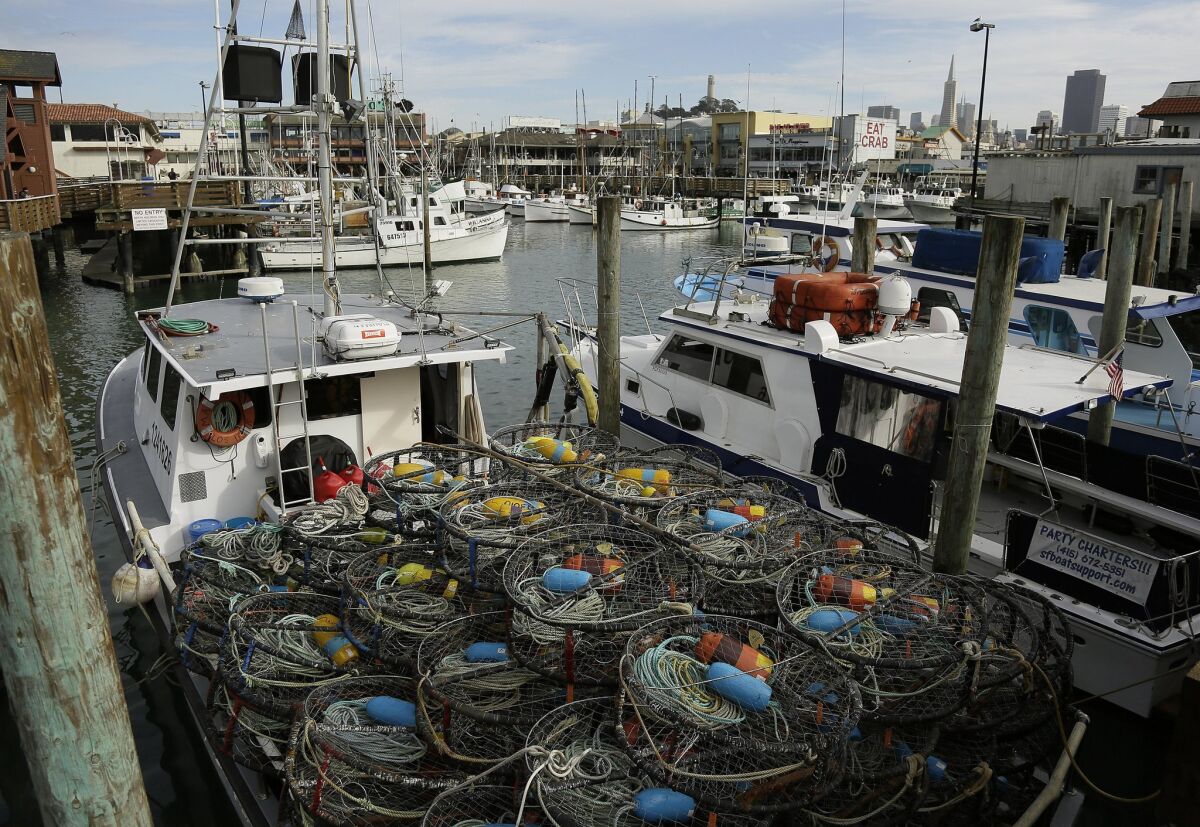 "These are incredibly important fisheries to our coastal economies, and fresh crab is highly anticipated and widely enjoyed this time of year. Of course, delaying or closing the season is disappointing," fish and wildlife's marine regional manager, Craig Shuman, said in a statement. "But public health and safety is our top priority."
Levels of domoic acid in tested crabs ranged as high as 190 parts per million, said Pat Kennelly, California Department of Public Health food safety section chief. The so-called "action levels" considered dangerous are 30 parts per million for viscera — which are usually discarded — and 20 parts per million for the meat.
Kennelly stopped short of saying that the toxic algal bloom was directly related to El Niño. "We do know that during the warm summer months we tend to see larger blooms and we do know that El Niño brings warmer waters than we traditionally see," he said. "However we don't know if that's directly related."
Michael Cimarusti, chef-owner at top-rated Providence and Connie & Ted's said he had to discard as much as 100 pounds of rock crab that had been on the menu at the latter restaurant. But he said that was a small price compared to what the fishermen who depend on crabbing for their living will face.
"It's a devastating loss for the fishermen," he said. "Think about it: If that's your bread and butter, it's how you make your living. To have it taken away by something so random as toxic algae. So when I think about it, for me it's less about not having it on our menu, but instead I think of the fishermen who are at the mercy of nature, waiting for the algae to go down."
A similar situation forced the closure of the Washington State Dungeness crab season this summer. The Washington Department of Fish and Wildlife closed the southern coastal fishery in mid-June because of high levels of domoic acid in crabs there. It had earlier closed the razor clam fishery.
Dungeness crab is also caught along the Oregon coast. Oregon Dungeness Crab Commission Executive Director Hugh Link said that the state's commercial season doesn't start until Dec. 1, but that testing of crabs for domoic acid will begin sometime next week.
"We're keeping a close eye on it and we'll probably know probably next week after we get our testing done whether we have any hot crab anywhere," he said.
Recreational crabbing is open all year in Oregon, but so far the only action that has been taken is a so-called "evisceration order" that any crabs caught should have their fat and innards removed before eating.
Are you a food geek? Follow me on Twitter @russ_parsons1
ALSO:
California has the sweetest dates
Great Japanese restaurants from the Gold 101
The 20 best restaurants in LA? Here's Jonathan Gold's picks
---
Get our L.A. Goes Out newsletter, with the week's best events, to help you explore and experience our city.
You may occasionally receive promotional content from the Los Angeles Times.