Eat your crickets: Los Angeles is the chapulin capital of the U.S.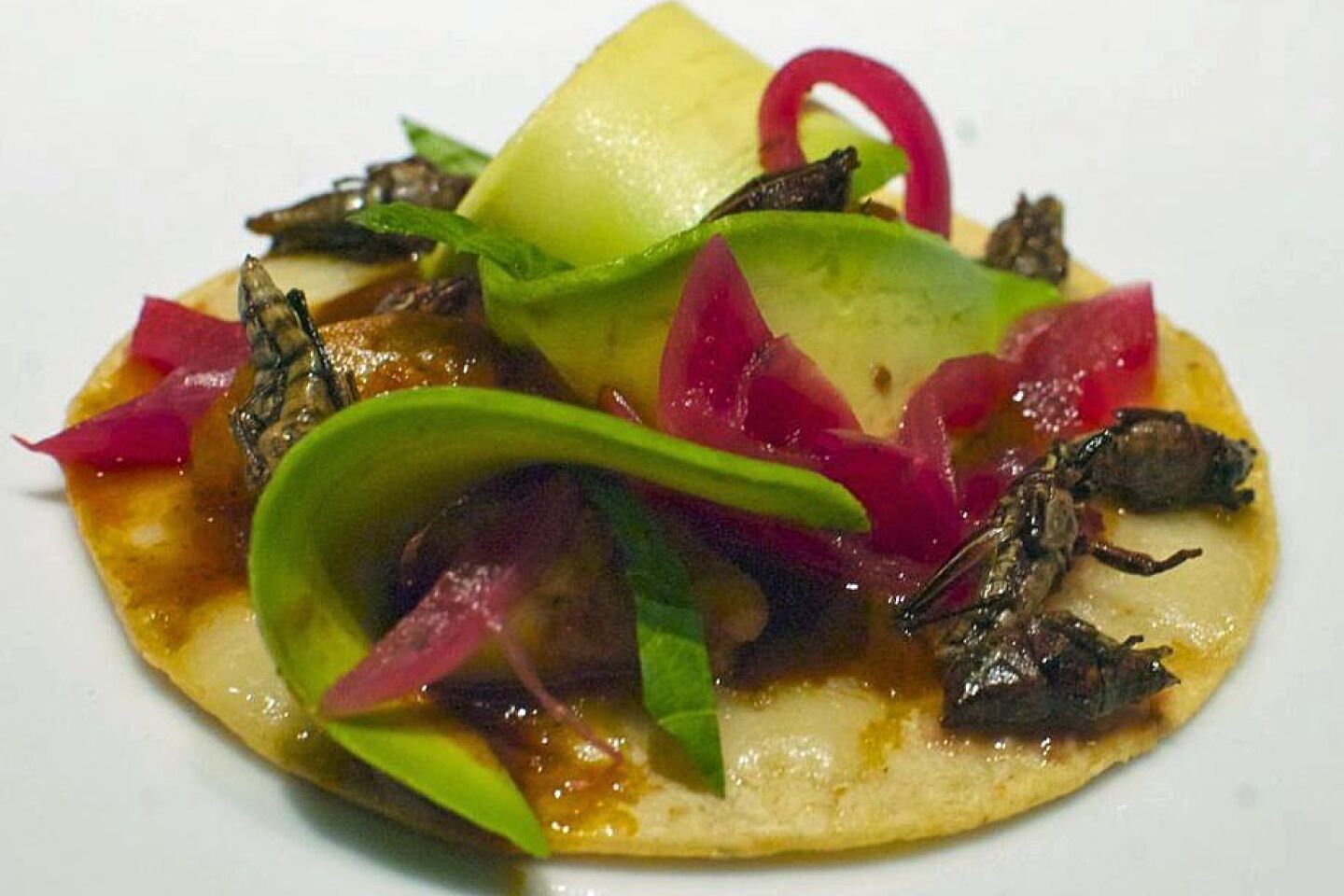 Two bites is all it takes to finish off-the-menu cricket taco at Petty Cash.
(Javier Cabral / For The Times)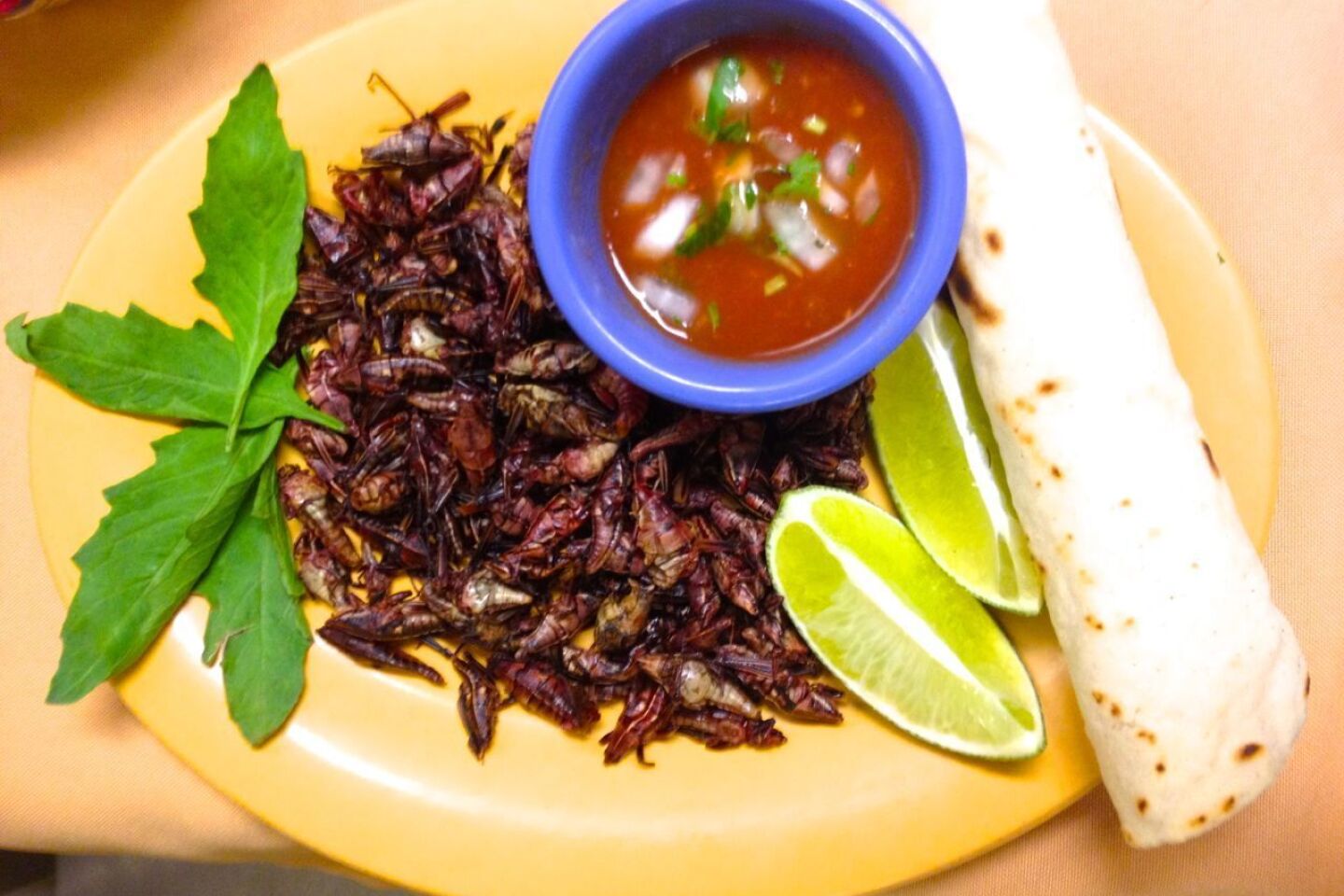 Monte Alban serves crickets only a few months out of the year, when they're at their plumpest.
(Javier Cabral / For The Times)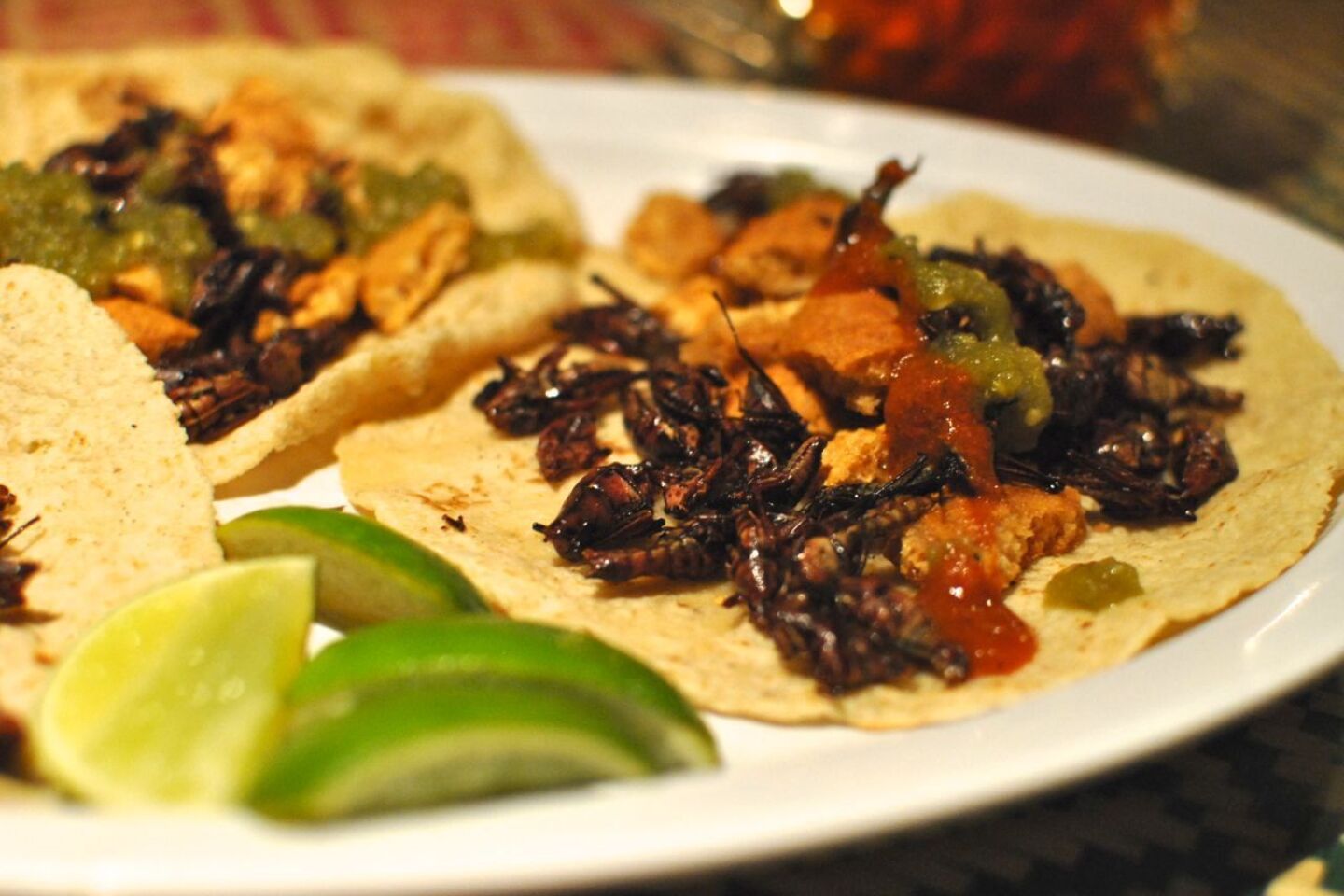 At Guelaguetza, a cricket taco is an off-the-menu item.
(Javier Cabral / For The Times)
Los Angeles is the chapulin capital of the United States, and it may be time to reconsider the gourmet insect's crunchy, earthy appeal. It's widely known that the grasshopper – among many other edible bugs – is a staple for many international cultures, and quite possibly the most sustainable one at that. But in this city known as a Oaxacans' home away from home, the seasonal southern Mexican delicacy -- only available fresh during summer's "tiempos de agua" rainy months among the alfalfa fields in Mexico -- are as easy to find as a good mole.
These summer specimens are considered to be the best for their consistently uniform small size, making it easier to eat them -- and their hook-shaped extremities. Any other time of year you see them on menus, they are most likely either sun-dried or are the slightly less desirable medium-sized variety that are more leathery. The latter are somewhat more discomfiting to eat. Here are five places to get your worldly protein fix, including in a mezcal cocktail made with it for beginners. Just think of them as the missing link in the protein world, not as fatty as meats and seafood, and not as caloric as nuts. As for the flavor, imagine a savory raisin. Enjoy.
Guelaguetza
L.A.'s cardinal Oaxacan restaurant might be the best place to experience chapulines. There are two preparations on the menu: "A La Mexicana," which is fried with tomato, jalapeño and onion and served with a mountain of unpasteurized quesillo Oaxacan string cheese, and the other just served as is, a plate piled high with sun-dried chapulines flavored with garlic and lime. But the best chapulines might be an off-menu taco that an old line cook named Aaron came up with, a thick tortilla "campesina" (hand-made) filled with the glorious Mexican "ch-" cannon: chile, chapulines and chicharron.
3014 W Olympic Blvd., Los Angeles, (213) 427-0608, www.ilovemole.com.
Petty Cash
Consulting chef Guillermo "Oso" Campos of Tacos Kokopelli in Tijuana worked together with executive chef Walter Manzke to create Petty Cash's off-menu chapulin taco. For this high-profile chapulin taco, a chewy hand-patted corn tortilla is topped with oozy Jack cheese, a strip of minty Oaxacan hoja santa herb, a butterflied Santa Barbara spot prawn that was alive a few minutes before being served, ribbons of ripe avocado, Mexican adobo salsa, pickled red onions and finally, a delicate peppering of whole chapulines. Two bites is all it takes to finish this beauty, picky eater or not.
7360 Beverly Blvd., Los Angeles, (323) 933-5300, www.pettycashtaqueria.com.
Rivera
Julian Cox's take on the "Donaji" Oaxacan cocktail named after a Oaxacan princess legend is probably one of L.A.'s most popular Mexican cocktails. It is made with smoky mezcal, various citrus juices and garnished with an aromatic lime leaf. It's also rimmed with a crushed chapulin-laced salt that brings out the earthy qualities of the smoky agave spirit. Cox is strict on not serving the drink to anybody that asks for the flavored salt to be omitted. "It's just not the same" he says.
1050 S. Flower St., No. 102, Los Angeles, (213) 749-1460, www.riverarestaurant.com.
Expresion Oaxaquena
For just $5, you can have a whopping half-pound bag of the edible critters. Whether you order in while eating there to sprinkle a pinch atop your tacos and side of black beans or take a bag home along with another steamy bag of the soft hand-made corn tortillas to make chapulin tacos at home, Expresion Oaxaquena's service to the chapulin-loving community is a generous one. Feel free to wash it down with one of its freshly pressed juice blends or a pulpy agua fresca made from the chilacayote fruit if it's available. And don't forget dessert, a scoop or two of Oaxaca's famous leche quemada- ("burnt milk") flavored ice cream.
3301 W. Pico Blvd. Los Angeles, 90019. (restaurant site got hacked...bad. don't try googling.)
Monte Alban
Owner Ofelia Martinez only serves chapulines at her 15-year-old Oaxacan restaurant during the months when they are available fresh in her family's hometown of Tlacolula, Oaxaca: July, August, September and December. Her customers get to taste these plumper specimens just as she did growing up; a guisado of chapulines served with lime, epazote, garlic and served with hand-made tortillas and a salsa de molcajete, all cooked in the style of her mother, Dora Martinez. She swears that they are the freshest that you can get, applying the term of del campo a la mesa (from field to tables). She refuses to serve any of the sun-dried or refrigerated ones the rest of the year. Five dollars gets you three tacos.
11927 Santa Monica Blvd., Los Angeles, (310) 444-7736, www.montealbanrestaurantlosangeles.com.

Get our L.A. Goes Out newsletter, with the week's best events, to help you explore and experience our city.
You may occasionally receive promotional content from the Los Angeles Times.