Easy dinner recipes: Egg salad and more sandwiches in 30 minutes or less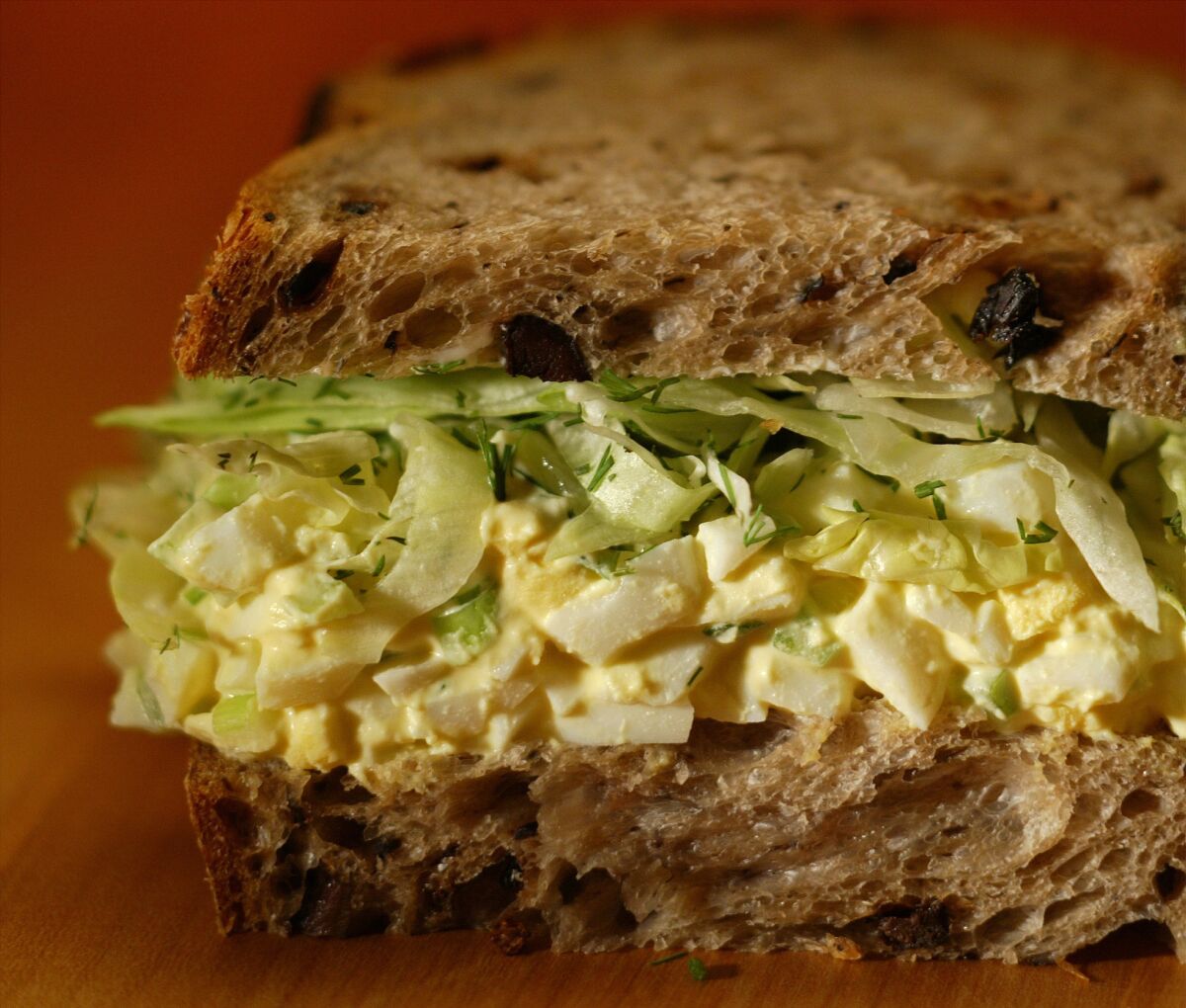 When you need dinner fast, you can't beat a good sandwich. Stuff your favorite filling between two slices of bread and you're set. And because they're portable, you can grab and go on a busy weeknight. Check out these tempting recipe ideas:
Egg salad sandwich with dill: It doesn't get much easier than this classic sandwich. Chopped hard-boiled eggs are tossed with onion, celery, mustard, vinegar, mayonnaise and a touch of salt for a quick egg salad. The salad is great by itself, but spoon it between two slices of bread with shredded lettuce and fresh dill and you've got a meal that's perfect when you're on the go or looking for a quick bite to eat.
Green panini with roasted peppers and Gruyere cheese: This simple sandwich comes courtesy of chef and cookbook writer Deborah Madison and her husband, Patrick McFarlin, in their book, "What We Eat When We Eat Alone." Ciabatta bread is piled with mustard greens, cheese and roasted red peppers, then cooked in a panini maker or skillet, making for a sandwich that is one of McFarlin's favorites.
'Spanglish' BLT with fried egg and melted cheese: Take everything you love about a BLT and add a gloriously messy fried egg. And melted cheese. It's how Thomas Keller dresses up this classic; start to finish, it's ready in only 20 minutes. You can find the recipe below.
'SPANGLISH' BLT WITH FRIED EGG AND MELTED CHEESE
Total time: 20 | Serves 1
Note: From Thomas Keller.
3 to 4 thick slices bacon
2 slices Monterey Jack cheese
2 slices pain de campagne (rustic country loaf), toasted
1 tablespoon mayonnaise
4 slices tomato
2 leaves butter lettuce
1 teaspoon butter
1 egg
1. Cook the bacon until crisp, drain on paper towels and set aside.
2. Place the slices of cheese on one slice of the toasted bread and place in a toaster oven or under a broiler to melt the cheese.
3. Spread the other slice of toast with the mayonnaise, top with the cooked bacon, the sliced tomato and the lettuce.
4. In a nonstick skillet, melt the butter over medium heat. Fry the egg, turning over briefly when the bottom is set. (Keep the yolk runny.)
5. Slide the finished egg on top of the lettuce. Top with the other slice of toast, melted cheese side down. Place the sandwich on a plate and slice in half, letting the yolk run down the sandwich.
Each serving (with 4 pieces of bacon): 1,115 calories; 52 grams protein; 50 grams carbohydrates; 4 grams fiber; 78 grams fat; 30 grams saturated fat; 346 mg. cholesterol; 2,192 mg. sodium.
Love cooking as much as I do? Follow me @noellecarter
---
Get our weekly Tasting Notes newsletter for reviews, news and more.
You may occasionally receive promotional content from the Los Angeles Times.