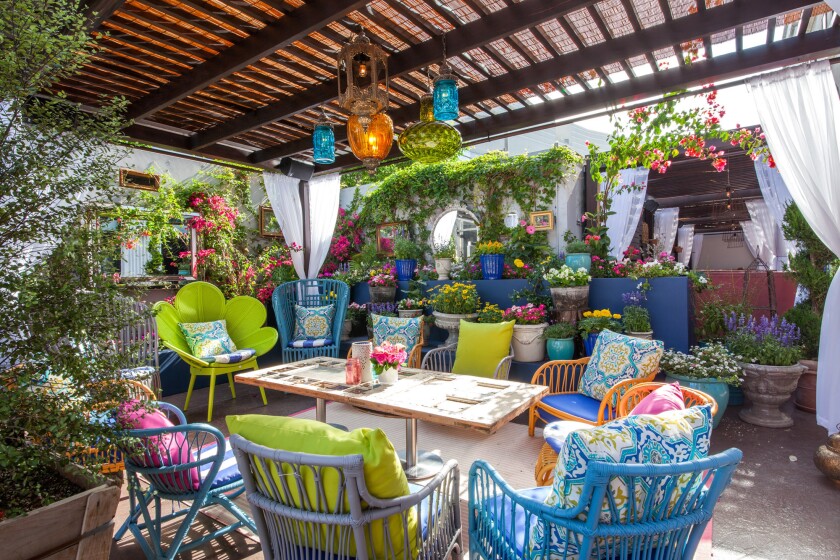 Wondering what that swanky new restaurant is inside the Sofitel Los Angeles? The one with the garden patio that rivals a cottage landscape you'd find in the south of France?
It's the same Estérel restaurant that's been at the hotel for years, but with a new chef, new menu, new cocktails, new private bar and a new design.
Although the restaurant has remained open to hotel guests during its two-month revamp, the official opening to the public happens Thursday. Included in that unveiling is the Aviary, a private space and bar for dinners and cocktail parties, and Le Jardin, a Provencal-inspired herb garden with alfresco seating.
Executive chef Victor Boroda (Scarpetta) has created an entirely new menu, with items inspired by light, Mediterranean flavors and the restaurant's garden.
"I structured the menu to create dishes I would want to eat myself," said Boroda. "It's focused on vegetables and grains that are healthy and meant to make you feel better."
Menu highlights include Le Jardin salad, made with County Line rainbow chard slaw, pickled chard stem, peanuts, herbs from the garden and a silken tofu dressing; house-made squid ink tagliatelle with mussels, clams, prawns and saffron; and whole roasted dorade with braised fennel, tomato, quinoa and an herb salad.
And because this is a new, garden-to-table restaurant in L.A., there's of course a grain bowl, made with red quinoa, farro, wheat berry, beets, kale and za'atar.
As for the dining room decor, Xperiment USA Hospitality gave the restaurant a complete makeover, removing the old indoor trellises in favor of an open seating plan with large, bright mustard-colored booths, wide plank mahogany floors and white linen curtains.
Xperiment USA co-founder and designer Jake Saady and his partners found old portraits depicting women from different eras, and used them to adorn the dining room's deep blue walls. Think Dorian Gray's mansion in "Penny Dreadful."
There are two new private dining rooms, with one serving as Boroda's chef's table, and a door that connects from the room straight to the kitchen. Guests will be able to reserve the chef's table for three-, seven- and 12-course dinners.
For the patio area, there are three living walls, colorful seating and potted herbs and flowers surrounding the entire space. In one corner is a table for two framed by a flowered trellis, surrounded by greenery.
Next to the patio, in the back, there's the Aviary, which includes an outdoor space with a private bar, a wall full of mirrors and bird cages overhead.
And instead of walking through the hotel to get to the restaurant, there's a new entrance at the main valet to the hotel, with wrought iron gates that lead past a living wall and into the patio of the restaurant's bar, Riviera 31. There you'll find cocktails and big-batch libations by mixologist Ferrari Watts. Imagine a watermelon margarita that serves 12.
Estérel is open for breakfast, lunch and dinner. Boroda says his next project will be tackling the hotel's room service menu.
8555 Beverly Blvd., Los Angeles, (310) 358-3979, www.esterelrestaurant.com.
Love a good scoop? Follow me on Twitter and Instagram @Jenn_Harris_
---