Scouting Report: Why you should drive to Buena Park for a plate of French fries, and meatball doughnuts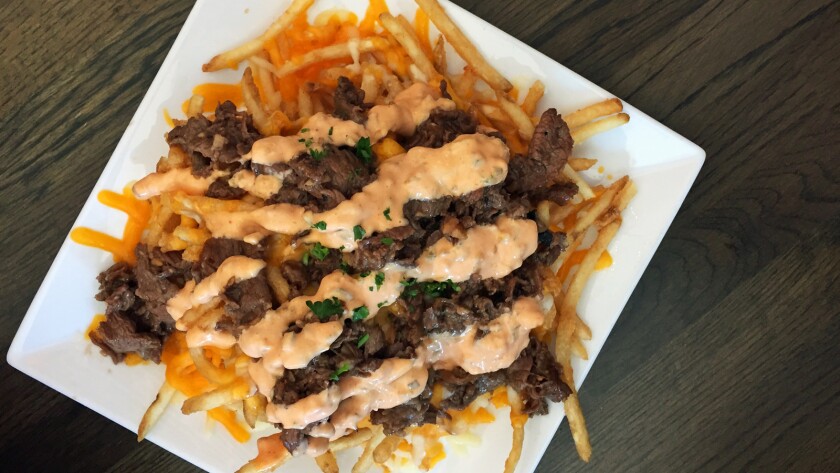 Name: Súp Noodle Bar. It's a small restaurant in a Buena Park shopping center that specializes in Vietnamese food. Súp in Vietnamese means broth.
Concept: Bowls of pho, fried rice, bao and fries from the restaurant's CEO and chef Viet Nguyen. Nguyen was born in Saigon, Vietnam, and moved to the United States as a foreign exchange student when she was 16. She graduated from Le Cordon Bleu in Pasadena. After working at more than a couple Los Angeles restaurants, including the Fat Cow, Red Medicine and Hot Stuff Cafe (all three now closed), Nguyen opened Súp Noodle Bar in a shopping center in Buena Park in 2014.
Why you drove an hour for a plate of French fries: Picture a mountain of French fries on a white plate — the thin, crispy kind you can safely call perfect, each one crunchy, not a single soggy one in the bunch. And on top of those fries: thick shreds of sharp cheddar cheese just starting to melt, gooey sweet caramelized onion, paper-thin slices of sweet, garlicky short rib and a generous squeeze of bright pink, spicy tartar sauce. These are what Nguyen calls her shaken hours fries. Just think of them as a way-better version of In-N-Out Animal-Style fries.
"It was actually a staff meal I made randomly because our staff was sick of eating pho every day," said Nguyen. "They were looking to buy In-N-Out Animal-Style fries." So Nguyen made her own version, which you can now find on almost every table at the restaurant, at all hours of the day and night.
Those bao are fried! Listed as the first item on the menu are the "golden bao." They're a cross between a dumpling, an empanada and a meatball, inspired by Nguyen's aunt's recipe for Vietnamese pork dumplings. So what exactly are these? A thick fried dough ball encases a filling of ground pork shoulder, caramelized onions, mushrooms, hard-boiled eggs and Chinese sausage. It's the ultimate savory meatball doughnut. (Apparently meatball doughnuts are now a thing; if you spot one elsewhere, please let us know.)