G&B Coffee to open in Grand Central Market next week, Demitasse expands, more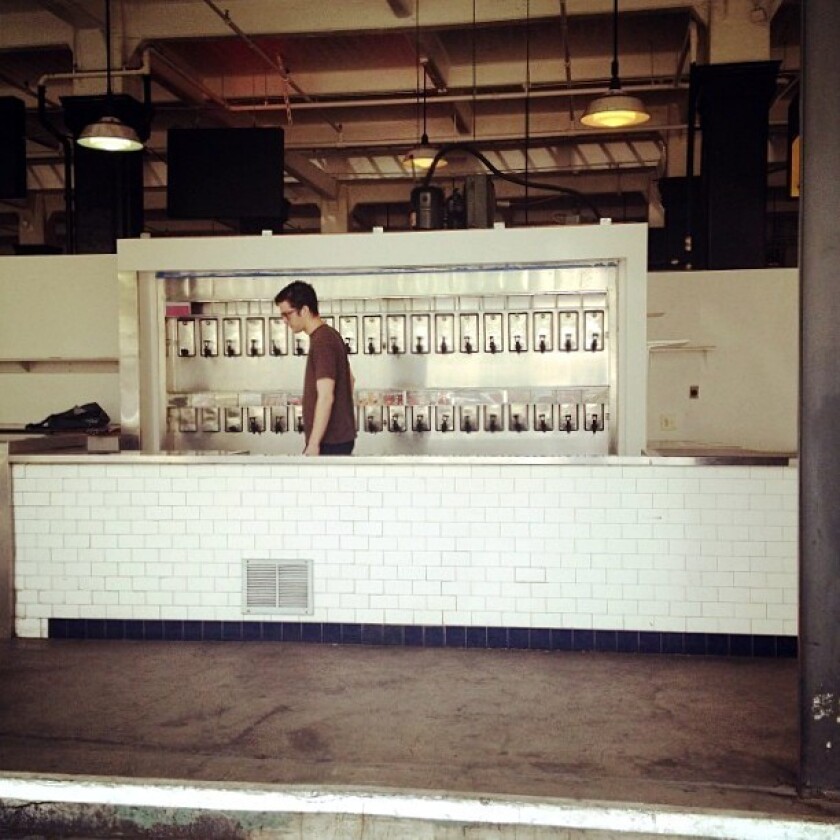 G&B Coffee is set to open next week at Grand Central Market downtown, taking over a stall on the Hill Street side of the historic marketplace as it undergoes a sweeping renovation.
G&B is the coffee project from Intelligentsia alumni Kyle Glanville and Charles Babinski, which until recently operated as a pop-up at Sqirl Cafe in East Hollywood. The two also are planning to open another location on Larchmont Avenue next month.
The downtown project, which will expand as market changes continue, "is exciting because we can adopt a version of a European model -- a casual coffee place where you stand at the bar, toss your money down, get a delicious beverage, linger with it a moment and keep going," said Glanville. A 30-foot bar on the Hill Street side of the market has "enough room to have a lot of people hanging out at the bar and has a little bit of a feeling of a classic Italian espresso bar."
Espresso drinks are on the menu, along with filtered coffee and coffee shakes -- McConnell's ice cream with espresso or with espresso and chocolate ganache. "We just want to find what can be joyful and exuberant about coffee and have a lot of fun with it," Glanville said. But of course "our bread and butter is going to be the quality of our main ingredient."
G&B orders a wide variety of coffee beans, such as from Heart Roasters in Portland, Ore.; Ritual in San Francisco; Chicago-based Intelligentsia; espressos from 49thParallel in Vancouver, Canada; as well as other coffees from across the U.S., Australia and Norway. But Glanville noted that purchasing decisions aren't based on brands. "We procure samples, cup roasts and make our decision based on that. We cupped 300 coffees just during the seven-month span at Sqirl and carried about a dozen. It's a little bit of a needle-in-a-haystack situation."
Filtered coffee will be prepared with Japanese Kalita Wave drippers. "Espresso is really lovely, but it's also a concentrate and engineered generally to be consistent, which is great," said Glanville. "If espresso is some sort of high alcohol spirit, filter coffee is wine. There's a little bit more nuance.... Espresso is so fleeting and compact and intense that you might miss some of that. The job that coffee farmers and the best roasters are doing gets better and better every year. Filter coffee is a great format for showing that."
Everybody knows what it's like to wait 10 minutes for a barista to make a pour-over filter coffee, but Glanville said that one goal is to get drinks out very, very quickly by creating a new approach to the work flow, pre-portioning, doing as much in advance as possible and "automating things in a positive way.... We do our best not to have people have to wait in a long line."
The Larchmont location, which won't be called G&B (but whose name is still under wraps) is a few weeks away, said Glanville. "We're putting the finishes on and finishing the bar next week. Then it's just adding equipment and staff." There will be similar coffees, but more retail and food options, maybe even the celebrated croissants from Maison Giraud in the Pacific Palisades. "We're trying to put some kind of carrier situation to deliver croissants from the Palisades."
317 Broadway St., No. C19, Los Angeles, www.gandbcoffee.com.
In more coffee news:
Demitasse has opened a second cafe. The downtown coffee shop's second location is on 3rd Street in Santa Monica. After launching a downtown roastery, owner Bobak Roshan has set up a Westside cafe featuring cold brewers that make Kyoto-styled iced coffee and a new Alpha Dominche Steampunk brewing system for filter coffee. Customers can take a seat at the counter or next to the outside firepit. Pastries are from Farmshop and cakes and macarons from Jin Patisserie.
1149 3rd St., Santa Monica, (310) 260-6308, www.cafedemitasse.com.
Also, local roaster Tierra Mia last month opened its sixth location, the latest located on Alvarado Street in Echo Park, servings its roster of espresso drinks including its horchata lattes.
1202 N. Alvarado St., Echo Park, www.tierramiacoffee.com.
ALSO:
Battle of the Burgers 2013 is on!
The future is nearly here: A 3-D food printer, starting with pizza
---
Get our new Cooking newsletter.
You may occasionally receive promotional content from the Los Angeles Times.