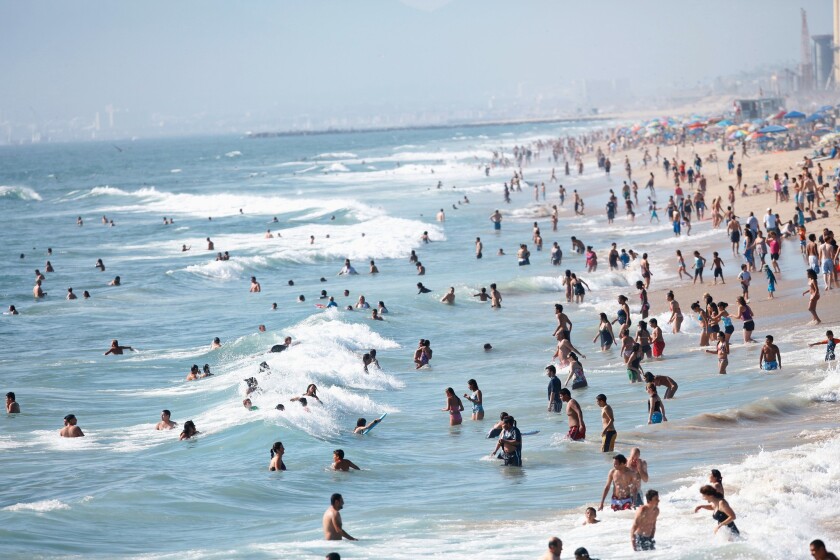 The July issue of GQ magazine has named Manhattan Beach "America's Best Beach for Chowing Down." The magazine also commended Manhattan Beach as one of the best beaches in the United States.
GQ credited Manhattan Beach's culinary success to the growth of "foodie magnets" in the area, namely chef David LeFevre's MB Post and Fishing with Dynamite. The town also boasts Vietnamese-flavored Little Sister, gastropub Simmzy's, family favorite Lemonade, the Strand House and others.
The magazine also praised Manhattan Beach's diversity in cuisine and edible options. They mentioned the lack of eating choices at beaches across the United States, where one has little to no opportunity to try something extraordinary next to the sand.
"At most beaches, you're stuck with the soggy sandwiches and crumbled bag of chips you packed; in Manhattan Beach, you've got fish tacos and slop-plate Mexican," GQ writer Daniel Riley said.
Besides the dining in Manhattan Beach, Riley complimented the weather, the waves and the sand of the beach itself, asserting that its conditions alone make it one of the best beaches in the country.
Manhattan Beach was given its prize along with five other beaches across America, including Sullivan's Island in Charleston, S.C.; Lake Michigan in Chicago; Canon Beach in Oregon; Fort Tilden in New York; and Hanalei Bay in Kauai, Hawaii. The six beaches were awarded based on specific categories of sandy excellence.
MB Post, 1142 Manhattan Ave., Manhattan Beach, (310) 545-5405, www.eatmbpost.com
Fishing with Dynamite, 1148 Manhattan Ave., Manhattan Beach, (310) 893-6299, www.eatfwd.com
Little Sister, 1131 Manhattan Ave., Manhattan Beach, (310) 545-2096, www.littlesistermb.com
Simmzy's Pub, 229 Manhattan Beach Blvd., Manhattan Beach, (310) 546-1201, www.simmzys.com
Lemonade Manhattan Beach, 451 Manhattan Beach Blvd., Manhattan Beach, (310) 545-5777, www.lemonadela.com
The Strand House, 117 Manhattan Beach Blvd., Manhattan Beach, (310) 545-7470, www.thestrandhousemb.com
---