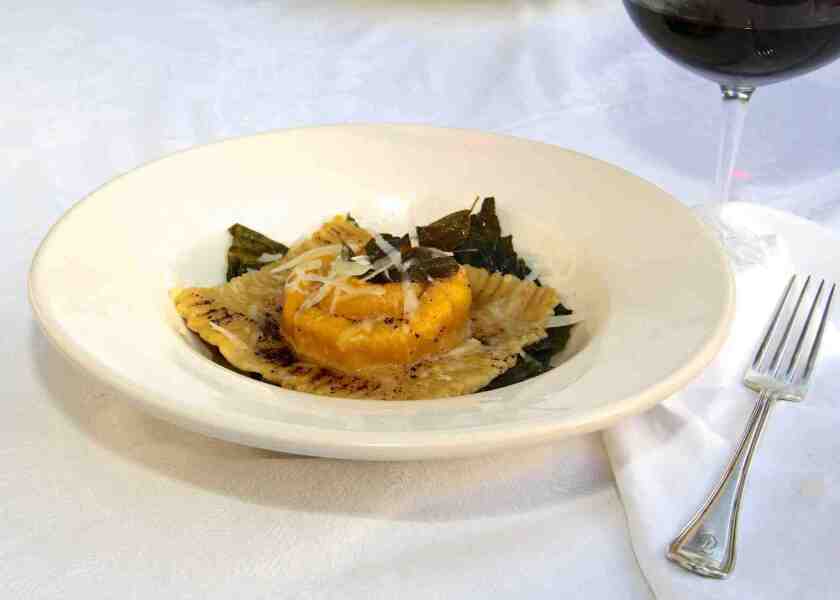 During this month's 100-mile diet, I have primarily subsisted on fruits and vegetables. Our primary protein source has been the humble egg, which I have come to believe is the perfect food. When I think a plant-based dinner is a little boring, I put an egg on it, thus adding a delicious balance of fat, protein and yumminess.
Still, I felt that I was missing out on meat. I have eaten meat only three times in the last month and there is not a whole lot one can do with cauliflower. I had reached an impasse, when an old family friend came to my rescue. He had spotted a Nancy Silverton recipe in "The Mozza Cookbook" for raviolo (the singular form of ravioli) filled with ricotta and a runny egg yolk and topped with a sage brown butter sauce. In the introduction to this dish, Nancy Silverton writes, "I'm generally turned off when people describe food as being 'sexy,' but sexy is the best description I have for this warm, luscious, pillowy raviolo."
Nancy, you are a genius. This is all I could ever hope to have in one pasta dish.
RECIPES: 31 dinner ideas you can make in an hour or less
I sourced the ricotta cheese from Gioia Cheese in El Monte, which fits a slightly looser definition of local; the cows that produced the milk may have been out of my range, but the milk was processed in Chino and the cheese was made in El Monte. This is what ricotta is supposed to taste like-- firmer and dryer than what you can buy in a supermarket, and much more flavorful. A four-pound tub of this fabulous cheese is only $6.80.
I made my own pasta dough out of flour from New Vineland Bakery and eggs from Trancas Canyon Nursery and Humane Harvest and rolled it out by hand. I added nutmeg, salt, pepper, and cream to the ricotta, formed small pucks out of the mixture, pressed little craters into them, and plopped an egg yolk inside each divot. I then covered the egg-cheese mound with another sheet of dough and dropped them into boiling water long enough to cook the pasta but leave the yolk runny.
I plated it on top of a mound of sautéed kale and drizzled over some brown butter sauce and some fried sage leaves.
How could anyone miss meat when you have this?
ALSO:
Bigmista's Barbecue coming to downtown
"American Wine", a much-needed overview
---