Grimaldi's in El Segundo: Is this L.A.'s best New York pizza?
Grimaldi's in El Segundo serves New York-style pizzas from its coal-burning oven.
(Betty Hallock / Los Angeles Times)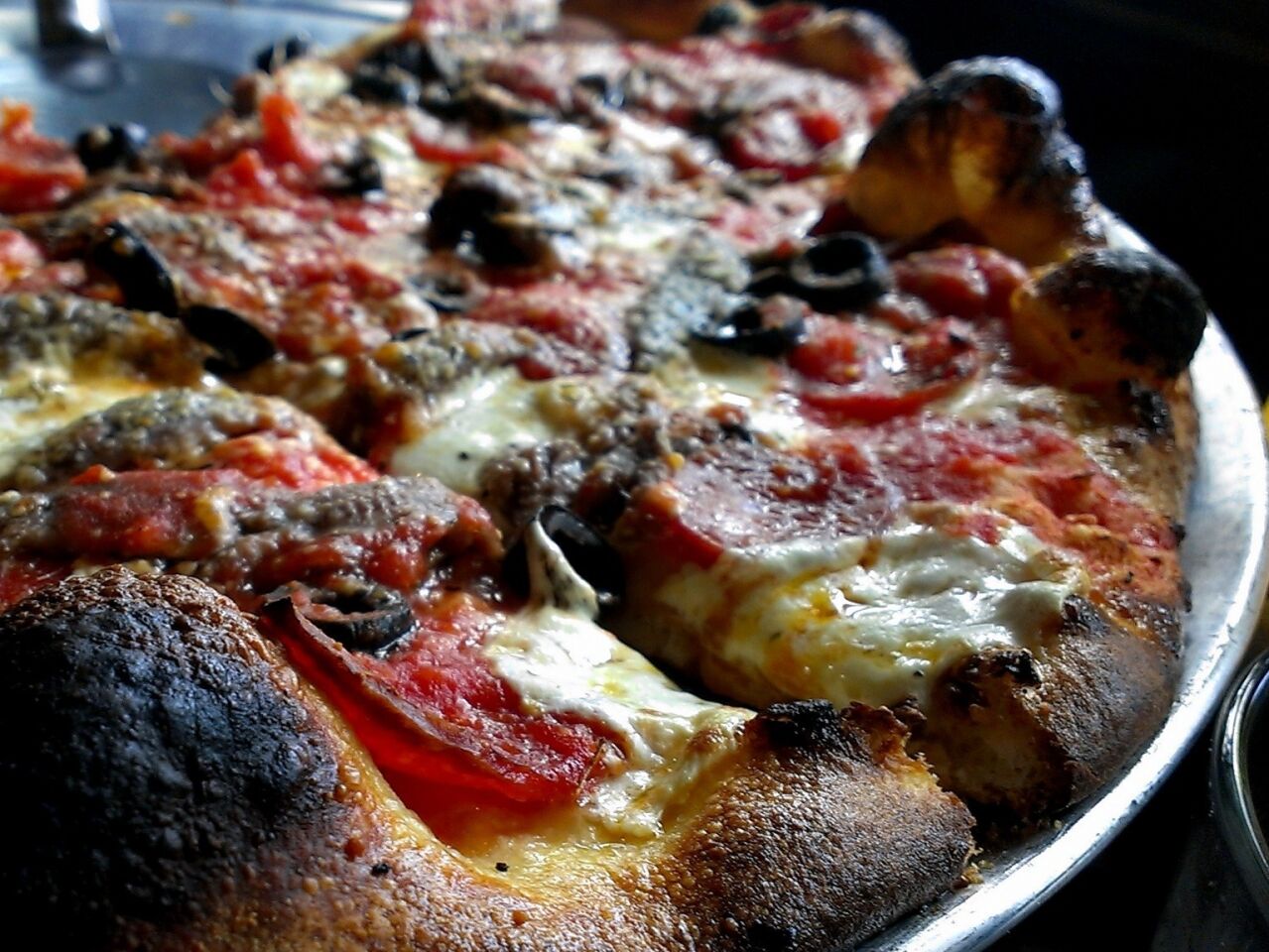 Bubbled crust at Grimaldi's.
(Betty Hallock / Los Angeles Times)
Pizzas at Grimaldi's come in three sizes: personal (12-inch), small (16-inch) and large (18-inch). Go for a 16- or 18-inch.
(Betty Hallock / Los Angeles Times)
Pies at Grimaldi's are $9 to $16 (additional for each topping).
(Betty Hallock / Los Angeles Times)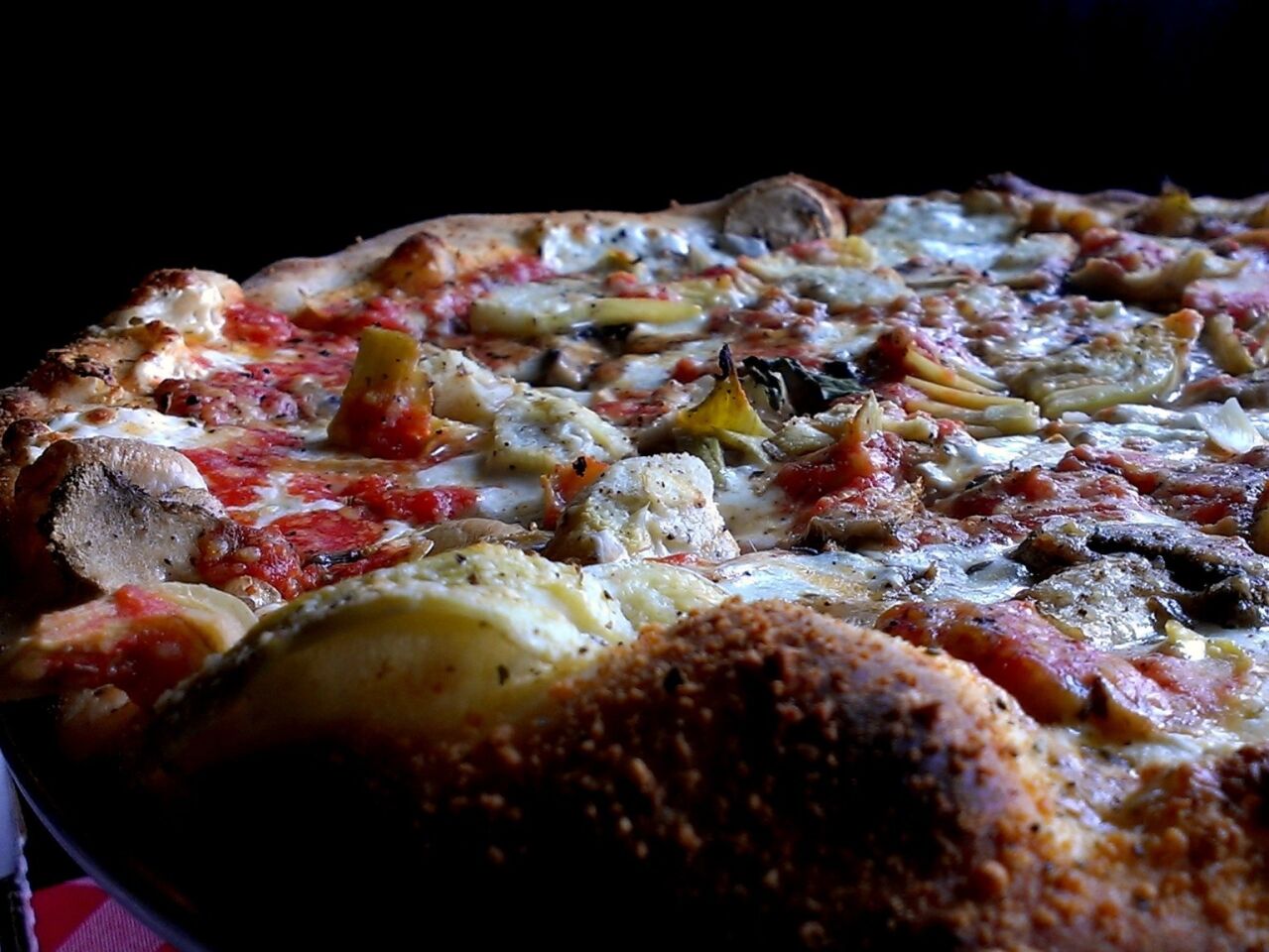 Choose your toppings at Grimladi's. (A word of advice from one server: stick with three or fewer.)
(Betty Hallock / Los Angeles Times)
Chocolate chip and ricotta cannoli at Grimaldi's.
(Betty Hallock / Los Angeles Times)
For dessert at Grimaldi's, there's ricotta-filled cannoli, cheesecake and tiramisu.
(Betty Hallock / Los Angeles Times)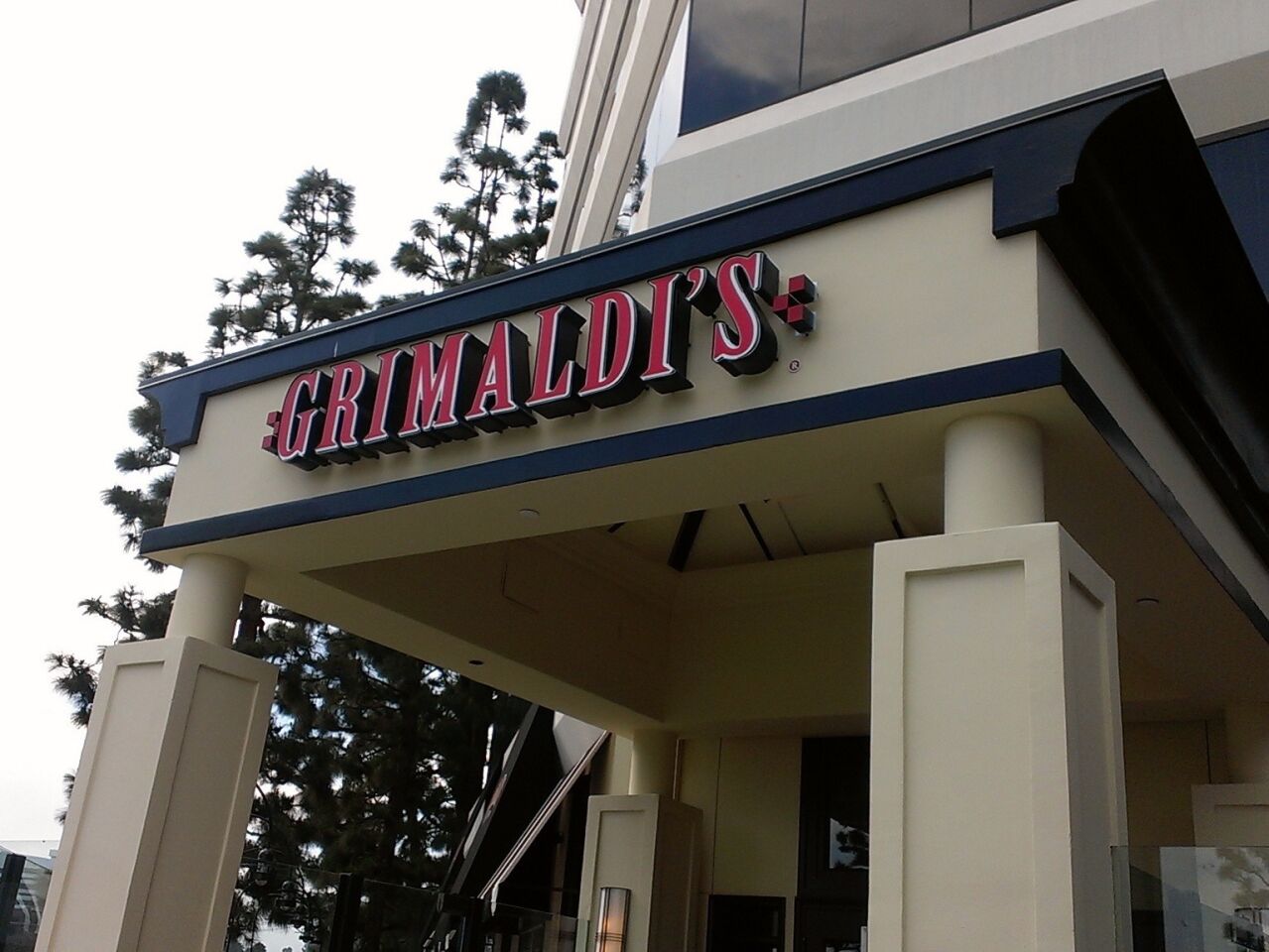 The sign at Grimaldi's on Rosecrans Boulevard in El Segundo.
(Betty Hallock / Los Angeles Times)
Hanging wine bottles are the light fixtures at Grimaldi's.
(Betty Hallock / Los Angeles Times)
Name of restaurant: Grimaldi's Coal Brick-Oven Pizza
What dish represents the restaurant, and why? The pizza -- could it be L.A.'s best New York pizza? Possibly! It's baked in a coal-fired oven that reaches 1,000 degrees and comes out a hot, bubbling, delicious mess. It's pizza with topography: continents of ivory house-made mozzarella and oceans of bright red tomato sauce, with melted sprinkled Parmesan, tiny flecks of browned garlic and toppings such as slightly thicker-cut pepperoni, salty anchovies, kalamata olives, meatballs, sausage and more. This is New York pie, which means it is large (you can get it personal-sized, but it is not the best expression of Grimaldi's pizza -- get at least a 16-inch) and consistently thin-crusted to nearly the edge of the pizza. It's not cracker-thin, and the edges sometimes come out with some pretty glorious, billowy, charred bubbles. No slices, just whole pies.
Concept: The pizzeria founded by Patsy Grimaldi in Brooklyn in 1990 has become a national chain (now owned by one of its first customers, Frank Ciolli, and his son, Joey Ciolli) with pizzerias on the East Coast and in Texas, Arizona, Colorado and Nevada that turn out consistent Grimaldi pies. The first California location opened last month in El Segundo, on the edge of Manhattan Beach, in a neighborhood where corporate America meets beach city -- self-tanning salons, waxing centers and gyms are interspersed between mid-rise offices for Accenture and Murad along Rosecrans Boulevard. It's also the land of P.F. Chang's, Fleming's Prime Steakhouse and Cozymel's Mexican Grill. Grimaldi's interior is somewhat cavernous, with red-and-white checkered tablecloths, black leatherette booths and neo-Italian-manor touches such as mahogany-finished columns. But don't think you won't find excellent pizza; it's here.
Who's at the next table? Two men in workout wear (a giant Equinox is down the street) settling in with a couple of dark beers, office workers likely from nearby banks, families and couples who might be heading to the ArcLight Cinemas across the street after dinner.
Appropriate for ... : Lovers of pizza.
Uh-oh ... : The coal-fired oven is no joke. Pizzas come out very hot, so don't burn the roof of your mouth.
Service: Young, friendly and efficient.
What are you drinking? A glass of Chianti Classico Riserva or a bottle of Firestone Walker Union Jack IPA.
Info: 2121 Rosecrans Ave., Suite 1399, El Segundo, (310) 648-7503, grimaldispizzeria.com.
ALSO:
The A to Z of Los Angeles pizza
Italy's wine consumption declines
Taco Bell's new breakfast menu: Waffle tacos
The Scouting Report is a quick look at restaurants worth a visit. Scouts were selected by restaurant critic Jonathan Gold, who may or may not agree with a single word.
---
Get our L.A. Goes Out newsletter, with the week's best events, to help you explore and experience our city.
You may occasionally receive promotional content from the Los Angeles Times.