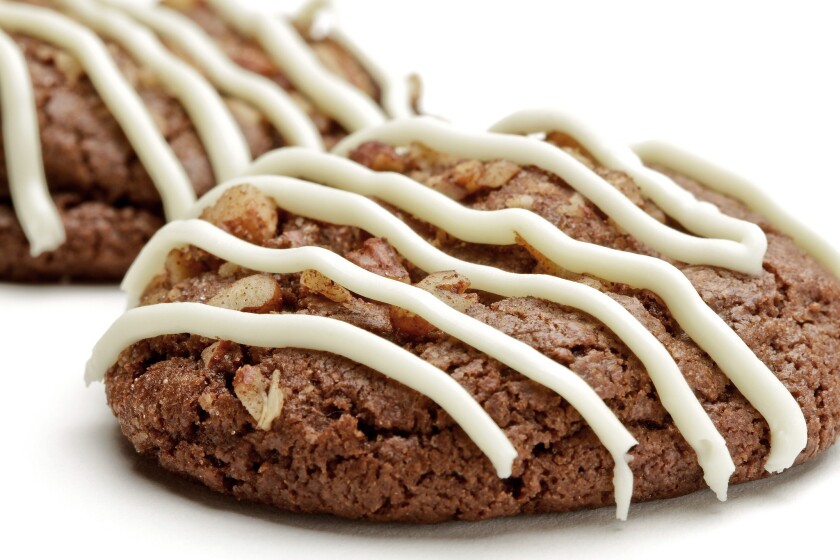 Today is the last day to enter our fifth annual Los Angeles Times Holiday Cookie Bake-Off. If you love baking for the holidays, consider sending us your best recipe — before the deadline, which is midnight tonight.
Submit your recipe, a photo of your cookie and a short essay explaining why your recipe should win at latimes.com/bakeoff by midnight Nov. 14. Then it's up to you, the readers, to vote for your favorites.
The top 50 cookies will be made at Le Cordon Bleu cooking school in Pasadena and the Los Angeles Times food staff will choose our 10 favorites. If you're a finalist, you'll be invited to come tour The Times test kitchen and be photographed and featured in a future Saturday section of the paper.
For inspiration, here's a 2011 winning recipe from Nicole Cleghorn, who actually flew in from Minot Air Force Base in North Dakota to deliver the cookies to our Test Kitchen.
WHITE CHOCOLATE TURTLE COOKIES
Total time: 1 hour, 15 minutes plus cooling time | Makes 4 dozen cookies
2 1/2 cups (11 ounces) flour
3/4 cup unsweetened cocoa
1 teaspoon baking soda
1 cup (2 sticks) butter
1 cup plus 1 tablespoon granulated sugar, divided
1 cup light brown sugar
2 eggs
2 teaspoons vanilla extract
1 cup chopped pecans, divided
3/4 teaspoon ground cinnamon
48 Rolo candies, unwrapped
4 ounces white chocolate
1. Heat the oven to 375 degrees. In a medium bowl, whisk together the flour, cocoa and baking soda. Set aside.
2. In the bowl of a stand mixer using the paddle attachment, or in a large bowl using a hand mixer, cream together the butter, 1 cup granulated sugar and the brown sugar until light and fluffy. Add the eggs one at a time, beating well after each addition. Beat in the vanilla. With the mixer running at low speed, slowly add the flour mixture until completely combined. Beat in one-half cup of the chopped pecans.
3. In a small bowl, combine the remaining one-half cup pecans with the remaining tablespoon of granulated sugar and the cinnamon.
4. Assemble the cookies: Flour your hands to keep the dough from sticking. Take about 1 tablespoon of the dough and shape it around one Rolo candy, covering it completely, dip one side of each cookie into the pecan-sugar-cinnamon mixture (the cookies will look like adorable little truffles at this point). Place the cookies, nut side up, 2 inches apart on an ungreased cookie sheet.
5. Bake the cookies until set and slightly cracked (the cookies will flatten as they bake), 7 to 9 minutes. Cool 2 minutes, then remove to a wire rack to cool completely.
6. Melt the white chocolate: Place the white chocolate in a glass or microwave-safe bowl, and heat, stirring every 15 seconds, until melted and smooth. Pour the chocolate into a plastic bag and snip off a corner. Drizzle the chocolate over the cooled cookies. Set aside the cookies until the white chocolate is set, about 10 minutes. Enjoy!
Each of 4 dozen cookies: 142 calories; 2 grams protein; 18 grams carbohydrates; 1 gram fiber; 7 grams fat; 4 grams saturated fat; 19 mg cholesterol; 12 grams sugar; 40 mg sodium.
Follow me on Twitter @AmyScattergood and Instagram @ascattergood.
---