Holiday cookie recipe: chocolate raspberry linzer cookies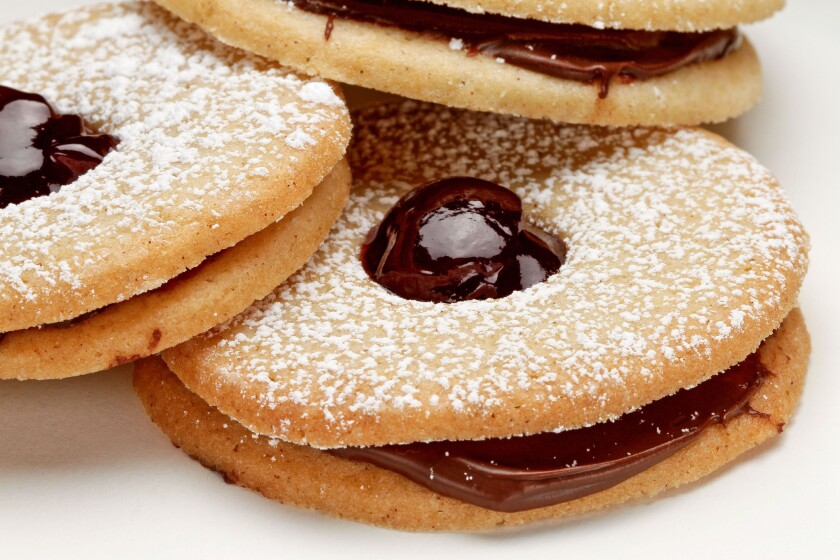 It's time to impress your co-workers, once again, with your holiday baking skills. And while sugar cookies with colored frosting are always welcome, why not try something new this year?
The following is a recipe for chocolate raspberry linzer cookies, which was a top 10 recipe winner from our 2011 reader-submitted holiday baking contest.
The recipe, submitted by Cheryl Margolin, combines raspberry preserves and rich dark chocolate chips, with almond extract and just a hint of cinnamon.
They're festive, beautiful and a great cookie to serve at that holiday party. They're also simple enough to make with the kids.
CHOCOLATE RASPBERRY LINZER COOKIES

Total time: 1 1/2 hours, plus chilling and cooling times | Makes about 3 dozen sandwich cookies
Note: Adapted from a recipe by Cheryl Margolin.
2 1/3 cups (10 ounces) flour
1 teaspoon baking powder
1/2 teaspoon cinnamon
1/2 teaspoon salt
3/4 cup (1 1/2 sticks) butter, softened
1 cup sugar
2 eggs
1/2 to 3/4 teaspoon pure almond extract
2 cups semisweet or dark chocolate chips
Raspberry jam or preserves
Powdered sugar, for dusting
1. In a bowl, combine the flour, baking powder, cinnamon and salt; set aside. In a large bowl using a hand mixer, or in the bowl of a stand mixer using the paddle attachment, beat together the butter and sugar until light and creamy. Beat in the eggs, one at a time, then the almond extract. With the mixer running on low speed, gradually add the flour mixture. Divide the dough in half. Wrap each half in plastic wrap and refrigerate until firm, preferably overnight.
2. Heat the oven to 350 degrees. On a lightly floured board, roll out half the dough to a thickness of one-eighth inch. Cut out rounds using a 2 1/2-inch cookie cutter.
3. Repeat with the remaining dough. On these rounds, use a 1-inch cookie cutter to cut holes in the center of the dough. Reroll the trimmings to form extra cookie tops and bottoms.
4. Bake the cookies on ungreased baking sheets just until set, 8 to 10 minutes. Remove the cookies from the sheets and cool on a rack.
5. In a metal bowl set over simmering water, melt the chocolate chips, stirring until smooth. Spread 1 measured teaspoonful of the melted chocolate on the flat side of each whole cookie. Top with one-half measured teaspoonful of the raspberry jam. Sprinkle powdered sugar over the cookie tops with holes; place a cookie top over each prepared bottom to form the sandwich cookie. Repeat until all of the sandwiches are assembled. (The cookies are best assembled shortly before they are eaten, as they can become smudged if stacked and stored.)
Each of 3 dozen sandwich cookies: 143 calories; 2 grams protein; 20 grams carbohydrates; 1 gram fiber; 7 grams fat; 4 grams saturated fat; 21 mg cholesterol; 12 grams sugar; 53 mg sodium.
Found a problem? Let us know at food@latimes.com.
I am the cookie monster. Follow me on Twitter @Jenn_Harris_
ALSO:
Coffee has gone corporate: A look at who owns what in the coffee world
Philly cheesesteaks with Cheez Whiz on the South Philly Experience truck
It's National Brownie Day: Here are 7 super-decadent brownie recipes, plus one for brownie pie
---
Get our weekly Tasting Notes newsletter for reviews, news and more.
You may occasionally receive promotional content from the Los Angeles Times.