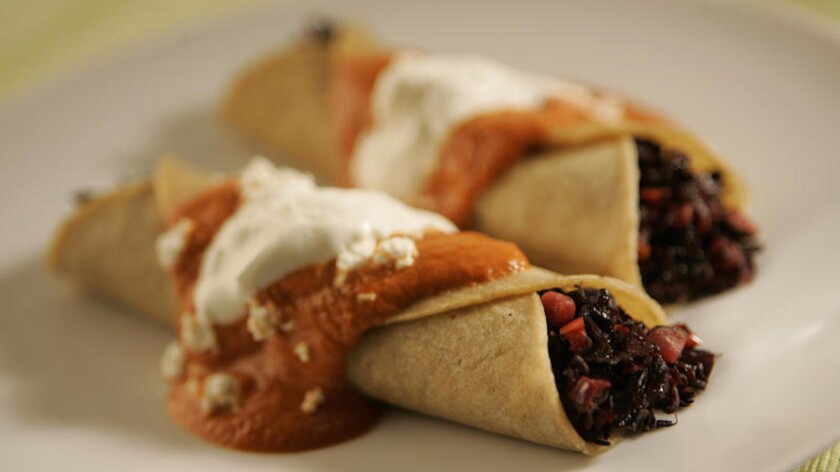 Enchilada lover? Jamaica flowers (part of the hibiscus family) are typically found in vivid red teas. But these tart, dried buds make a surprisingly delicious filling for enchiladas.
They're combined with peppers, onion and zucchini, then rolled in warm tortillas and topped with a spoonful of creamy chipotle sauce. And this vegetarian recipe is perfect for Meatless Monday.
AMARANTA COCINA'S HIBISCUS ENCHILADAS WITH CHIPOTLE SAUCE
Total time: About 1 hour, plus rehydrating time | Serves 6
Note: Adapted from a recipe by executive chef Sarah Rocio Gomez of Amaranta Cocina Mexicana. Dried jamaica (hibiscus) flowers can be found at Latino and health-food markets.
CHIPOTLE SAUCE
2 tablespoons diced onions
1 teaspoon chopped garlic
2 tablespoons olive oil
1 cup tomato puree
1 chipotle pepper (canned in adobo sauce), chopped
1/4 cup plus 2 tablespoons heavy whipping cream
1. In a large saute pan over medium heat, cook the onions and garlic until the onion is translucent, 3 to 5 minutes.
2. Stir in the tomato puree and chipotle pepper and bring to a simmer over medium heat. Continue to cook for 15 minutes, stirring occasionally, to allow the flavors to blend and the sauce to reduce slightly; lower the heat if the bottom of the pan gets too hot so the sauce doesn't burn.
3. Remove the pan from the heat and whisk in the cream, then set aside. Makes about 1 1/4 cups sauce.
ENCHILADAS AND ASSEMBLY
2 1/2 cups (4 ounces) dried jamaica flowers
4 tablespoons ( 1/2 stick) butter
1/3 cup finely diced onion
1/2 cup finely diced zucchini
1/2 cup finely diced bell pepper (combination of red, yellow and green)
Salt, pepper
1/2 cup canola oil
1 1/2 cups olive oil
12 corn tortillas
3/4 cup sour cream
Chipotle sauce
3/4 cup crumbled queso fresco, ranchero or other fresh cheese
1. In a medium saucepan, combine the jamaica flowers with 4 cups of water over high heat and bring to a boil. Reduce the heat to a simmer, and simmer the flowers for 30 minutes to rehydrate completely. Strain the flowers, then allow them to cool to room temperature. Finely dice and set aside.
2. In a large saute pan, melt the butter over high heat and add the onions. Saute, stirring frequently, until the onions are translucent. Reduce the heat to medium and add the diced flowers, zucchini and bell pepper, stirring occasionally and cooking until thoroughly warmed. Season with 1 teaspoon salt and one-fourth teaspoon pepper, or to taste. Set aside in a warm place.
3. Reheat the chipotle sauce in a medium saute pan over medium heat until warmed, stirring frequently. The warmed sauce should be pourable; if too thick, add just enough water to thin to the desired consistency. Keep warm.
4. In a medium saute pan, combine the oils and heat until a thermometer inserted reads 360 degrees. Dip the tortillas into the oil, one at a time, for just 1 second to warm through, then remove to a paper-towel-lined tray to absorb the excess oil.
5. To assemble the enchiladas, spoon one-half cup filling into the center of each tortilla, then roll the tortilla to form an enchilada. Place two enchiladas onto a plate for each serving, and divide the warmed chipotle sauce evenly over each serving. Spoon 2 tablespoons of sour cream over each serving, and sprinkle over 2 tablespoons crumbled queso fresco, or to taste. Serve immediately.
Each serving: 525 calories; 9 grams protein; 33 grams carbohydrates; 5 grams fiber; 41 grams fat; 16 grams saturated fat; 63 mg. cholesterol; 644 mg. sodium.
Love cooking as much as I do? Follow me @noellecarter
ALSO
You'll love this simple recipe for barbecue beans
Try this Italian sausage and kale gratin for dinner tonight
Persimmons are in season. Here are some of our favorite recipes
---