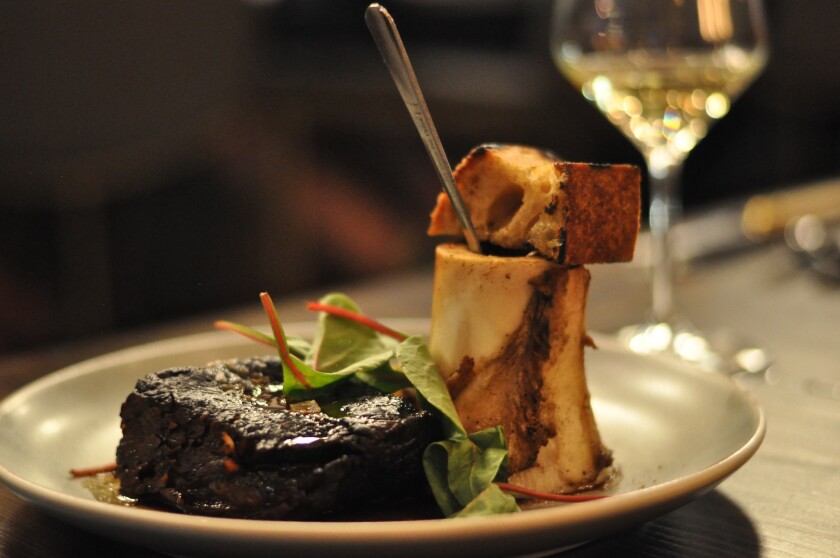 Name of restaurant: Leona, named after the original street name for Washington Boulevard, where the restaurant is. The chef is Nyesha Arrington, who many probably know more from their television than their dinner — Arrington is a "Top Chef" alum and a winner of "Knife Fight." The Southern California native was also exec chef at Wilshire and cooked at Melisse. She's chef and partner at Leona, along with owners Breegan and Kristian Vallas. This is her first, and long-awaited, restaurant.
Where you are: You're in Venice, a block from Venice pier. Maybe come early for a walk out over the Pacific, or head that way after you've finished your dinner. The space, which was previously Canali Café — where Arrington did pop-ups before opening Leona — is beautiful, with high ceilings and a large, cozy outdoor patio. There are two bars with seating, two comfy banquettes, two more tables, including a communal table, and an open kitchen at the back of the restaurant. If you sit outside, you can watch the sun set while you eat. Lucky you.
What you're looking at: Other than people-watching on the patio, you're looking at old photographs of Venice beach scenes. (Bathing suits like wetsuits, someone drinking tea on a surfboard.)
Three things you should be eating: Start with the Coctel Mixto, a bowl of seafood, peeled cherry tomatoes and tiny radishes in a spicy tomato-watermelon bath that's topped with a chile-dusted rice cracker. Then be sure to get the bulgogi-braised shortrib. They'll give you a steak knife, but you could eat this with a spoon. The dish owes much to Arrington's Korean grandmother — would that we all had Korean grandmothers — and it's served with roasted bone marrow and Weiser Farm potatoes. (No Brussels sprouts, no kale other than salt, no uni. But definitely bone marrow. Thank you.)
There's a small four-choice dessert menu, and the must-have dish is the Adult "Frosted Flakes." You'll be presented with a humble bowl that looks a lot like a sludge of breakfast cereal. It is not. It's a combination of sugared corn flakes, brown rice pudding and sweetened condensed milk, and if we ever got this for breakfast, we'd still be eating it.
Other dishes you should know about: Arrington's lamb belly wontons, with Bloomsdale spinach and crispy artichokes. There's also a wooden board of housemade cheese with wild seed crackers and a bowl of crispy curry chickpeas that you should probably get two of. These are slow-baked chickpeas with lime and Madras curry, and if all the bars on the planet served these instead of stale peanuts, the world would be a better place.
What you're drinking: Maui Bikini Blonde in a can. There are no hipster cocktails here, only beer and wine, including a pretty substantial list of beer in cans.
Info: 123 Washington Blvd., Venice, (310) 822-5379, leonavenice.com.
Because taking pictures of food is almost as much fun as eating it, on Instagram @latimesfood.
SEE ALSO:
Your guide to celebrating National Rum Day
Some first choices for dining after last call at the bar
Bryant Ng's Cassia in Santa Monica stars a brilliant pot-au-feu
---