Nighttime micheladas and enchiladas at Villa Moreliana in Grand Central Market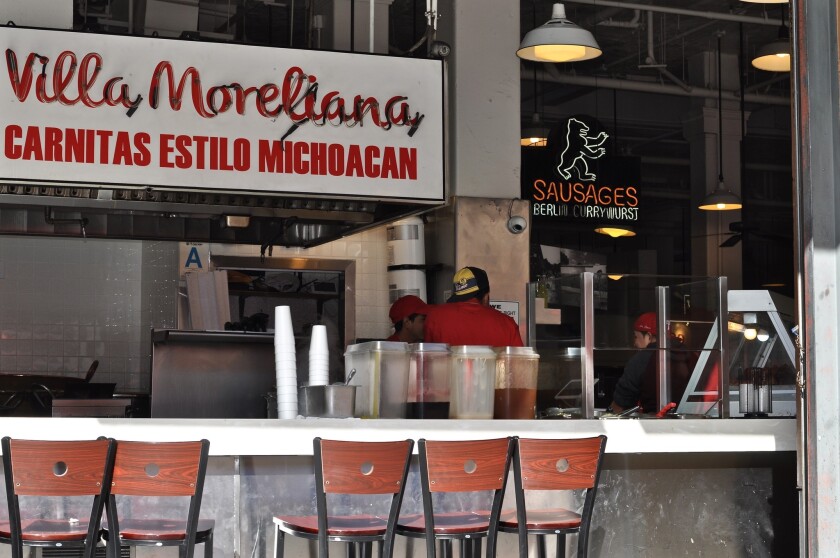 Villa Moreliana, the Michoacána carnitas stall at Grand Central Market in downtown Los Angeles, is expanding into the evening dining and bar scene. Starting Tuesday night, in conjunction with the Lucky Peach "Eating Out Loud" event in the Million Dollar Theatre next door to Grand Central, chef-owner Fernando Villagomez is opening up his little restaurant to include an evening menu, available between 6 and 9 p.m., with more upscale Mexican dishes and micheladas.
Villagomez, who opened Villa Moreliana with his brother Abraham and his mother, Telma, in 2008 — which makes him one of Grand Central's so-called legacy vendors — has upgraded his stall as well, installing a wrap-around marble bar, with attendant counter chairs. Thus, you'll be able to nosh on dishes such as his grandmother's pozole, enchiladas, gorditas, chiles rellenos and other small dishes, and knock back a few micheladas.
"It's not new," says Villagomez of the dishes themselves. "The same things, but different presentations." Thus, the recipes will be his grandmother's, but he'll be using heirloom tomatoes, Jidori chicken and Kobe beef. The drinks — including micheladas and mimosas — on the new drink menu will also have updated ingredients, but in fairly traditional recipes.
Villagomez, who is from Michoacán and went to school in Toronto, says he's been wanting to expand his repertoire for some time now. Adding a nighttime menu made sense. "Further into Mexico, at night is when we usually eat rolled tacos, gorditas," he said the other day, checking out the new counters that front the Broadway side of Grand Central Market, and from which you can see the massive metal cazos where the carnitas are made.
After years spent making traditional carnitas, he's ready to play a little. "This menu? This is the first thing that I'm doing for me."
Villa Moreliana, 317 S. Broadway, Los Angeles.
Because taking pictures of food is almost as much fun as eating it, on Instagram @latimesfood.
ALSO:
4 great gratin dishes to cook this week
This L.A. chef wants to buy all back-of-house restaurant employees dinner
Taco Bell wants you to buy its new secret menu item, before you even know what it is
---
Get our weekly Tasting Notes newsletter for reviews, news and more.
You may occasionally receive promotional content from the Los Angeles Times.