Celebrate National Cheeseburger Day with 13 mouthwatering burger recipes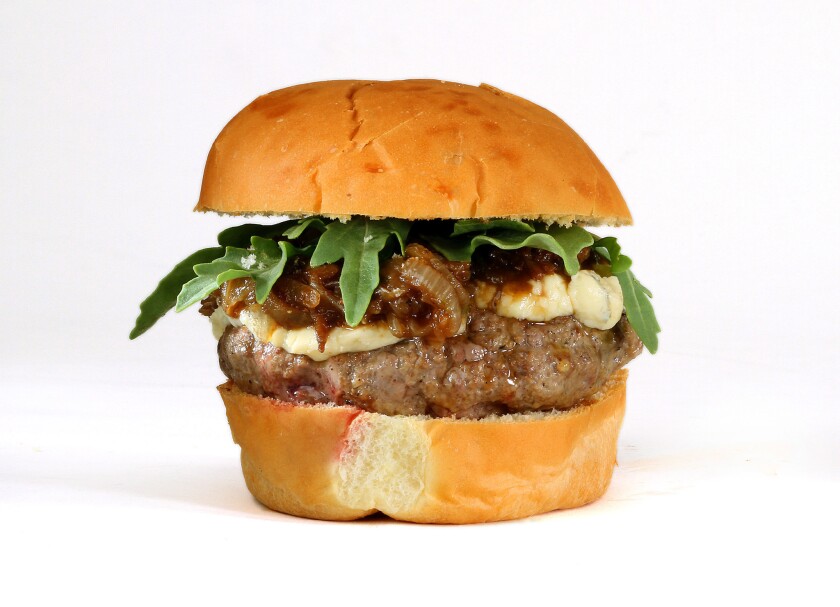 Southwest turkey burger.
(Kirk McKoy / Los Angeles Times)
Taste of Italy turkey burger.
()
A mini Kobe slider.
(Richard Hartog / Los Angeles Times)
Thursday is National Cheeseburger Day, otherwise known as an excuse to celebrate the wonder that is meat, cheese and a bun.
Any burger aficionado can tell you, a great cheeseburger is a work of art. Finding the right cheese to pair with your burger can be a serious decision. Do I go with the heat of pepper Jack or a punchy blue? Maybe a mild provolone or a nutty Gruyere will do the trick.
And when you find the right cheese and burger combination, it's pure magic. Here are 13 recipes to celebrate National Cheeseburger Day with everything from habanero Jack to Cambozola and Swiss. Just make sure you've got plenty of napkins ready.
Onion-entangled grilled burgers with American cheese
Total time: 20 minutes | Serves: 6
2 onions
2 tablespoons oil
1 pound ground chuck
1 teaspoon salt
6 slices American cheese
6 hamburger buns
2 tablespoons yellow mustard
Cut the onions into the thinnest possible slices, using a mandoline or a very sharp knife. (You should have about 5 1/2 cups sliced onions.)
Put 2 tablespoons oil in a heavy skillet and heat over medium-high heat for 5 minutes. Loosely gather a handful of meat (amounting to one-sixth of the total) and slip it into the pan. Repeat with the rest of the beef to make 6 burgers, frying in batches if necessary. Burgers should be free-form lumps, not neat patties; using the side of the spatula, shape them roughly round as they cook.
After 1 minute of frying, pile one-sixth of the onions onto each burger and sprinkle with half of the salt. With as much force as you can manage, smash the onions into the meat with the spatula. Again work the burgers into a roughly round shape with the spatula and fry 1 minute.
Flip the burgers and mash them hard with the spatula. Drain some of the grease from the pan. Sprinkle the remaining salt on the burgers. Put a cheese slice on each burger and cook until the cheese melts and you can smell the onions starting to burn, about 1 1/2 to 2 minutes. (The burgers may be rather greasy; if necessary, hold with the spatula against the side of the pan for 20 seconds to let them drain.) Serve on buns brushed with mustard.
Each serving: 402 calories; 23 grams protein; 27 grams carbohydrates; 2 grams fiber; 22 grams fat; 8 grams saturated fat; 68 mg. cholesterol; 942 mg. sodium.
For 12 more recipes, see below:
German Cuban pork burgers with Swiss cheese
Southwest turkey burger with pepper Jack cheese
Taste of Italy turkey burger with provolone cheese
Veggie burgers with your favorite cheese
The Howie burger with Gruyere cheese
The H-Bomb burger with habanero Jack cheese
Mexican cemita burger with Oaxacan cheese (quesillo)
Buffalo Cambozola burger with cambozola cheese
Red, white and blueberry burger with blue cheese
Nancy's burgers with blue cheese, cheddar and Gruyere
Stonehill Tavern kobe burger with truffle cheese
Italian caprese sliders with mozzarella
Pass the ketchup, please! Follow me on Twitter @Jenn_Harris_
---
Get our weekly Tasting Notes newsletter for reviews, news and more.
You may occasionally receive promotional content from the Los Angeles Times.