The A to Z of Los Angeles pizza
The pizzas on display at Vito's Pizzeria on La Cienega Boulevard in Los Angeles.
(Brian Van Der Brug / Los Angeles Times)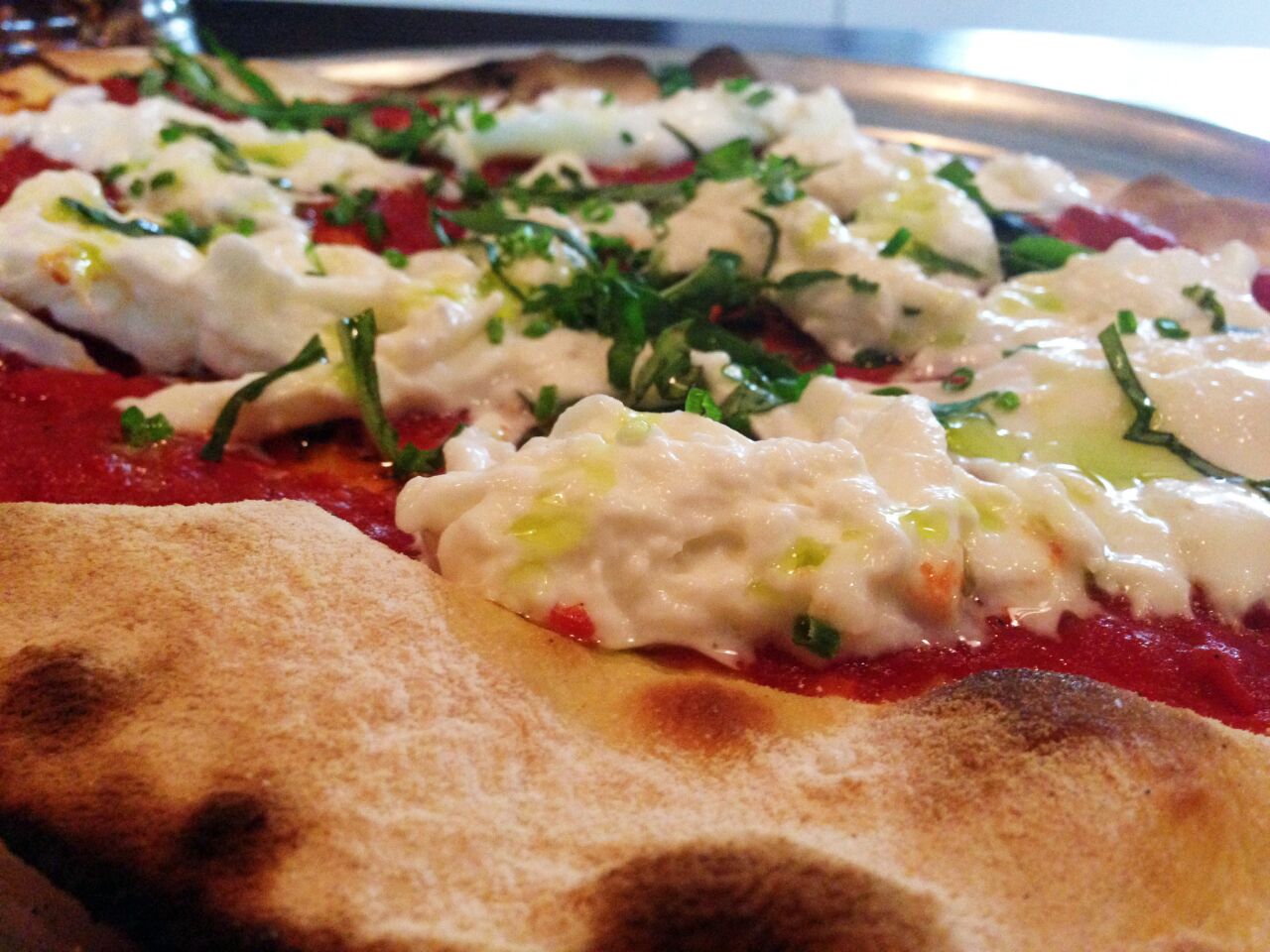 A fresh mozzarella-topped pie at Pizza of Venice in Altadena.
(Jenn Harris / Los Angeles Times)
A New York-style slice from Vito's.
(Brian Van Der Brug / Los Angeles Times)
A pizza coming out of the oven at Gjelina in Venice.
(Lawrence K. Ho / Los Angeles Times)
A close-up of a pepperoni pizza at Casa Bianca Pizza in Eagle Rock.
(Ringo H.W. Chiu / For the Times)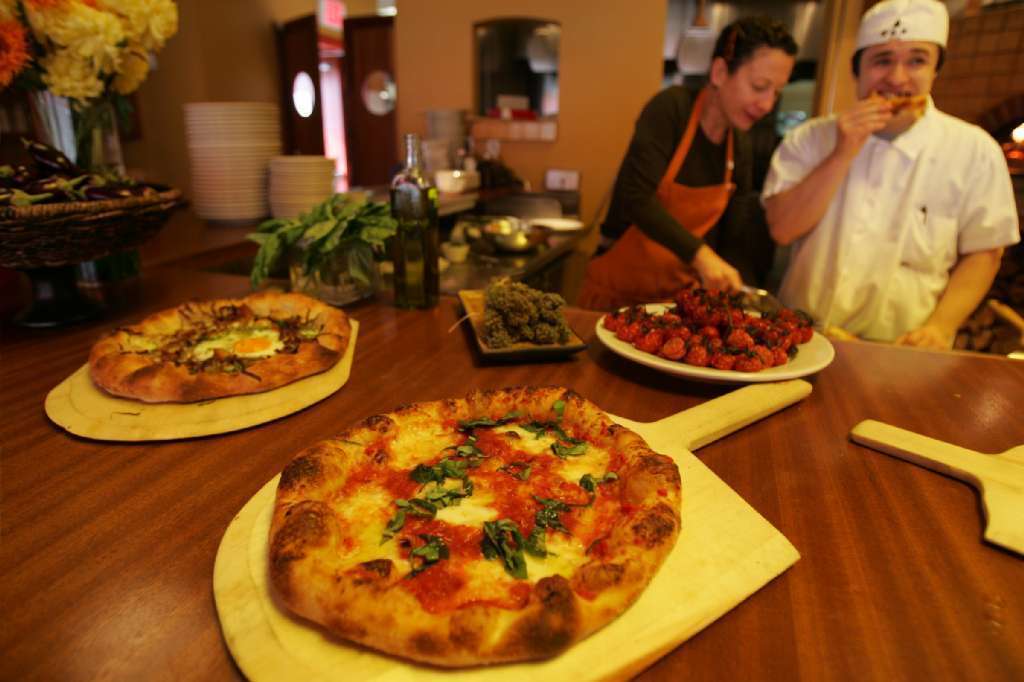 Nancy Silverton making her pizzas at Pizzeria Mozza.
(Francine Orr / Los Angeles Times)
A pizza bianca with mozzarella, pine nuts and arugula, left, and a pizza margherita, right, are offered at 800 Degrees Neapolitan Pizzeria in Westwood Village.
(Christina House / For the Times)
In celebration of National Pizza Day, here's a run-down of Los Angeles pizza, including go-to delivery spots, Chicago-style, New York-style, Neapolitan-style and New York-Naples hybrids. Here's where to get your gooey, cheesy, melty, crispy- and/or chewy-crusted pizza fix.
800 Degrees Neapolitan Pizzeria

Neapolitan-style customized pizza pies with bubbled, chewy crusts – the dough for which is rolled out right in front of you while you wait. They're topped with ingredients such as bacon marmalade, mozzarella di bufala and grass-fed beef meatballs before they're drizzled with olive oil and go into a wood-burning oven, where they cook in about a minute.
10889 Lindbrook Drive, Los Angeles, (310) 443-1911; 120 Wilshire Blvd., Santa Monica, (310) 566-0801, www.800degreespizza.com.
GUIDE: Great L.A. pizza mapped
All' Angolo Pizza & Pasta

Tucked into a Koreatown minimall, All' Angolo serves Romagnan specialties and a selection of pizza rossa and pizza bianca, including: tomato with oregano, caper and anchovies; tomato, mozzarella, ham, olive, artichoke and mushroom; and quattro formaggi with Gorgonzola, Fontina, mozzarella and Parmigiano Reggiano.
4050 W. 3rd St., Los Angeles, (213) 368-7888, www.allangolopizza.com.
Apollonia's
If weird pizza is your thing -- as in pizza topped with alligator sausage -- then maybe Apollonia's is for you. But there is less weird than that -- goat cheese with kalamata olive and lamb sausage, say, or pesto with bacon and onion. (If this doesn't resonate, Mozza is less than a mile away.) Also, for Valentine's Day: heart-shaped pizzas.
5716 Wilshire Blvd., Los Angeles, (323) 937-2823, www.apolloniaspizzeria.com.
Blaze Fast Fire'd Pizza
Founded by Rick Wetzel of Wetzel's Pretzels, with pizza formulated by consulting chef Brad Kent of Olio Pizzeria, Pasadena-based Blaze is one of many in the burgeoning genre of assembly-line-style build-your-own pizza chains. It's the Chipotle of pizzerias.
4114 Sepulveda Blvd., Culver City, (310) 398-1200; 667 E. Colorado Blvd., Pasadena, (626) 440-7358; 990 Town Center Drive, La Canada Flintridge, (818) 790-8900; 2625 Pacific Coast Highway, Torrance, (310) 325-9500; www.blazepizza.com.
California Pizza Kitchen
Nearly 30 years on, there's no denying CPK's influence on the market for California-style pizzas. Since opening its original location in Beverly Hills in 1985, there are more than 230 locations in 12 countries, and barbecue-chicken pizza (admit it, you love it!) has been copied everywhere.
For locations, go to www.cpk.com/locations.
View larger map on latimes.com
Casa Bianca Pizza Pie

Generations of Angelenos have loved this Eagle Rock red-sauce Italian restaurant whose pizza draws legions of fans. It's thin, cheesy and crisp (no bubbled edges here), cut into a grid rather than wedges of pizza slices. Is the pizza worth the wait? Well, there's spumoni too. Cash only.
1650 Colorado Blvd., Los Angeles, (323) 256-9617, www.casabiancapizza.com.
Eatalian Cafe
In an industrial part of Gardena, Antonio Pellini's Eatalian Cafe offers 30 types of pizza: thin, crackly-edged pies such as one dubbed the Rock, topped with tomato sauce, mozzarella, spicy salami, Gorgonzola, spinach and bacon. Its chicken-topped pizza is not barbecue chicken, it's rosemary chicken.
15500 S. Broadway St., Gardena, (310) 532-8880, www.eataliancafe.com.
GUIDE: Great L.A. pizza mapped
Folliero's Italian Food and Pizza
Old-school pizza joint in Highland Park with old-school toppings: cheese, sausage, black olive, pepperoni, anchovy, chorizo, mushroom, bell pepper and jalapeno. A large pepperoni pizza is $14. A meatball sandwich is $5.25. There's beer and wine too.
5566 N. Figueroa St., Los Angeles, (323) 254-0505, www.follieros.com.
Gjelina
The menu at this bobo-filled Abbot Kinney cornerstone includes lots of pizzas straight from the wood-burning oven. There's pizza topped with: house-made chorizo, tomato, cream, fennel, Fontina, chile and basil, or wild nettles, garlic confit, Fresno chile, raclette and Parmigiano-Reggiano, to name just two – quintessential Cali-Italian pies.
1429 Abbot Kinney Blvd., Venice, (310) 450-1429, www.gjelina.com.
Grimaldi's
The Brooklyn pizza institution that is Grimaldi's opened a location in El Segundo last month (there are several across the U.S.). The new location uses the same dough recipe as the original for crisp-crusted pizzas from its coal-fired brick oven. The secret to their pizza dough recipe, they say, is the water.
2121 Rosecrans Ave., Suite 1399, El Segundo, (310) 648-7503, www.grimaldispizzeria.com.
Hollywood Pies
Chicago-style pizza in Los Angeles: These are deep-dish, stuffed with layers of gooey cheese and ingredients such as house-made ricotta and sausage and meatballs, mushrooms, peppers and onions. Topped with chunky tomato sauce and Pecorino Romano.
6116 1/2 W. Pico Blvd., Los Angeles, (323) 337-3212, www.hollywoodpies.com.
Hostaria del Piccolo
A large selection of rustic pizzas at this Westside duo of cafes including the picture-ready mezzanotta with caramelized onions, potatoes, ham and a whole egg right in the center. The white pie called Porkeria has house-made porchetta, artichokes, mozzarella and olive oil.
606 Broadway, Santa Monica, (310) 393-6633; 512 Rose Ave., Venice, (310) 392-8822.
Joe's Pizza
New York in the middle of Santa Monica. It's like walking into a slice emprorium in the Village, where you can get extra-large pieces of sliver-thin pizza topped with orange-tinged cheese perfectly freckled from the heat of the oven. And there's Sicilian-style too -- bready and thick and cut into rectangles.
111 Broadway, Santa Monica, (310) 395-9222; 135 Colorado Ave., Santa Monica, (310) 394-9494; www.joespizza.com.
Michael's Pizzeria
Thick-rimmed but thin-crusted bubbly pizzas from a wood-burning oven. Michael's specialty pies include the carbonara with provolone, house-made mozzarella, pancetta and two eggs, and the pistacchio e stracciatella with house-made mortadella and stracciatella, pistachio and olive oil.
5616 E. 2nd St., Long Beach, (562) 987-4000, www.michaelspizzeria.com.
Milo & Olive
New-school pizza joint in Santa Monica from the restaurateurs behind Rustic Canyon wine bar and Huckleberry bakery. Its pizzas are baked in a wood-burning oven, thick and chewy and topped with farmers market ingredients such as escarole and farm eggs, along with pork belly sausage, DOP Taleggio, 25-year balsamic and Calabrian chiles.
2723 Wilshire Blvd., Santa Monica, (310) 453-6776, www.miloandolive.com.
Mother Dough
Bez Compani opened Mother Dough a few years ago in Los Feliz, outfitted with a wood-burning oven for his wild yeast sourdough pizzas. The pizzas are lightly charred, soft, chewy, tangily sauced and elegantly simple. (Also from the oven come roasted pears, topped with chocolate shavings and creme fraiche.)
4648 Hollywood Blvd., Los Angeles, (323) 644-2885, www.motherdoughpizza.com.
Mulberry Street Pizza
L.A.'s pioneering New York-style pizzeria, Mulberry Street has been baking big, thin pies since the early '80s -- there's eggplant parm pizza, chicken parm pizza and even lasagana and rigatoni pizzas. The original Beverly Hills location has proliferated into a mini-chain that spreads through the Valley.
347 N. Canon Drive, Beverly Hills, (310) 247-8998; 240 S. Beverly Drive, Beverly Hills, (310) 247-8100; 17040 Ventura Blvd., Encino, (818) 906-8881; for more locations, see mulberrypizzeria.com.
Olio Pizzeria
Brad Kent started firing pizzas with a portable wood-burning oven at farmers markets but has been cooking pizzas from a corner restaurant on Beverly Boulevard for a few years now. A 1,000-plus-degree oven turns out swollen-edged, pillowy pizzas with California-fresh ingredients – and breakfast bialys. (He's also headed to downtown's Grand Central Market.)
8075 W. 3rd St., Los Angeles, (323) 930-9490, www.pizzeriaolio.com.
Pellicola Pizzeria
When downtown impresario Cedd Moses decided to open a pizza place, he tapped Giulio Adriani of Forcella in New York, who created a hybrid of New York and Naples styles. They're thin and crisp-crusted, but made with long-fermented dough for the flavor of a Neapolian pizza. There's also dessert pizza smeared with Nutella.
421 W. 8th St., Los Angeles, (213) 614-8000, 213nightlife.com/pellicola-pizzeria.
Petrillo's Pizza Restaurant
Petrillo's is a San Gabriel stalwart, and everybody's here for the Petrillo Special pizza, a puffy-crusted pie topped with sausage, pepperoni, thinly sliced onions, peppers and mushrooms – pretty much every topping they offer on one pizza. They come in small, medium and large sizes.
833 E. Valley Blvd., San Gabriel, (626) 280-7332.
Pitfire Artisan Pizza
The mini-chain of pizzerias with fresh pies baked in Mugnaini ovens, featuring smart ingredients such as La Quercia prosciutto, farm eggs and seasonal produce. The burrata pie is topped with caramelized onion, wild arugula, hazelnut and pesto; or there's braised broccolini with egg, La Quercia prosciutto and four cheeses. Consistently pretty good.
801 N. Fairfax Ave., Los Angeles, (323) 544-6240; 2018 Westwood Blvd., Los Angeles, (310) 481-9860; 5211 Lankershim Blvd., North Hollywood, (818) 980-2949; 12924 Washington Blvd
Culver City, (424) 835-4088; 401 Manhattan Beach Blvd., Manhattan Beach, (310) 359-9555, www.pitfirepizza.com.
Pizza of Venice
Pizzas are labeled "Off the Wall," "Unexpected" or "Expected" at this Altadena pizzeria, where misshapen but tasty pies have their own personalities. A braised lamb pizza has tomato sauce, mozzarella, tabbouleh and tzatziki. House-made pancetta tops a pizza along with Hook's cheddar, tomato sauce and broccoli.
2545 Fair Oaks Ave., Altadena, (626) 765-9636, www.pizzaofvenice.com.
Pizzanista
An Arts District pizzeria, located next door to Tony's Saloon, from partners including skateboarder Salman Agah, with 18-inch pies such as the Meat Jesus with pepperoni, sausage and bacon, Max Chow's Meaty Balls with house-made meatballs, and Vegan Veggie. You can eat your pizza at Tony's too.
2019 E. 7th St., Los Angeles, (213) 627-1430, www.pizzanista.com.
Pizzeria Mozza
Nancy Silverton's singular pizzas are in their own genre: soft and chewy and thin with extra-plump golden, bubbled edges. The pies topped with tomatoes from Robert DiNapoli and Chris Bianco are pretty stunning, though pricey at $17 to $23. Other favorites include the pizza topped with fennel sausage, cream, scallions and red onion, or a meat lovers' pie of guanciale, bacon, salami, sausage, tomato and mozzarella.
641 N. Highland Ave., Los Angeles, (323) 297-0101, www.pizzeriamozza.com.
Settebello
As one customer put it, it's "Pizzeria Mozza on a budget." These are Napoletana-style pizzas, with just slightly charred edges and to be eaten with a fork and knife, baked in a 1,000-degree oven in less than a minute. Red pies include the namesake Settebello with crushed tomatoes, pancetta, sausage, roasted mushrooms, toasted pine nuts, mozzarella, basil and olive oil.
625 E. Colorado Blvd., Pasadena, (626) 765-9550; 13455 Maxella Ave., Marina Del Rey, (310) 306-8204; www.settebello.net.
Sotto
Sotto's pizza oven was built brick by brick by Neapolitan oven maker Sterano Ferrara, and the blistered, bubbly pies that issue from it are some of L.A.'s best, whether the classic Margherita or topped with ingredients such as 'nduja, Calabrian chiles, Pecorino, kale and onions. A favorite is the house-cured guanciale with ricotta, scallions and fennel pollen.
9575 W. Pico Blvd., Los Angeles, (310) 277-0210, www.sottorestaurant.com.
South End
Mozza alumnus Frank Fermin turns out "rustic pies" (that's what they're dubbed on the menu), crisp-tender Neapolitan-style pizzas with lots of Italian cheeses and local ingredients such as Asian mushrooms and cherry tomatoes. Its white pie is graced with bacon.
2805 Abbot Kinney, Venice, (424) 228-4736, www.southendla.com.
Stella Barra Pizzeria
Jeff Mahin, whose bona fides include time spent at the Fat Duck and L20, says he tested 30 recipes before settling on the dough recipe for Stella Barra, where the pizza is sourdough-like, puffy- rimmed and chewy. Fancy toppings include candied bacon, purple kale and black truffles.
6372 W. Sunset Blvd., Los Angeles, (323) 301-4001; 2000 Main St., Santa Monica, (310) 396-9250, www.stellabarra.com.
Terroni
The long list of hand-stretched, thin, crisp pizze are the draw at Terroni, where the fork-and-knife pies are served unsliced. Anything here blanketed in ham is a winner. Dessert meets pizza in the C't Mang, a white pie with mozzarella, gorgonzola, fresh pears, walnuts, speck and honey.
7605 Beverly Blvd., Los Angeles, (323) 954-0300; 802 S. Spring St., Los Angeles, (323) 954-0300.
Tomato Pie Pizza Joint

A delivery pizzeria crowd-pleaser. These are big, flat-planed pizzas (as big as 21 inches across). The original tomato pie is a big square of a pizza, doused with tomato sauce – and no cheese! Simpler might be better anyway -- it's pretty much all about the Grandma (a.k.a. Margherita).
2457 Hyperion Ave., Los Angeles, (323) 661-6474, www.tomatopiepizzajoint.com.
Ugo
Ugo is recognized by Italy's Associazione Verace Pizza Napoletana (VPN), which certifies that its pizza is authentically Neapolitan, made with Caputo "00" flour, house-made mozzarella cheese and crushed tomatoes, and cooked in a 1,000-degree wood-burning oven. Its quattro formaggio is drizzled with truffle honey, and the pistacchio is dolloped with mascarpone.
3865 Cardiff Ave., Culver City, (310) 204-1222, www.cafeugo.com.

Village Pizzeria
Larchmont neighborhood favorite that serves old-school New York-style pizzas, big and flat and thin-crusted. Toppings are straightforward. The Village Special, for example, is homemade meatballs, homemade sausage, pepperoni, onions, green peppers, mushrooms, olives and anchovies.
131 N. Larchmont Blvd., Los Angeles, (323) 465-5566; 6363 Yucca St., Hollywood, (323) 790-0763, www.villagepizzeria.net.
Vito's Pizza
One of the few L.A. pizzerias serving pizza by the slice. The New York-style pies are big (18 inches), and pizza maker Antonio Di Donato (Vito's cousin) gets a crisp, thin crust, golden brown with some occasional dark spots. Try a white pie, such as the Sophia Loren, with caramelized onions, pine nuts and goat cheese.
846 N. La Cienega Blvd., Los Angeles, (310) 652-6859, www.vitopizza.com.
Wildcraft Sourdough Pizza
Wood-fired sourdough pizzas from chef Tin Vuong (Abigaile, Little Sister) that crosses the Neapolitan tradition with Southern California culinary inventiveness. Red pizzas include burrata with squash blossoms, cherry tomatoes, garlic and orange oil; and white pizzas include the Clam & Pork with clams, pork belly, oregano, onion and chiles.
9725 Culver Blvd, Culver City, (310) 815-8100, www.wildcraftpizza.com.
GUIDE: Great L.A. pizza mapped

Xlixe
A Little Tokyo delivery shop that's also outfitted with cozy booths and, true to its tweaked name, sells pizza by the slice, in the same strip mall as Sushi Gen. There's draft and craft beers too.
432 E. 2nd St., Los Angeles, (213) 620-0513.
Zelo Cornmeal Crust Pizza

Pizza in its own category, whose crust is made with cornmeal. They've got some weird topping combinations too: corn, roasted onions, balsamic vinegar, smoked mozzarella and chives? But people are into it. And dessert: the zuccotti with chocolate mousse, whipped cream and ladyfingers.
328 E. Foothill Blvd., Arcadia, (626) 358-8298, www.zelopizzeria.com.
ALSO:
Neapolitan pizza comes to East Hollywood
Golden Road Brewing debuts new 2020 IPA
Nancy Silverton looks back at 25 years of La Brea Bakery

---
Get our weekly Tasting Notes newsletter for reviews, news and more.
You may occasionally receive promotional content from the Los Angeles Times.