Ramen Champ reopening, with new ramen chef, new bowls of ramen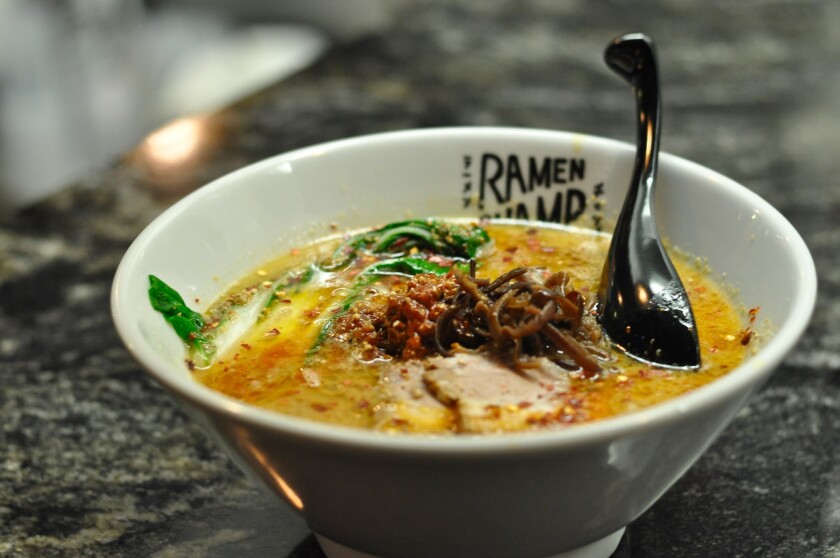 You may have noticed that Ramen Champ, the ramen shop that Eggslut's Alvin Cailan opened on the second floor of Chinatown's Far East Plaza in January, has been on hiatus for a number of weeks. Now comes news that the ramen-ya will reopen on Friday — but with a new menu entirely, and a new chef making your bowls of noodles.
Yoshimasa Kasai, the former director of the Ramen Yokocho festival, has bought the business from Cailan. Kasai and Cailan met during one of the Yokocho festivals, and Kasai offered to take over the business when he learned that Cailan was going to close it. Their agreement means that Cailan will stay on as a consultant, and that the name and interior have stayed the same, as have all those pretty bowls with "Ramen Champ" written right at the tonkotsu horizon.
In addition to running the ramen festival, Kasai trained under Kiyoshi Kurihara, the founder of Ramen Iroha, in Toyama prefecture, Japan (the location of the original Ramen Iroha). Kasai also opened Ramen Iroha in Hong Kong. (If that name is familiar, it's because Ramen Iroha has won five titles at the Tokyo Ramen Championship.)
Kasai is making three bowls of ramen at first: tonkotsu, with noodles, chashu, mushrooms, green onions and sesame oil; vegan ramen, with broth made from kombu and dried shiitake mushrooms spinach noodles, kale, corn and garlic oil; and tonkotsu tan tan, with thick noodles, greens and a Sichuan peppercorn-laced meat sauce. A fourth bowl will be coming soon, a hot and sour ramen with chicken broth, beaten egg, pork and ginger. (If you've had bowls of ramen from Ramen Iroha at the Yokocho festivals, the tan tan ramen should sound happily familiar.)
The broths are made in the same giant vats that have filled the back of the kitchen since Ramen Champ opened. The noodles are made by local noodle-makers for Ramen Champ. And yes, you can get a seasoned egg to add to your bowls if you like. (Cailan's eggs were marvelous.)
All this means that you'll soon be able to get your ramen fix in Chinatown again, in that same cozy, mural-filled shop — imagine Tsujita crossed with a manga bookstore and a Shinjuku broom closet — and that the ramen will likely be worth your wait.
Ramen Champ: Far East Plaza, 727 North Broadway, Chinatown, (213) 316-8595, ramenchamp.com.
Because taking pictures of food is almost as much fun as eating it, on Instagram @latimesfood.
ALSO:
Chinatown emerging as L.A.'s hottest restaurant destination
At Empress Pavilion in Chinatown, it's not 1991, but not bad either
Restaurant review: Pok Pok Phat Thai in Chinatown, a learning process
---
Get our weekly Tasting Notes newsletter for reviews, news and more.
You may occasionally receive promotional content from the Los Angeles Times.