Taste test: Starbucks is now serving a Unicorn Frappuccino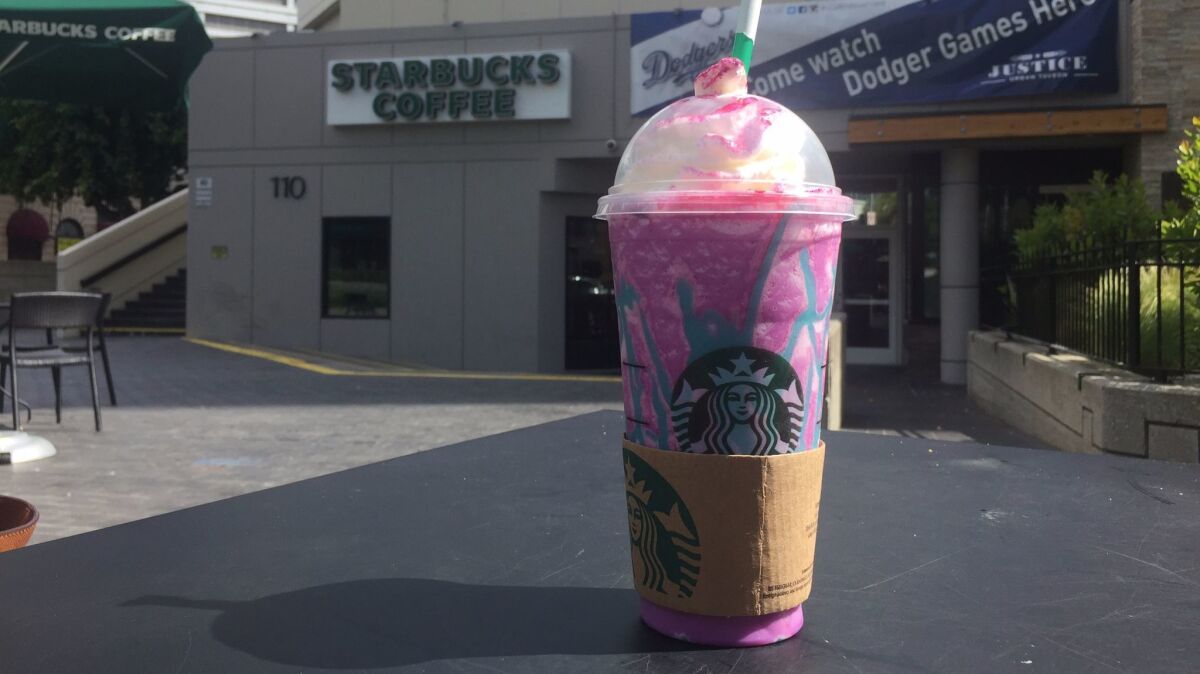 If you love sugar, whipped cream and more sugar, we've got great news for you.
For a limited time, Starbucks will be offering a Unicorn Frappuccino, a drink that appears to have been designed expressly for Instagram.
The drink is available Wednesday through Sunday. Starbucks describes the drink as a "creme Frappuccino with mango syrup and layered with a pleasantly sour blue drizzle" that starts out purple and fruity, but turns pink and tangy once you start to stir it.
It's topped with whipped cream and a healthy dusting of pink sugar and blue "sour powder."
On Tuesday afternoon, I stopped by a Starbucks near the L.A. Times office downtown, where the barista kindly agreed to make me one a little early. Here's how it went:
I was curious as to how a drink that started out purple with blue drizzle could turn pink, but once I tried it, I realized that mixing in the whipped cream is what accounts for the color change.
First it tastes like sweet mango. Then, after you stir it, there's a tart berry flavor. And the sour powder and drizzle are indeed sour. This drink has no coffee or espresso, so it's uncaffeinated, and more like a thick berry milkshake than anything else.
Starbucks says a tall version (the smallest size) of the drink is 280 calories. The company didn't provide additional nutritional information on its website or respond to an email request for that information. A similar promotional Starbucks drink, the Pokemon GO Frappuccino, had 48 grams of sugar and 7 grams of saturated fat in a tall beverage.
Overall, it was a very sugary, creamy drink. I like sweets, and this was a lot even for me. (My co-worker's 3-year-old, on the other hand, loved it.)
Social media is already going nuts over the drink, where baristas preparing for the frozen-mouthed frenzy have been posting photos of their work.
Unicorn-themed food has been popping up across social media lately, with everything from "unicorn" toast to grilled cheese, pastries, coffee drinks, and cocktails. In other words, expect to see a lot of filtered pink and blue in your newsfeed in the next few days.
Follow me on Twitter @jessica_roy.
---
Get our L.A. Goes Out newsletter, with the week's best events, to help you explore and experience our city.
You may occasionally receive promotional content from the Los Angeles Times.