Food truck report: Rise and shine with Rico Suave and more of the Rooster's breakfasts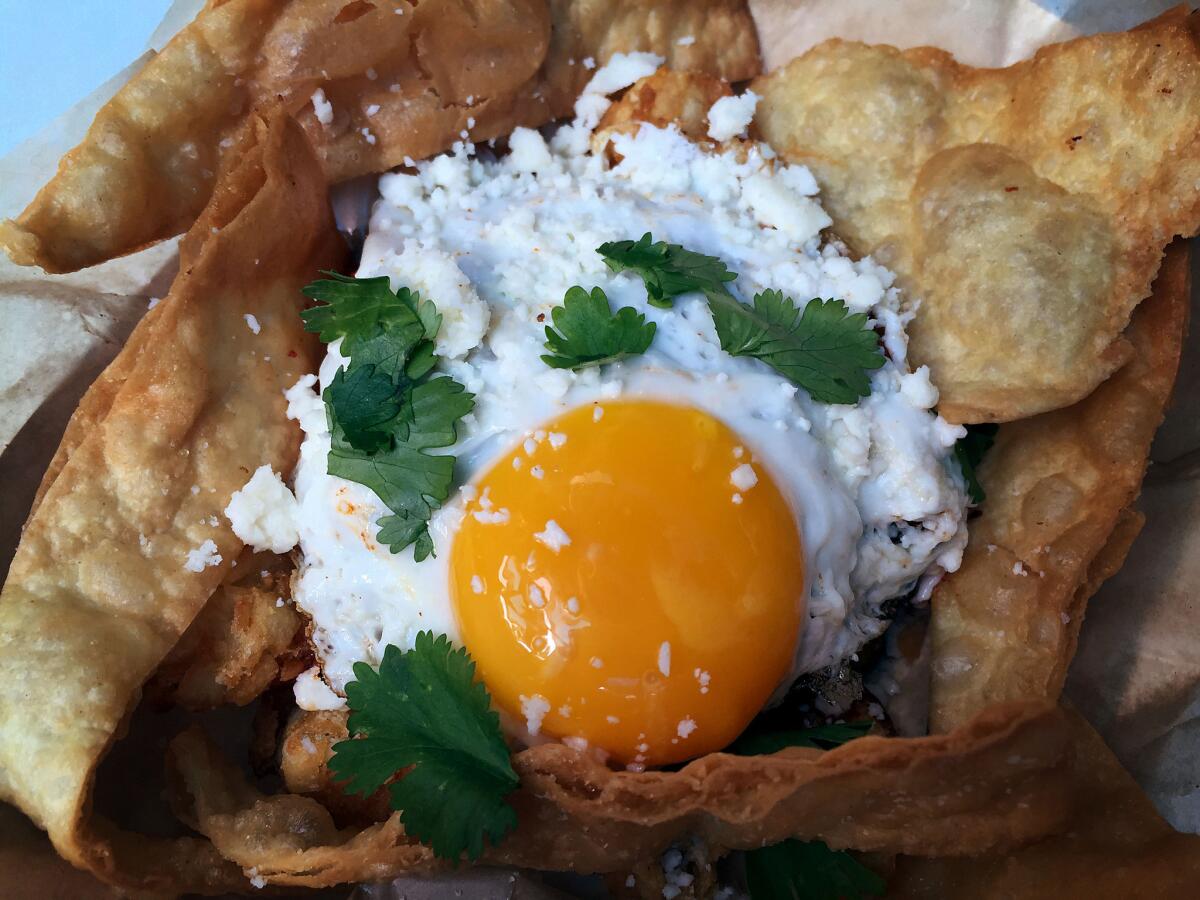 Rouha Sadighi, the chef behind a new breakfast-centered food truck called the Rooster, which hit the streets of Los Angeles in January, is on a mission to make "breakfast dope again." And she's succeeding, one Rico Suave tater tot-loaded breakfast burrito at a time.
Yes, her breakfast burrito is called the Rico Suave (named after Gerardo Mejía's '90s anthem), because "the Rico Suave is just fun," Sadighi said. And it is.
The tortilla, crisp and chewy, is stuffed with soft scrambled eggs, bacon, a cheddar and cotija cheese blend, tater tots, avocado, molcajete salsa and cilantro crema. It's big: The tater tots are plentiful, and the salsa — less a bully than a smokey condiment of roasted tomatoes and chiles that Sadighi makes on the truck every morning — is hard to stop eating. If someone wants to share, politely decline and order your own.
You'll also probably want to order your own Killit Skillit (tortilla chips and tater tots topped with chorizo, over-medium eggs and cotija cheese) along with a Basic Bitch, also known as the avocado toast — a thick slice of brioche with avocado, cilantro and an over-medium egg (Sadighi has a thing for over-medium eggs).
"Avo toast is a thing," said Sadighi, who is from Santa Monica and all too familiar with avocado toast. "I think it may be forever a thing. And it's so basic. There's nothing wrong with that. I'm basic, besides my assortment of Vans."
(At the moment, she owns 18 pairs of Vans. But the new season is coming up, so that may change.)
The 33-year-old skater-shoe-loving chef from Santa Monica didn't take a traditional path to chef-dom (if there is one). When she was 9, she told her parents she wanted to either be in a band or a chef. She worked as a host at a Souplantation restaurant when she was 16.
She tried the rock star thing, but "that never really panned out." While working in client services at a sound design studio (a job that required her to work both the front desk and cook pancakes for clients) she decided to go to culinary school and enrolled in the Art Institute in Santa Monica. Her first restaurant job as an adult was at the now-closed Joe's on Abbot Kinney Boulevard. She went on to work at RockSugar, Bouchon, Penelope in New York City, Cleo in Hollywood, Sangers & Joe in Pasadena and Kye's in Santa Monica before slinging Rico Suave breakfast burritos.
Now, Sadighi starts every day around 6 a.m. on the truck, making almost everything for her menu from scratch, except for the breads (from Drago Bakery in Culver City) and the tots (which she recognizes are essential to the anatomy of the burrito).
"I love going places and seeing tots as an option," Sadighi said. "Now it's like a thing, but in the Rico for example, it adds a texture variance that is just awesome. It's a great vehicle to carry all the other ingredients in any dishes."
If your idea of the ideal breakfast involves a sandwich (no tots), Sadighi has two options: the Bodega and the Rooster Burger. The Bodega is Sadighi's classic breakfast sandwich, made on a soft ciabatta roll with an over-easy egg, crisp bacon, a blanket of cheddar cheese (the slice is big enough to cover the entire sandwich and melt down the sides) and Kill Sauce, also known as the hot sauce she and a friend make from scratch. It's spicy, but not too hot, and just vinegary enough, with a deep slow burn that makes the sandwich.
As for the burger, it's more along the lines of something you'll find at a steakhouse: Wagyu beef that melts like butter, an over-medium egg and ketchup on a ciabatta roll. Ask for napkins.
"At the end of the day, we're just feeding people great food," Sadighi said. "In time, I'd like to have a second truck so we can do more simultaneously and then an actual space. There are a lot more items I have to put out, but the truck is a great way to snapshot what's to come."
For now, the Rooster is on a pretty fixed schedule, so visit the website for where to find the truck next.
ALSO:
Sherry Yard opens the Tuck Room Tavern in Westwood
Where to find pasteles, the addictive fried Brazilian pies, in Pico-Union
Tyler Malek, Salt & Straw's ice cream mastermind: 'You can tell whatever story you want on that frozen canvas'
Get our weekly Tasting Notes newsletter for reviews, news and more.
You may occasionally receive promotional content from the Los Angeles Times.