Tom Bergin's closing Sunday: But what about the shamrocks?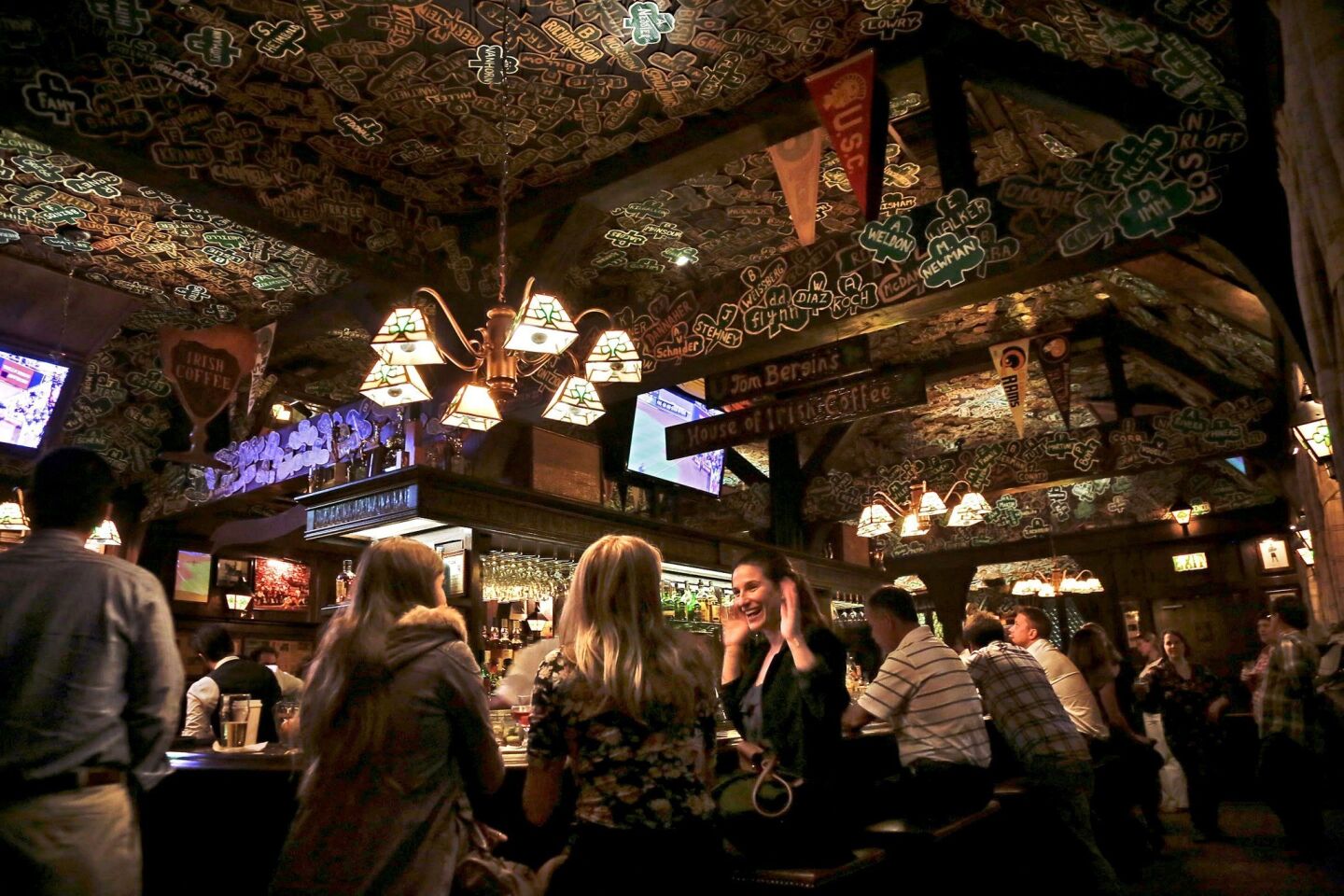 The bar area at Tom Bergin's is covered with shamrocks.
(Ricardo DeAratanha / Los Angeles Times)
Behind the bar at Tom Bergin's.
(Ricardo DeAratanha / Los Angeles Times)
Exterior shot of Tom Bergin's.
(Ricardo DeAratanha / Los Angeles Times)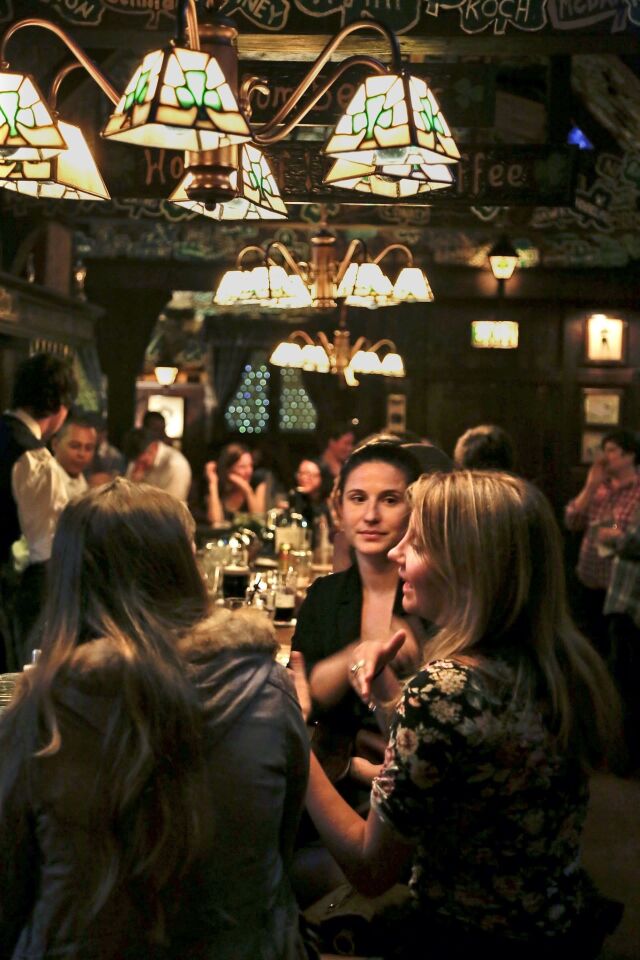 Friends chatting at the bar.
(Ricardo DeAratanha / Los Angeles Times)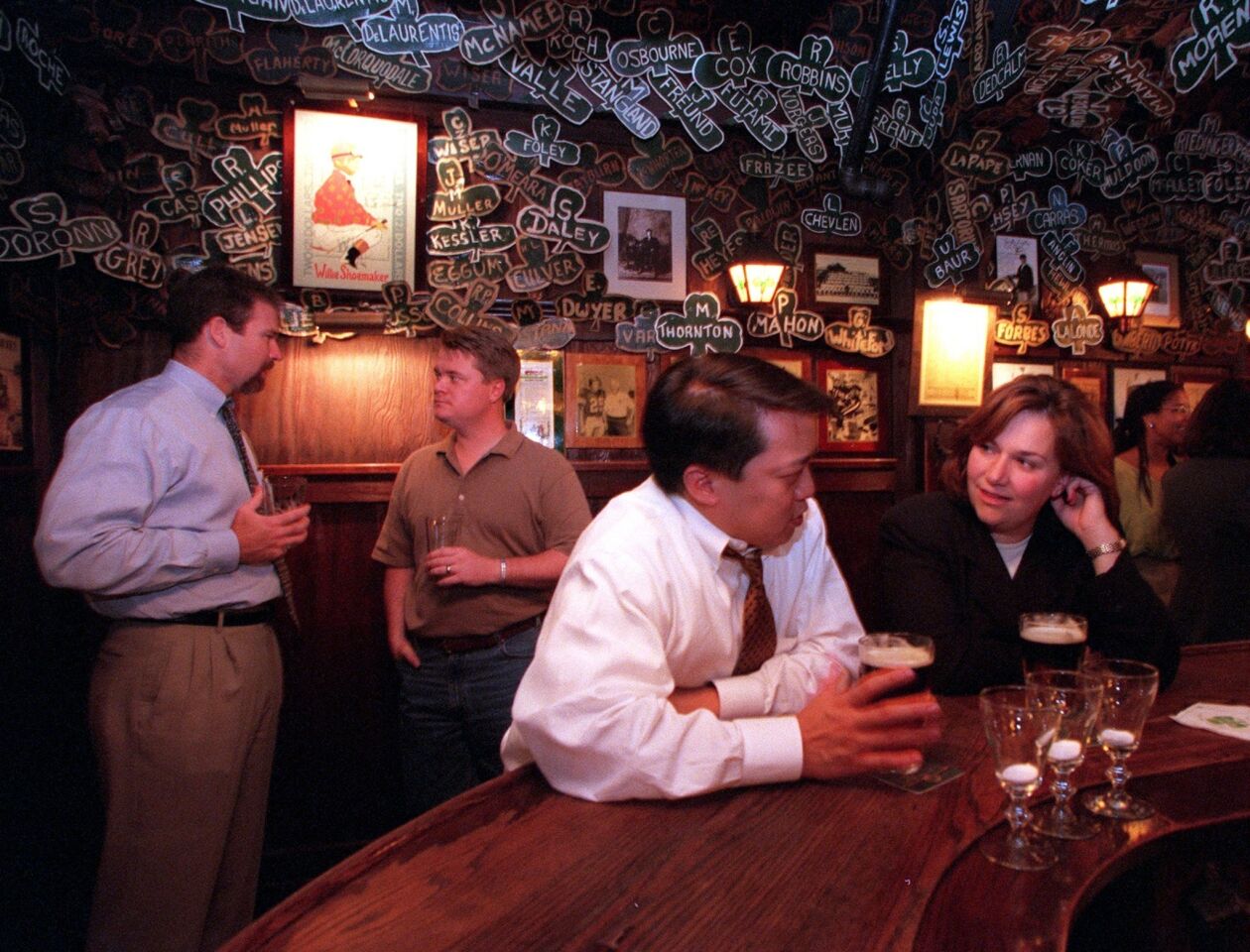 The bar area at Tom Bergin's.
(Lori Shepler / Los Angeles Times)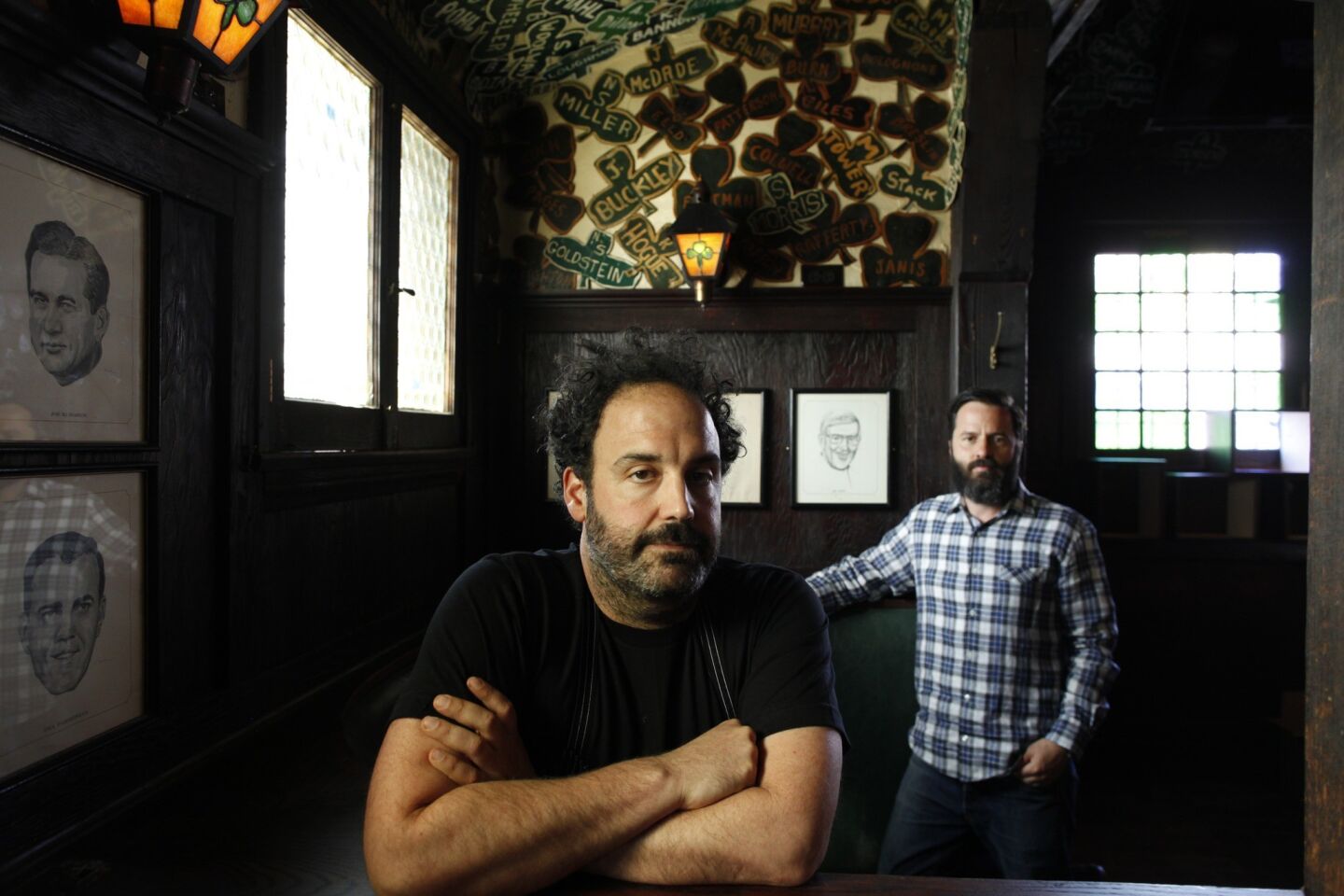 Former owners Brandon Boudet and Warner Ebbink.
(Barbara Davidson / Los Angeles Times)
The restaurant and bar was known for its Irish coffee.
(Ricardo DeAratanha / Los Angeles Times)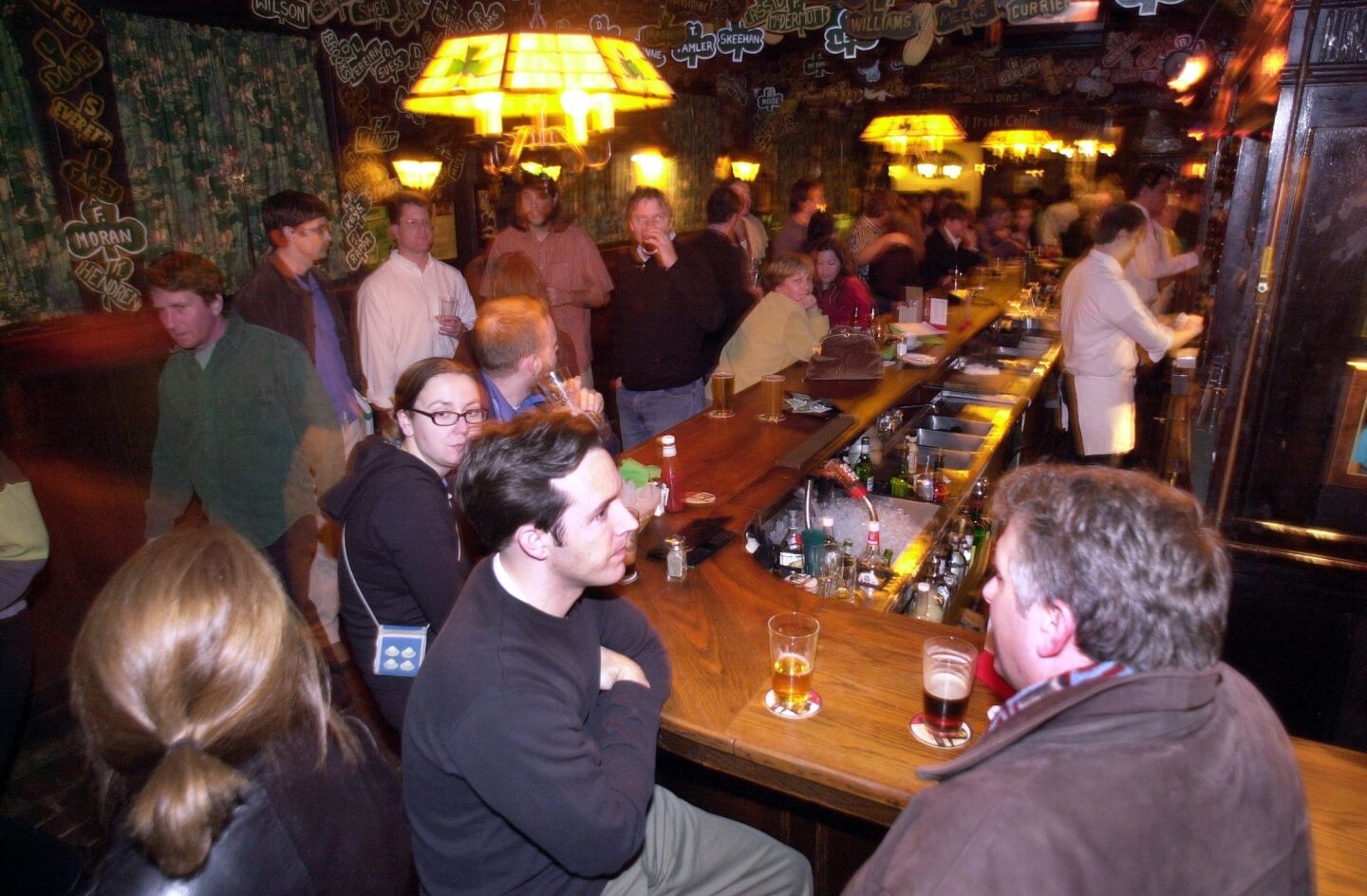 Customers at the bar.
(Ringo H.W. Chiu / For the Times)
Tom Bergin's, the Irish tavern on Fairfax Boulevard, announced this week that it would close its doors Sunday, prompting some regulars to fight to keep its iconic neon sign glowing and others to wonder what will happen to the thousands of shamrocks that line the ceiling.
The tavern is literally covered with them -- shamrocks in different shades of green, many fading into a dark, mustard brown, stained over the years by clouds of cigarette smoke. Once a regular is deemed worthy by a unanimous staff vote, a piece of cardboard from a beer bottle case is painted green and the person's name is written in white paint then stuck to the wall.
Many of the shamrocks are stuck on top of each other in clusters, each one fighting for what little real estate there is left after nearly 80 years in business. Kiefer Sutherland, Cary Grant and other celebrities also earned shamrocks on the wall.
PHOTOS: A look inside Tom Bergin's
Over the years, the shamrocks became a defining characteristic of the bar, along with the shiny green booths and numerous Notre Dame "Fighting Irish" flags, a team you were encouraged to root for, even if they weren't playing.
Some commenters on the Tom Bergin's Facebook page said they wanted to retreive their shamrocks after the closing announcement was made, but current owner Warner Ebbink, who also owns the property, insists the shamrocks and all the bar memorabilia will stay where they are.
"I've been getting a lot of inquiries, and the first thing people ask me is 'do the shamrocks come with the business?'" Ebbink said. "While I like people saying it's their shamrock, it's actually our shamrock, and once it goes up, it should remain up."
JONATHAN GOLD: Goodbye, Tom Bergin's
Ebbink and Los Angeles restaurateur Brandon Boudet purchased the property a couple of years ago to save it from becoming a parking lot, renovated the space and reopened in 2012.
"We've been in business almost a year and a half and there weren't enough sales to sustain the business," Ebbink said. "While we have a long and loyal list of Bergin's regulars, I just think not enough of them have patronized it consistently."
Screenwriter Elizabeth Hackett, who has her name on a shamrock, used to frequent the bar with her film industry friends, who all lived in the area in the late '90s and early 2000s.
PHOTOS: A look inside Tom Bergin's
"There was never a line, except for St. Patrick's Day, and it wasn't pretentious, there was no bouncer," Hackett said. "You would get to know the bartenders. There was this guy Michael who was everyone's favorite. He would get up on the bar some nights and dance in high heels."
She received a letter in the mail one day, informing her of her shamrock status and a ceremonial shamrock hanging. Hackett invited her friends to the bar to see her shamrock placed by the kitchen door, right next to longtime Dodger's manager Tommy Lasorda's. But Hackett hasn't been back to the tavern since the reopening.
"I think mostly we had our first stage of grief when it was redone," Hackett said. "It bums me out because my old roomate's grandmother used to go there when she was our age, so that to me, I guess it's sort of losing an old haunt."
Los Angeles resident Bill White has started a group on Facebook called "Keep Tom Bergin's Open." White is attempting to have the restaurant turned into an official historic city landmark. He and his son share a shamrock.
"We want to be sure that it be declared historic and that any buyer respects and protects this community gem," White said.
Christopher Doile stood near the door Friday morning in a festive green tie with a smile. He reminisced on his 35 years at Bergin's as a bartender. Now retired, he returns to the restaurant once a week as a greeter.
"We had a shamrock that said 'To all our loyal staff,'" Doile said, speaking with an Irish accent. "It's around here somewhere," he said, pointing up at the ceiling.
Krisdee and Michael Kanaly drove in from Long Beach and arrived at the tavern before it opened Friday morning, hoping to get one last meal in before the restaurant closes. They saw the closing announcement on Facebook and immediately made a reservation.
"We came here last year on Father's Day for the first time and we just really like the history of it, Michael said. "There's not a lot of restaurants left like this, it's kind of sad. I hope whoever buys the place they don't demo it."
Ebbink's intention is to find a buyer who will keep the place as is and says the restaurant and all its shamrocks will remain intact in the mean time.
"I'm going to pass it to someone who wants to continue the legacy," Ebbink said. "I think I'm one of those rare people that loves Hollywood history, probably to a fault.
ALSO:
JONATHAN GOLD: Goodbye to Tom Bergin's
Tom Bergin's, historic L.A. bar, announces it will closes
PHOTOS: Inside the new Tom Bergin's (yes, they do serve food)
---
Get our L.A. Goes Out newsletter, with the week's best events, to help you explore and experience our city.
You may occasionally receive promotional content from the Los Angeles Times.