Tom Bergin's to reopen Nov. 30 with upstairs whiskey lounge, new menu and more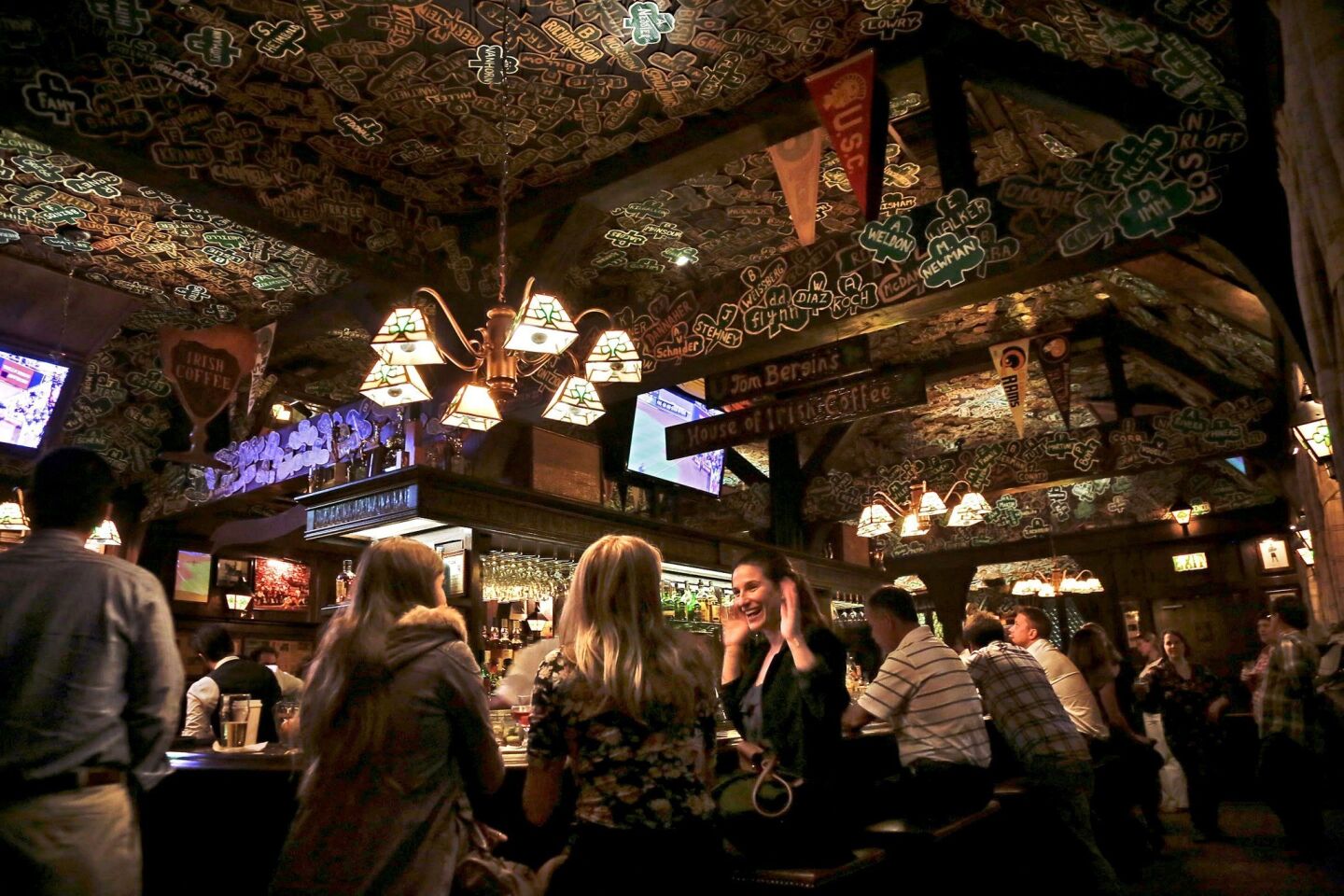 The bar area at Tom Bergin's is covered with shamrocks.
(Ricardo DeAratanha / Los Angeles Times)
Behind the bar at Tom Bergin's.
(Ricardo DeAratanha / Los Angeles Times)
Exterior shot of Tom Bergin's.
(Ricardo DeAratanha / Los Angeles Times)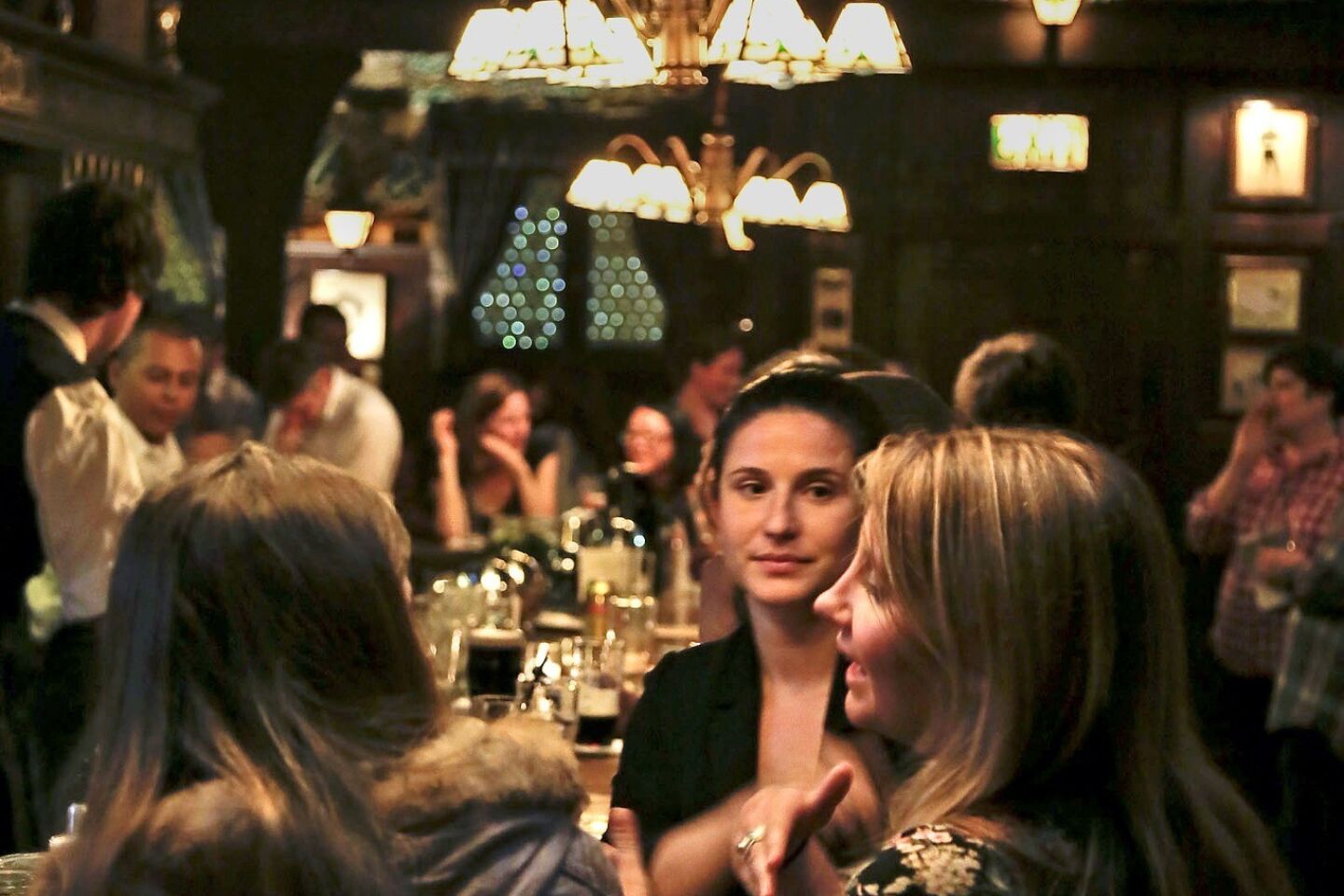 Friends chatting at the bar.
(Ricardo DeAratanha / Los Angeles Times)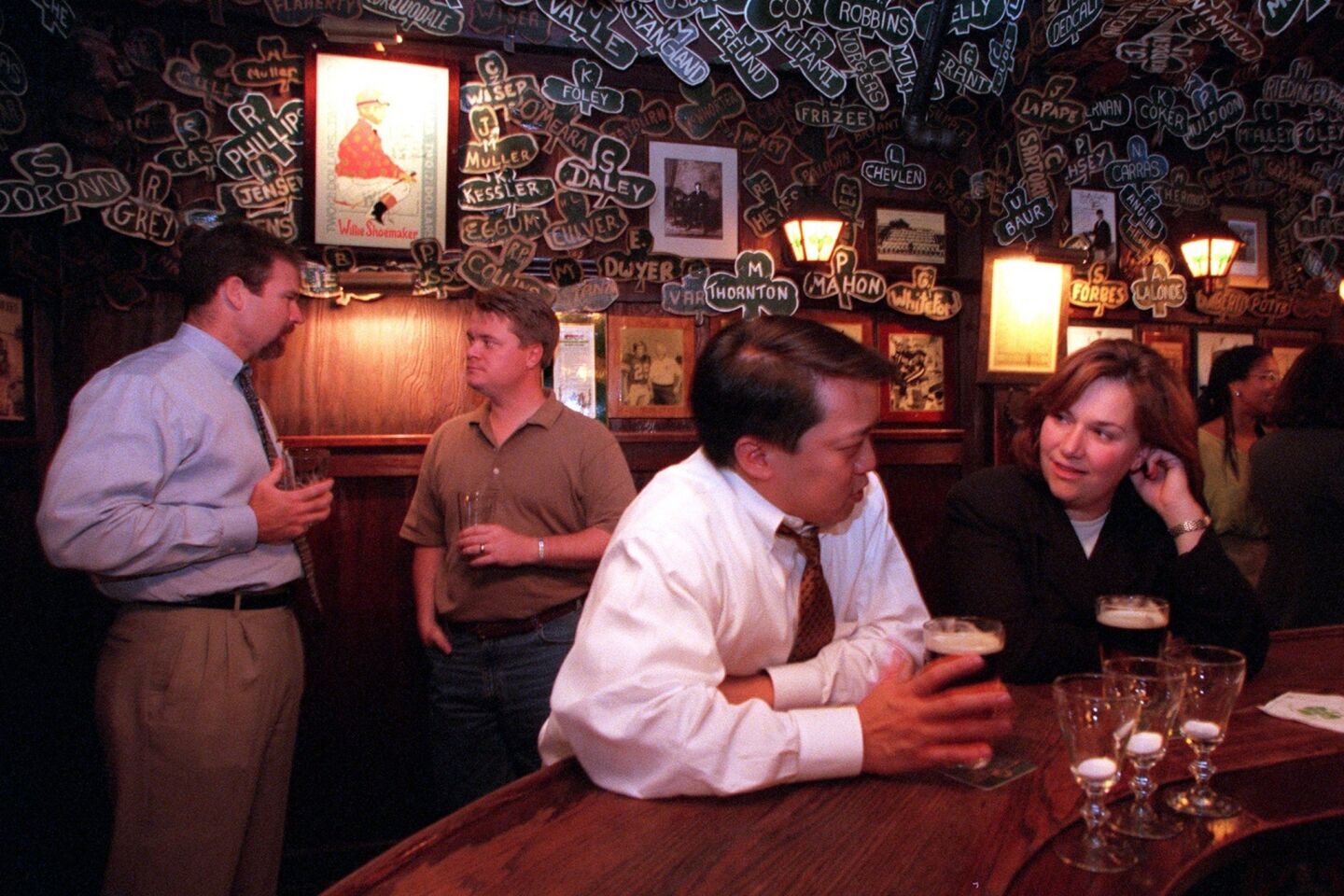 The bar area at Tom Bergin's.
(Lori Shepler / Los Angeles Times)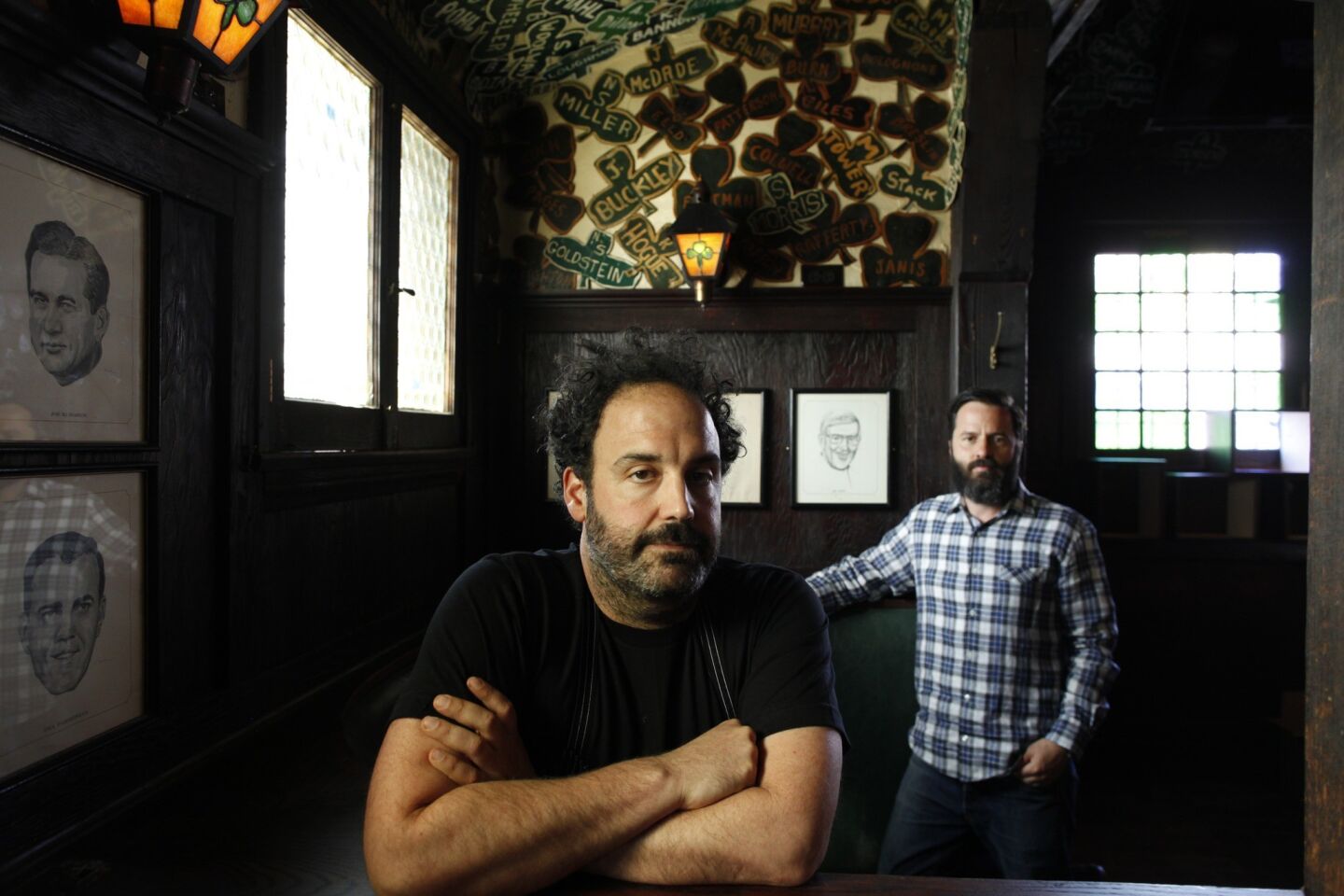 Former owners Brandon Boudet and Warner Ebbink.
(Barbara Davidson / Los Angeles Times)
The restaurant and bar was known for its Irish coffee.
(Ricardo DeAratanha / Los Angeles Times)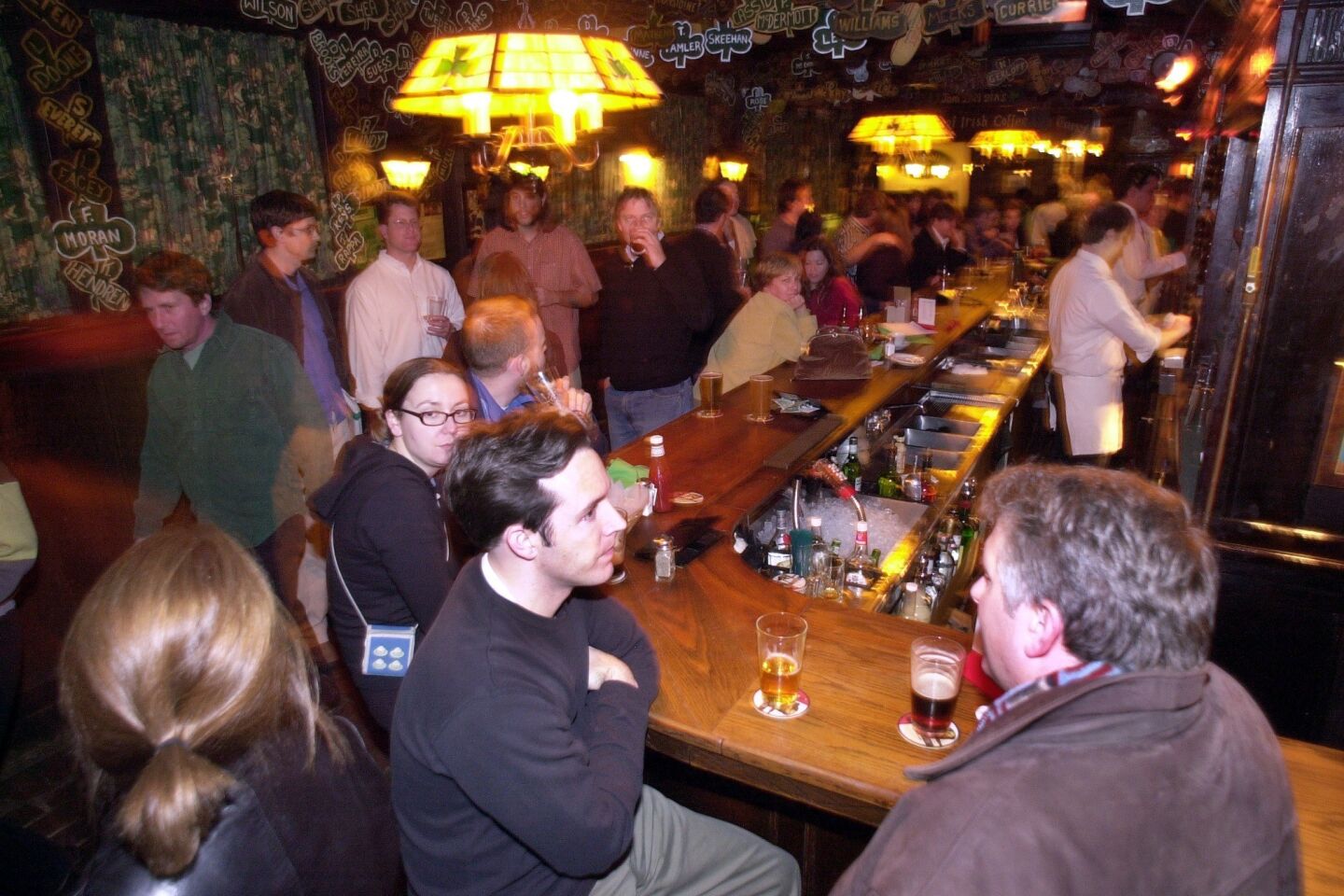 Customers at the bar.
(Ringo H.W. Chiu / For the Times)
Tom Bergin's, the Irish pub on Fairfax Avenue that shocked many when it closed suddenly in July, will reopen Nov. 30 if all goes according to new owner Derek Schreck's plans, with a new whiskey and craft cocktail lounge upstairs and an entirely new menu downstairs.
Schreck, an L.A. actor, has hired two chefs to come up with the menu.
"Our chefs are going to remain anonymous so that they can keep creative control," said Schreck. "One of them is Irish and one of them is Jewish, so you know we're going to have the best corned beef in the city."
Schreck doesn't anticipate the final menu being completed before mid-December and says the restaurant will serve "small bar food in massive quantities" until then. A limited eight-item menu will be available when the restaurant opens.
PHOTOS: A look inside Tom Bergin's
One of the biggest changes to the space will be the addition of an upstairs area called the Old Horse Shoe Lounge, a nod to Tom Bergin's old horse shoe and a celebration of the pre-Prohibition era of American brewing. It will seat 30 to 35 people. There will be a new craft bar program upstairs with a rotating list of four seasonal cocktails priced around $12. A small tap selection will also be served. And there will be "brown bottle service" in a whiskey room with higher-end whiskeys.
The upstairs will be decorated with pre-Prohibition era paraphernalia, and the downstairs will remain the same, shamrocks and all. The only change will be the addition of certain items removed during the restoration, such as a 1951 L.A. Rams banner that's been restored and reframed. The lighting will be a little brighter and Schreck plans to add some plants for a little greenery.
Schreck will do away with bottled beer at the bar in favor of a complete tap system. There will be 14 beers on tap, including a selection of five Irish beers, one imported light beer, a hard cider and seven rotating local microbrews. Tom Bergin's will the be the only place you can get Rogue Ale's new Irish-style beer with custom labeling.
There will be a new cocktail list consisting of "twists on traditional cocktails," all priced around $10. Schreck intends to have all the mixers, garnishes, syrups and bitters made in house.
Schreck is hoping to have Tom Bergin's open and running by the end of November for a couple of reasons. He wants to be open for the Notre Dame vs. Stanford game and the USC vs. UCLA game, both Nov. 30. For opening day, he plans to turn the parking lot into a biergarten and set up a projection TV. There may be an entrance fee around $20 that will go to a charity.
"So far, we're on track to hit that target, but there are all sorts of little hiccups, like the liquor license hasn't officially transferred yet," said Schreck. "To be completely honest, we're not really ready but we want to be open for everybody to get their bar back, especially for Christmas, Hanukkah and football season."
The main bar is also slated to be open and the restaurant will be decorated for the holidays with Christmas lights and a tree in the middle of the dining room.
Want more restaurant news? Follow me on Twitter: @Jenn_Harris_
ALSO:
JONATHAN GOLD: Goodbye, Tom Bergin's
Counter Intelligence: Tom Bergin's Tavern, reinvented
Damiano Mr. Pizza closes: The he-said, they-said whole story
Get our L.A. Goes Out newsletter, with the week's best events, to help you explore and experience our city.
You may occasionally receive promotional content from the Los Angeles Times.