Thai chef Suthiporn 'Tui' Sungkamee dies at 66; his gift for spices turned Jitlada into a favorite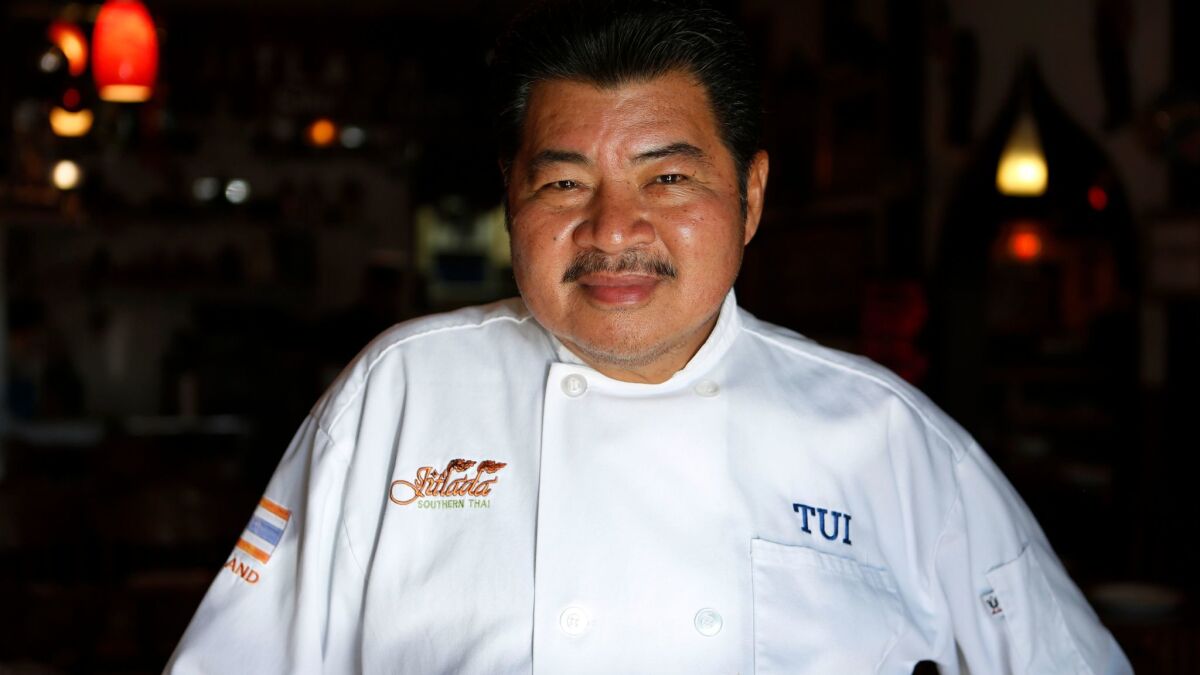 Suthiporn "Tui" Sungkamee, co-owner of Jitlada restaurant in Thai Town and a chef known for elevating Thai cuisine in Los Angeles to new heights, died Wednesday after a battle with lung cancer. He was 66.
Opened in 2006, the restaurant gained a cult following, one that includes actors Ryan Gosling and Dev Patel. Chefs from across the country also frequented the restaurant, including Maude's Curtis Stone and Trois Mec's Ludo Lefebvre.
On any given night, a crowd huddles outside the restaurant, waiting for a taste of Sungkamee's spicy curries, catfish and steamed mussels with lemongrass.
Sungkamee was one of 12 siblings from Nakhon Si Thammarat province in southern Thailand. He started cooking when he was around 5 years old, first learning to peel garlic and chiles, cut lemongrass and pick turmeric bulbs for his grandparents. He frequently climbed trees to bring fresh tamarind to his grandmother to make curries.
He watched her put chiles and spices in the mortar, and learned how to make kuah kling from his grandmother, a dish that draws hourslong wait times outside his Sunset Boulevard restaurant.
As the eldest sibling, he often cooked for his brothers and sisters. While in Thailand, Sungkamee worked at restaurants, and also as a tour guide before coming to the United States to work with his sister, Sarintip "Jazz" Singsanong.
The siblings took over the Jitlada restaurant in 2006 with Sungkamee in the kitchen and Singsanong running the front of the house. Sungkamee quickly made a name for himself, with an exquisite ability to deliver spice in southern Thai dishes laced with chiles and spice.
Sungkamee visited the markets, sometimes five times a day to buy ingredients for the restaurant.
He caught the attention of Times restaurant critic Jonathan Gold, who has included Jitlada on his 101 Best Restaurants list every year.
"You could try to eat your way through the typed list of specials at the back of Jitlada's menu, a roster of ferociously spicy southern Thai dishes mostly unavailable outside Nakhon, but Suthiporn "Tui" Sungkamee will make it pretty difficult for you to succeed," wrote Gold.
"The list of regional specials balloons by the week, beyond the acacia blossom omelets, stuffed fish balls and beef with cassia buds to exotic curried innards, eel with stinky sator beans, frog legs with turmeric and hundreds of other things, in such profusion that most of us tend to end up with the coco mango salad and the fried morning glory once again. If you're lucky, Sungkamee's sister Sarintip 'Jazz' Singsanong may volunteer to make you one of her notorious Thai hamburgers," Gold wrote.
"I follow my own palate," Sungkamee told the Times in an interview in 2015. "I create everything myself. You know, [my Thai food has] three, four tastes. Sweet, salt and sour. Or spicy. For me when I cook, I don't want to follow everyone."
Singsanong plans to honor her brother by keeping the restaurant open.
"He said stand here for me and promise me without me the restaurant must go on," said Singsanong. "I promised him I would keep my promise and bring Jitlada to the world."
"His daughter Sugar said, 'My dad loved Jitlada more than himself,' " said Singsanong. "We love Thailand, we love the king, and we are so proud to represent Thailand, Thai food and culture."
Sungkamee is survived by his wife, Aun Ratchanee Sungkamee, his daughters Pearl Sataranon and Jaratporn "Sugar" Sungkamee, sister Singsanong, and multiple brothers, sisters, nieces and nephews.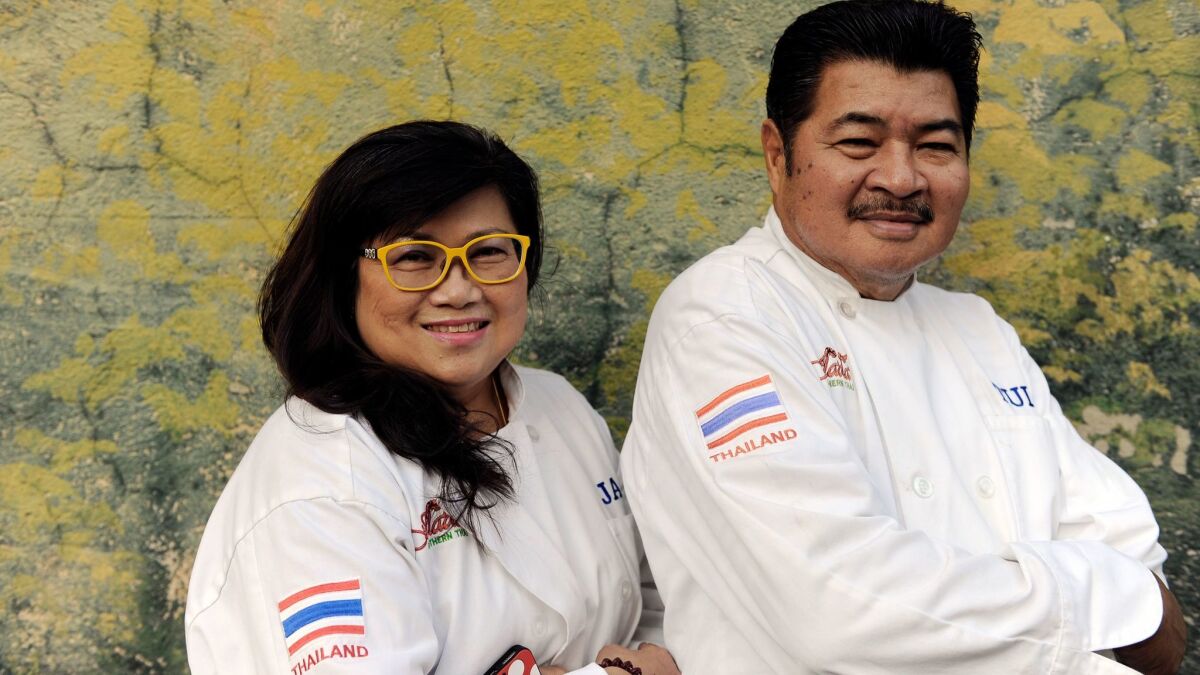 ALSO:
One chef's road from addiction and fine dining to the teaching kitchen
Vineyard owners share stories of loss and salvation amid wine country wildfires
Get our L.A. Goes Out newsletter, with the week's best events, to help you explore and experience our city.
You may occasionally receive promotional content from the Los Angeles Times.