Thai chef Suthiporn 'Tui' Sungkamee dies at 66; his gift for spices turned Jitlada into a favorite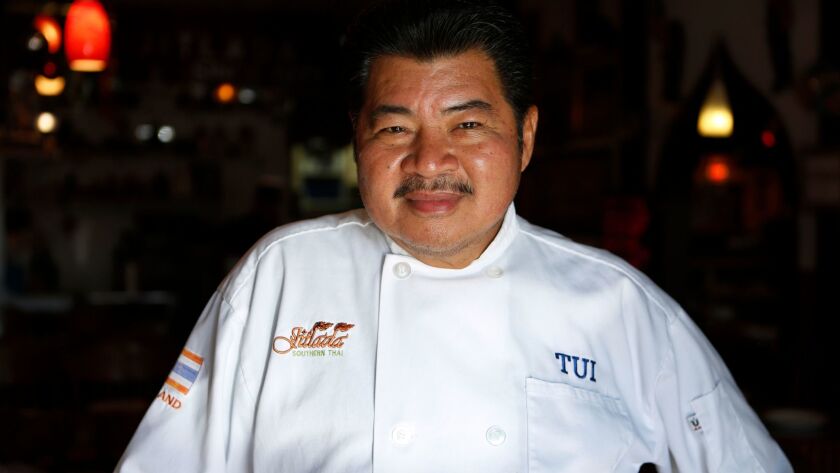 Suthiporn "Tui" Sungkamee, co-owner of Jitlada restaurant in Thai Town and a chef known for elevating Thai cuisine in Los Angeles to new heights, died Wednesday after a battle with lung cancer. He was 66.
Opened in 2006, the restaurant gained a cult following, one that includes actors Ryan Gosling and Dev Patel. Chefs from across the country also frequented the restaurant, including Maude's Curtis Stone and Trois Mec's Ludo Lefebvre.
On any given night, a crowd huddles outside the restaurant, waiting for a taste of Sungkamee's spicy curries, catfish and steamed mussels with lemongrass.
Sungkamee was one of 12 siblings from Nakhon Si Thammarat province in southern Thailand. He started cooking when he was around 5 years old, first learning to peel garlic and chiles, cut lemongrass and pick turmeric bulbs for his grandparents. He frequently climbed trees to bring fresh tamarind to his grandmother to make curries.
He watched her put chiles and spices in the mortar, and learned how to make kuah kling from his grandmother, a dish that draws hourslong wait times outside his Sunset Boulevard restaurant.
As the eldest sibling, he often cooked for his brothers and sisters. While in Thailand, Sungkamee worked at restaurants, and also as a tour guide before coming to the United States to work with his sister, Sarintip "Jazz" Singsanong.