Cape Seafood and Provisions, Michael Cimarusti's sustainable fish shop, opens Wednesday
Conveniently on the heels of his James Beard Award nomination for Best Chef in the West, Michael Cimarusti (Providence, Connie & Ted's) is opening his long-awaited fish shop next Wednesday. Of course Cape Seafood and Provisions, which goes into the pig-shaped hole where the butcher shop Lindy & Grundy used to be on Fairfax Avenue, is a fish shop the way that Providence is a seafood restaurant and Cimarusti is, well, a good cook.
At Cape, you'll be able to buy the kind of sustainable seafood — wild, fresh, seasonal — that Cimarusti serves at his celebrated restaurants and likes to catch when he goes fishing with his crew. You'll also be able to get the provisions in question, in the form of pantry supplies and prepared dishes and other stuff, such as fish fumet and lobster bisque, as well as chowder, crab cakes, and clam "stuffies."
"We won't be tossing salmon," clarified Cimarusti the other day, just in case anybody's envisioning an L.A. version of Seattle's Pike Place Market.
At Cape -- which Cimarusti owns in partnership with his wife, Crisi Echiverri; Donato Poto (partner at both Providence and Connie & Ted's); and Craig and Amy Nickoloff (also partners at Connie & Ted's) -- you can buy your salmon from the case and go home and toss it yourself, if that's what you prefer to do with your sustainable seafood.
"We could throw them across Fairfax," suggested Echiverri.
Fish for sale at Cape Seafood and Provisions.
(Amy Scattergood / Los Angeles Times)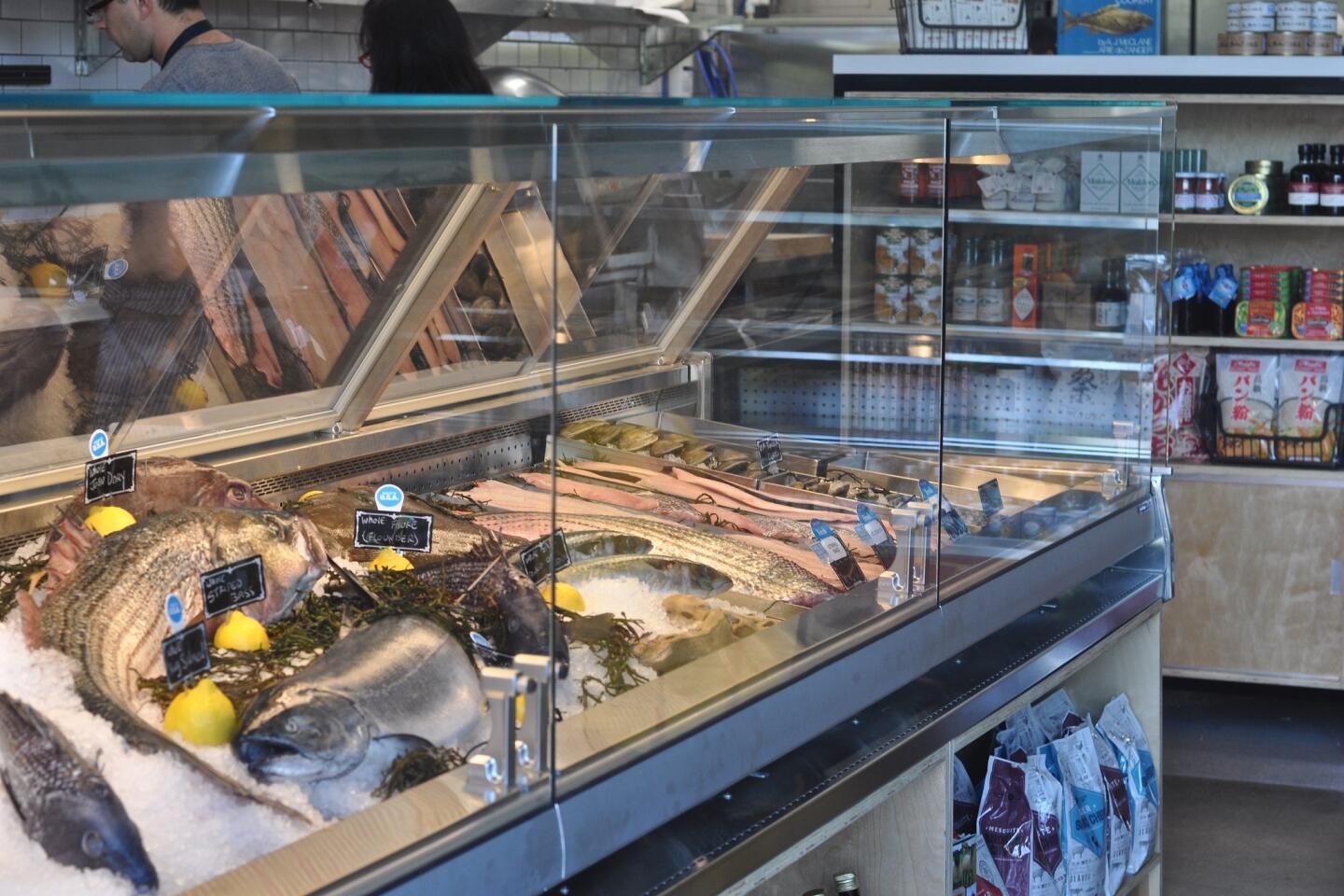 Fish for sale at Cape Seafood and Provisions.
(Amy Scattergood / Los Angeles Times)
From left, chef Brandon Gray, chef-owner Michael Cimarusti, General Manager Ted Bassetti, co-owner Donato Poto and fishmonger Sean Brown.
(Amy Scattergood / Los Angeles Times)
Cape Seafood and Provisions on Fairfax Avenue.
(Amy Scattergood / Los Angeles Times)
Fish for sale at Cape Seafood and Provisions.
(Amy Scattergood / Los Angeles Times)
Fish for sale at Cape Seafood and Provisions.
(Amy Scattergood / Los Angeles Times)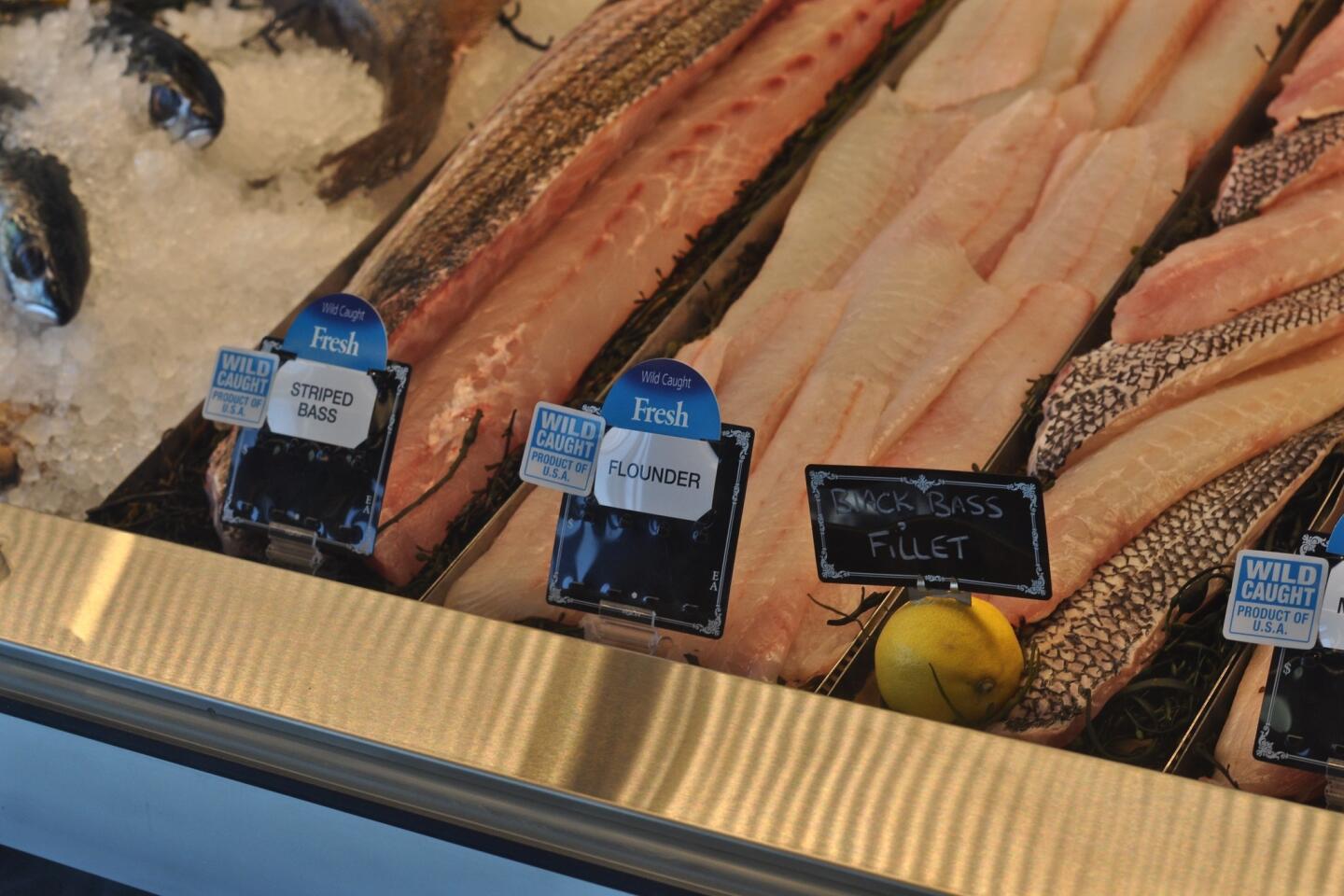 Fish for sale at Cape Seafood and Provisions.
(Amy Scattergood / Los Angeles Times)
That Cimarusti would translate his long-held interest in sustainable fish and seafood into an actual shop should make sense to those familiar with his work. Long an advocate for responsible fishing, dining and cooking, the chef has been involved with the Monterey Bay Aquarium's Seafood Watch program for years, as well as Dock to Dish, a seafood subscription program that tightens the connection between fishermen and chefs.
"We're using the Monterey Bay Aquarium buying guide. Everything we sell will be green or yellow, no exception," Cimarusti said, citing the coded Seafood Watch recommendations for "best practices" and "good alternatives."
"Cheap fish is never good and good fish is never cheap," the chef says, doubtless not for the first time, as he positioned the king salmon, Spanish mackerel, striped bass and other whole fish in the impressive refrigerated case in the front of the shop. In the case adjacent to the whole fish: oysters and clams and other seafood. In another case nearby: a grab-and-go selection, smoked fish, caviar.
And because it's nice to be able to do a little one-stop shopping in Los Angeles, Cape will also feature steaks and chops from Nickoloff's butchers at West Coast Prime Meats, seafood-friendly items such as white miso, barrel-aged soy, smoked sesame seeds, shaved bonito and pastas sourced from the Truffle Brothers, as well as cedar planks, cookbooks and other fun, applicable stuff.
"I wanted to bring the ingredients that we use at Connie & Ted's and Providence into this setting," he said.
Behind those cases and shelves, in the back of what was once the celebrated butcher shop, there's the kitchen of the 1,200-square foot space. A double-decker live tank with lobsters and crabs. An electric smoker. A stove. A fishmonger station.
A few days before Cape opened, as his crew made a vat of lobster bisque with an immersion blender not much smaller than a jackhammer, Cimarusti smoothed the top of a sashimi board made from White Cypress. It had recently arrived from Japan, the chef said, and he'd had it brought over to the new shop from Providence to help with pre-opening prep. Instead of flying fish, imagine the procession of cooks walking across Fairfax, a few blocks up the street from Animal and Canter's Deli. One has a board under his arm: a traveling fishmonger on the cover of Abbey Road.
Cape Seafood and Provisions: 801 N. Fairfax Ave., Los Angeles. Cape will be open from 10:30 a.m. to 7 p.m. Tuesday through Saturday, and 10:30 to 5 p.m. on Sunday. Closed Monday.
Because taking pictures of food is almost as much fun as eating it, on Instagram @latimesfood.
ALSO:
Mian restaurant has noodles like no one else in the San Gabriel Valley
The 7 sins of eating sushi. (Note: You're probably guilty of all of them)
How L.A.'s number one restaurant is using a sustainable seafood delivery service
Jonathan Gold: Five of the tastiest Chinese restaurants in the SGV with the name 'Tasty'
Get our L.A. Goes Out newsletter, with the week's best events, to help you explore and experience our city.
You may occasionally receive promotional content from the Los Angeles Times.