Grilling burgers this summer? Up your game with these homemade bun recipes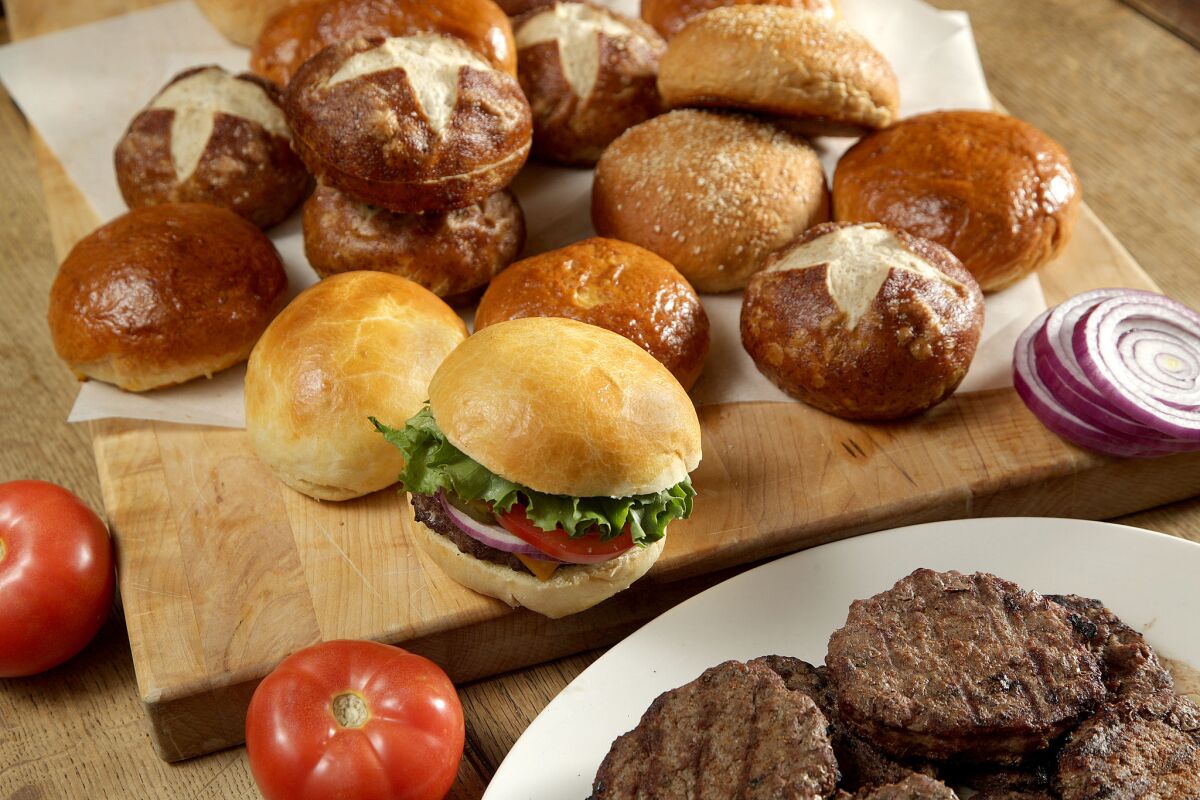 If Memorial Day is the unofficial start to grilling season, then Father's Day is the celebratory kickoff. This is the time when we get our last live-fire exercises in before the 4th of July, when the summer season really gets underway. And, if you're like me, you might just be thinking about burgers this weekend.
To any real fan, a hamburger is never just a burger. Rather, it's a work of art, passionately thought out and painstakingly executed. A great burger is the very extension of the grill master's identity, the perfect blend of meat for flavor and just enough fat to keep it juicy and rich, flavored with the right mix of spices. Top that beauty with colorful veggies, a slathering of homemade sauce and maybe — just maybe — your own homemade pickles, and most of us would call it a masterpiece.
But what about the bun?
All too sadly, most of us shop for the first buns we see in the market. We test for fluffiness (just like those old Charmin commercials), check for a bedazzling of sesame seeds and call it a day. But consider hamburger buns in the same way you would pizza crust — you don't want them stealing the show, but they should be able to hold their own with the rest of the parade. If you're going to all that trouble with the fillings, why not care about the bookends?
Here are three classic burger bun recipes for when you plan your cookouts this summer. They're surprisingly easy to make — most of the time is spent waiting for the dough to rise — and you can't beat the flavor.
Brioche buns are unpretentiously rich, full of butter and eggs, but still light and fluffy, and brushed with a thick coating of egg and milk wash for an extra-shiny golden sheen when they come out of the oven.
The honey whole wheat are a tad more healthful for the virtuous among us. With a nearly equal blend of whole wheat and bread flours, they're light, almost airy, rather than dense, with just enough honey to balance the flavors of the whole grains.
But my favorite might be the pretzel buns: Made with a blend of rye and bread flours, the buns are dipped in an easily orchestrated lye dip to give them their characteristic flavor and coloring. (You could easily skip the wash and brush them with egg for coloring and sheen, topping the finished product with coarse sea salt.)
While you're at it, don't forget to add your favorite flavorings to the buns, personalizing any of the recipes to suit your tastes. Flavor the dough with fresh herbs, spices or cheese; top them with sesame, poppy, sunflower or other seeds, or maybe old-fashioned oats or nuts.
A freshly made batch of buns is just the right complement for the burgers you've been perfecting — and they also work well sandwiching brisket, pulled pork or any other glorious concoctions you plan on conquering this summer season.
The difference between bread washes
Bread recipes frequently call for some sort of "wash" or glaze before baking. Sometimes, a recipe may call for egg, sometimes milk, even butter. Different washes are used to achieve different results. So how do you choose the right one for your project?
Egg: Using beaten whole eggs will give color and sheen to a bread. Egg yolk provides rich color, browning easily in the oven; egg white provides a nice sheen.
Milk: Brushing with milk will lend color to the crust, as the sugars in the milk help to brown it.
Recipe: Honey whole wheat burger buns »
Water: Water is often sprayed or brushed onto bread before it is placed in a very hot oven — and while it bakes — to give the bread an extra-crisp crust. Water added to an egg wash thins the wash so it brushes more easily.
Butter: Butter gives the bread a softer crust and richer flavor.
Sweeteners: Honey, maple syrup, agave and other liquid sweeteners will give bread a sweeter, softer crust.
Get our L.A. Goes Out newsletter, with the week's best events, to help you explore and experience our city.
You may occasionally receive promotional content from the Los Angeles Times.