Lasagne, not lasagna: Why a pan of béchamel lasagne is just the kind of comfort food you may need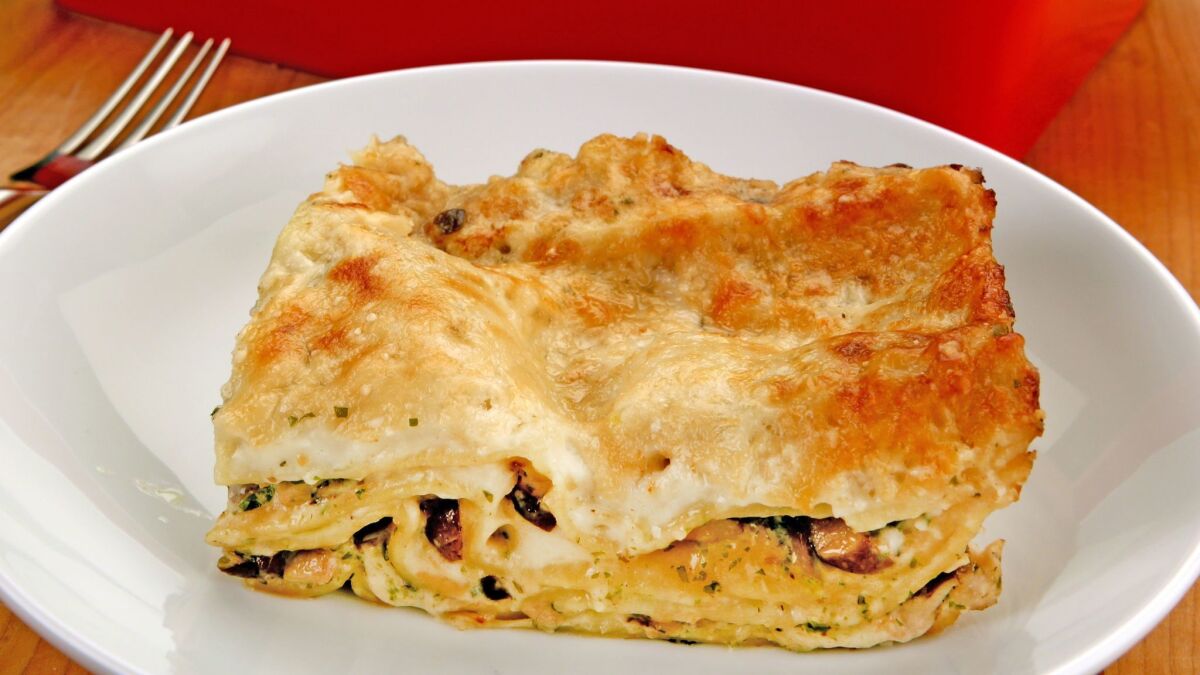 Lasagna can be a heavy cheese bomb. The comfort casserole dish of noodles layered with a tomato-based meat sauce, mozzarella, ricotta and liberal doses of Parmesan is a rich dish that takes time to make. It requires long-cooked meat sauce and, if you are ambitious, handmade pasta. It is good. And it is a project.
This story is not about that kind of lasagna, which has its origins in Naples. It is about lasagne, which is ubiquitous north of Rome. Note the difference in the last letter of the name. Lasagne is plural and refers to the noodles themselves, also plural. Lasagna is Italian American parlance and refers to the aforementioned cheesy composition, the dish in toto.
Lasagne-with-an-e is a multi-layered luxurious delivery system for flavor, made with thin egg noodles and bolstered by silken pools of the thickened buttery sauce known as besciamella in Italian, and béchamel in French. We call it white sauce.
Let's add some history about béchamel to the story. The sauce originated in Tuscany during the Renaissance, and was brought to France by Catherine de Medici's chefs. I like to think it was brought in lasagne. It's milk thickened with a binder of briefly cooked butter and flour, called roux. Béchamel, which is one of the "mother sauces" of French cuisine, is used as a soufflé base, to nap various dishes as a sauce; it's also the helpful, glorious glue that can hold baked dishes together.
The lasagne of this story is also made with no-boil noodles, which are thin, Italian-engineered noodles, rather than the more labor-intensive handmade kind — or the thick, curly-edged, dried noodles of your lasagna childhood. A note about the stuff in a box: We chefs are conditioned to think that convenience substitutes can't be as good as the "real" made-from-scratch ingredients. But in this case, the thinness of the noodle is what matters, and the no-boil noodles — pre-cooked then dehydrated at the factory — allow the home cook to whip up a beautiful dish without the complication of a pasta-making project.
To these convenient noodles, add that béchamel sauce and you have a dish that you can assemble in minutes rather than hours — especially if you rely on seasonal ingredients as the "condimento," or flavoring. It's an elegant and simple way to use up any bits and pieces you have in the fridge. It's a form of kitchen pragmatism — even optimism, which is maybe useful for the coming year.
I think most Americans grow up eating some version of a cheesy noodle casserole with tomato sauce. I know that I did. My mother and I would make a meat-based "spaghetti sauce" once a month, which we usually served atop spaghetti but on special occasions we layered it with all the cheeses and made it into the classic festive casserole. And when she didn't want to cook, we'd go to Milano's, then our local Italian restaurant on Hillhurst Avenue, and order it.
Milano's is long gone, but it was my first experience with restaurant lasagna. Served in the heavy, shallow oval often known as a rarebit dish, it was a square portion, made with thick, wavy noodles that were layered with ricotta, mozzarella and meat sauce — then covered with more sauce and cheese. It was definitely good. But it wasn't as good as the layers of thin pasta layered with whatever was on hand and laced with béchamel, barely inflected with nutmeg and smooth as silk.
An essential element of béchamel-based lasagne is its versatility. Lasagne is so much more than a meat dish, and I love how easily it takes center stage with a seasonal focus when béchamel is the base. Only have tomato sauce in the house? No problem. Simply layer it with béchamel and Parmesan. The same is true for pesto sauce. Lasagne is a pantry-driven, ever-changing canvas.
This time of year I make either a roasted butternut squash version, with a bit of additional fontina, or I sauté a pile of mushrooms and make them the main attraction. Ever wondered what to do with those beautiful bags of mixed wild mushrooms you see at the farmers markets? This is it: lasagne ai funghi, or mushroom lasagne, the béchamel edition.
So that's what I give you as a New Year's gift — not a dish that has a reputation for being heavy and time-consuming at a time when many folks are sharing the latest way to do penance for enjoying the holiday table, but rather lasagne that takes a fraction of the time as the meat-sauce version, and that eats like a dream.
Kleiman ran Angeli Caffe for 27 years. She's the longtime host of KCRW-FM's "Good Food" and a member of the James Beard Foundation's Who's Who of Food & Beverage in America.
ALSO:
Our 10 favorite recipes of 2017
Treat Yourself L.A., a new food festival for millennials, is coming to Santa Monica
Jonathan Gold finds coq au vin that tastes like a personal favor at Marché Moderne in Newport Beach
Get our L.A. Goes Out newsletter, with the week's best events, to help you explore and experience our city.
You may occasionally receive promotional content from the Los Angeles Times.