Surfas, L.A.'s neighborhood culinary supply shop, reopens in Arlington Heights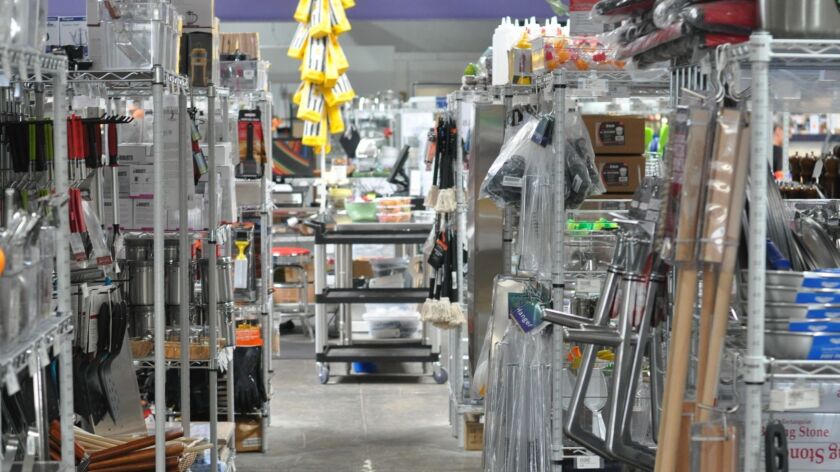 For decades, food-minded folks beat a well-trodden path across Los Angeles to Surfas Culinary District, the enormous cooking supply shop in Culver City. When it closed in July 2017, those same folks waited for it to reopen in a new location. That finally happened in March of this year, when owners Les and Diana Surfas opened a new iteration of their store in Arlington Heights, about four miles east of their old spot.
The couple ran into more than a couple of delays since opening, but the shop is finally hitting its stride, with most of the 12,000-square-foot space loaded with rows of stock pots, baking supplies, chefs' jackets, Valrhona chocolate, artisanal flours, utensils and gadgets, knives and bannetons. A cafe offers sandwiches and salads, as well as to-go items; there's an espresso bar and cases filled with salumi and domestic and imported cheeses. And in the back section of the cavernous space — the 1913 building shows the original skylights and exposed brick — there's a test and demo kitchen where cooking and baking classes are now being offered.
"We have a bigger line of baking supplies, more pans, more sizes — and more gadgets," said Les Surfas on a recent morning. One of the benefits of the new location, he says, is lower rent, and he's passed on those savings to customers by lowering prices.
Surfas is hardly new at this. His father started the company in 1937 in a downtown L.A. garage. The business moved to a series of locations in Culver City over the last 40 years, moving to the corner of National and Washington boulevards in 2005, where it stayed until last year. (An Orange County location opened in 2012 and also closed last year. There is a second Surfas store, open since 2008, in Hot Springs, Ark., where Diana is from.)
"What did the queen say? Annus horribilis. That was our 2017," said Diana. The husband-and-wife team now runs Surfas with a staff of 14, including a barista, a baker, a cheesemonger, and chef Nancy Yuan, who runs the demo kitchen and is in charge of the classes, which started in July. (Many of the staff are veterans of the Culver City store.) Recent or upcoming classes include artisan pizza-making, a pasta workshop, a class on African vegan cooking, and a workshop on Japanese sweets. And on Sept. 27, Surfas is collaborating with L.A. Kitchen on a class focused on making healthful food on a budget.
Les says that about half of Surfas' business is commercial kitchen equipment, and the feel of the store — as it was in the Culver City location — is still more that of a warehouse than a boutique cooking stop. Wander between the aisles and you'll find racks filled with stock pots in myriad sizes, including giant 80-quart pots; stacks of sheet pans; white ceramic bowls and pitchers and ramekins; wooden serving boards made by an Arkansas woodworker and other items geared to caterers; sacks of flour from White Lily, the 134-year-old Southern flour company; boxes and bags of Valrhona and Callebaut chocolate; a rainbow selection of cookie decorations; fondant and the glucose and xanthan gum used in more molecular cooking; and stacks of chefs' jackets and toques, which also come in kids' sizes.
At the back of the shop, there's a barista counter and cases filled with sandwiches and salads; salumi, including a giant Ibérico ham; cheeses; and pastries. Not all the pastries are made in-house yet, but the vegan desserts (chocolate mousse, panna cotta) are. There are also refrigerated and frozen cases, with items such as rendered duck fat, clotted cream and the coveted French butter beurre de baratte. And there's a weekly knife-sharpening service, as there was in Culver City.
In short, there's a lot of stuff. For now, you'll have to head to Arlington Heights and shop in person, as Surfas' online shop isn't, well, online yet. Diana says she hopes to have it up in the next few weeks, in time for peak holiday season.
"We're not a cookie cutter store," says Les. "No pun intended," he continues after a pause, remembering that among the many aisles is one devoted to cookie cutters.
Surfas Culinary District: 3225 W. Washington Blvd., Los Angeles, (310) 559-4770, www.surfasonline.com.
Twitter: @ascattergood
---
Get our weekly Tasting Notes newsletter for reviews, news and more from critics Bill Addison and Patricia Escárcega.
You may occasionally receive promotional content from the Los Angeles Times.