Bakery-cafe Clementine celebrates Grilled Cheese Month for the 16th year. This year's theme is the "Periodic Table of Grilled Cheese."
"Am I cheesy enough?" Annie Miler asks as she comes out from behind the bakery counter. She adjusts the cheese bandanna covering her hair, straightens her lab coat and pulls up her goggles. Suddenly, she whips out an extendable pointer. "I am a grilled cheese chemist," says the chef and owner of Clementine, the neighborhood bakery-cafe she's operated in Century City since 2000. "Or maybe a grilled cheese engineer."
April is National Grilled Cheese Month, and few take the month-long celebration as seriously as Miler. This is the 16th year she and her staff have celebrated the month, both at the original Century City location, as well as the newer spot in Beverly Hills. And every year, the theme gets a little more elaborate.
This year? The "Periodic Table of Grilled Cheese," Miler's take on the periodic table of elements ordered by atomic number. "We've put together dozens of elements," Miler says, rattling off various cheeses, breads and possible additions. She has in fact created a periodic table featuring every possible ingredient; there's even a section labeled "synthetics" that bunches together Velveeta, American and "squeeze" cheeses. A large customized periodic table hangs prominently behind the counter, and front-of-the-house staff all sport lab coats and the same cheese neckerchief, each handmade by Miler's Aunt DeDe in Minnesota.
This year's menu features 12 grilled cheese sandwiches, including Miler's favorite, the Loaded Potato, which is like a grilled cheese sandwich crossed with a baked potato — including all that sour cream and butter.
"Cheese is everything. It's comfort, it's richness, it's deliciousness," says Miler.
She first decided to celebrate Grilled Cheese Month in 2002. April can be a notoriously slow time for the restaurant business, and this initially was a way to boost sales. But, over the years, it's become so much more. "The idea of getting to be cheesy on multiple levels, and dressing up and coming up with themes, it feels very celebratory."
Themes have ranged from "Cheesedance" in 2007 to "Cheesemageddon: Total Meltdown" in 2012, a play on the Maya calendar and "Curds Against Humanity" in 2014, a tongue-in-cheek take on the popular card game.
Miler and her crew made fake ballots for 2008's "Melt the Vote" and posters celebrating iconic American settings for 2005's "Destination: Grilled Cheese." In 2013, Miler came up with "Ms. Cheesy," complete with her own Instagram and Tumblr accounts tracking cheese-related events, musings and gym workouts. Apparently, you can burn a lot of calories lifting a wheel of cheese.
Although Miler may begin thinking about next year's theme shortly after the current celebration is over, February is when she usually gets busy. Her inspiration? "I have a costume box at home, for the kids," she says. "That, and I'm crafty. I know how to use a glue gun — I was looking for a pointer and found all my kids' magic wands." It may have inspired next year's theme. "I don't want to say anything, but maybe magic," she says and winks. "You know, making your sandwich disappear."
Miler has made a lot of sandwiches disappear. She sells about 200 a day, and averages 5,000 a month. In all, she figures she's sold about 50,000 sandwiches since she began celebrating Grilled Cheese Month. "That's around six tons of cheese."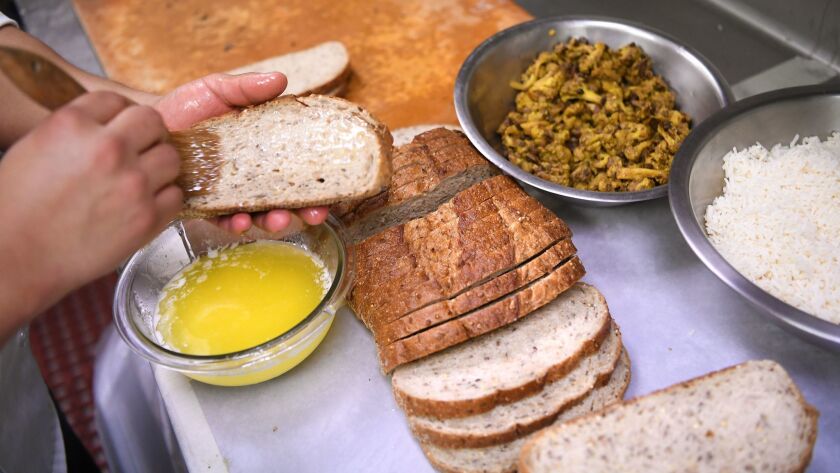 Sometimes, before cheese month starts, she wonders if people will still be interested. "They always are."
So what is it about grilled cheese? "It's something everyone had growing up. It's the thing someone makes for you when you need comfort," says Miler. Her favorite sandwiches are the ones her husband makes, along with the ones she used to share with her grandfather. "Grandpa made this grilled cheese once. It was late at night, after dinner, and it's one of the best things I've ever had. I've never been able to re-create it."
Miler has had one grilled cheese sandwich on the menu at Clementine since the very beginning, her Classic Grilled Cheddar, featuring extra-sharp Tillamook cheddar on country white bread. But since she began celebrating Grilled Cheese Month, she estimates she's come up with well over 200 unique recipes. "It's just bread and cheese, but once you start adding, components are key."
Some sandwiches are inspired by local chefs. One year, she devoted Grilled Cheese Month to the artisan bread scene in Los Angeles. This year, her "Annie's Obsession" grilled cheese contains a salsa inspired by the salsa morita at Loteria Grill. Chef and owner Jimmy Shaw uses the sauce to flavor items such as shrimp tacos and huevos rancheros. "I was addicted to that when I was pregnant."
As for what constitutes a grilled cheese, "I think it can be anything where the cheese is somehow grilled," says Miler. That can include a sandwich, where the whole thing is grilled, or a creation where the cheese itself is grilled — "all those great crispy bits" — and added to a sandwich. She would even include a Philly cheesesteak sandwich. "When I first put that on the menu, it was by far the most popular."
Downstairs in Clementine's prep kitchen, cooks on a recent midday were assembling dozens of grilled cheese sandwiches for the next day's service. Miler's appointed grilled cheese assistant, Arturo Miguel, was constructing a batch of "Parmageddon" sandwiches, in which white table bread is spread with a mixture of ricotta, mozzarella and Parmesan, then layered with grilled marinated eggplant and roasted cherry tomatoes.
Miler grabbed a sandwich, heated it in a panini press until the cheese was melted and the bread had perfectly browned grill marks, then sprinkled on yet more cheese: a mixture of grated Parmesan and cheddar. "Parmesan doesn't brown. The cheddar gives it color," she noted. Miler put the sandwich under the broiler until the cheese had melted and was bubbling, then added some salsa verde and served it alongside a glass chemistry beaker filled with tomato soup.
So, why does grilled cheese do so well in Los Angeles? "It seems the opposite of California's cuisine," says Miler. She's from Minnesota, and always felt grilled cheese seemed more Midwestern. "But I remember early on, when I first moved here, L.A. had the highest concentration of doughnut shops. We're into quinoa and pressed juice, but we do love our comfort food.
"Maybe everybody's grandpa made them grilled cheese at some point," she reflects. "Everybody needs a little of that, even now."
ALSO
Cheesy goodness: 15 of our favorite grilled cheese recipes
No more drive-thrus: Boom! Fantastic dinners in less than an hour
9 L.A. diners, coffee shops and restaurants with great meatloaf sandwiches
---