This chocolatier adds caramel, toffee and cannabis to her chocolates
A box of cannabis-infused chocolates from Marigold Sweets.
(Christina House / For The Times)
Caramels sit in molds.
(Christina House / For The Times)
Caramels wait to be dipped in chocolate.
(Christina House / For The Times)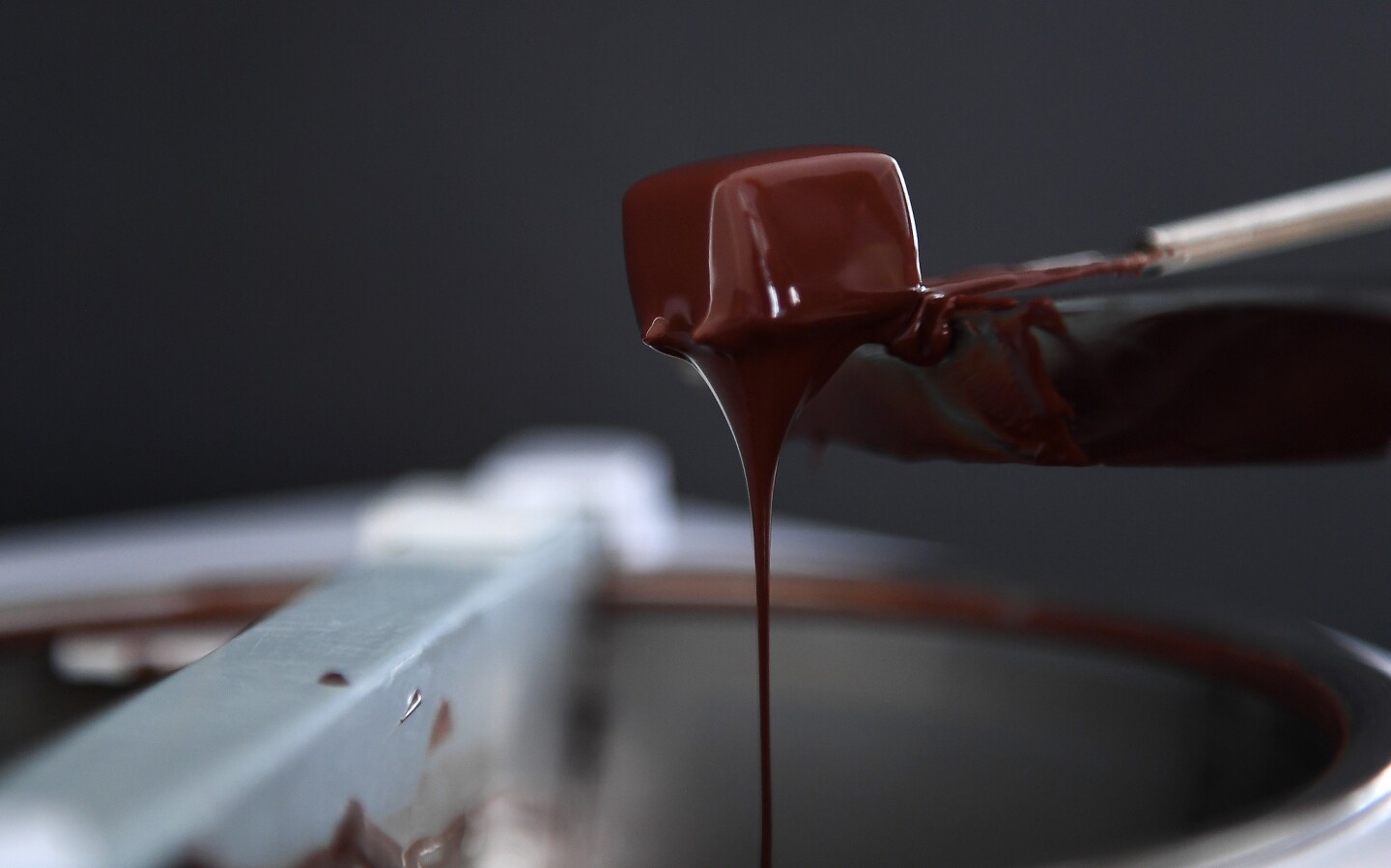 Caramels are dipped into chocolate.
(Christina House / For The Times)
Salt is applied to chocolates.
(Christina House / For The Times)
Vanessa Lavorato, founder of Marigold Sweets, is a chocolatier who makes fleur de sel caramels and vegan matcha coconut caramels in her kitchen at home in Mount Washington.
(Christina House / For The Times )
Fleur de sel caramels, left, and vegan matcha coconut caramelsby Vanessa Lavorato of Marigold Sweets.
(Christina House / For The Times)
Chocolatier Vanessa Lavorato is the founder of Marigold Sweets.
(Christina House / For The Times)
The first time cannabis chocolatier Vanessa Lavorato tried a marijuana-infused edible, it was on 4/20, the national cannabis-culture holiday, and she was at a celebratory gathering in Santa Cruz. "I was really into baking pies at the time, so I made one with cannabis butter," she says. "I had no idea how many milligrams were in the pie, I just winged it. It turned out delicious; almost to a fault. I had a weed hangover."
Winging it is a thing of the past for Lavorato, 30, now a cannabis connoisseur with her own line of edibles called Marigold Sweets Confections. She prefers the term "cannabis" to "marijuana," and her free-form baking has evolved into a scientific process of micro-dosing candy with a honey-like concentrate called CO2 oil.
Of Italian American heritage, Lavorato learned to cook with her Calabrese grandmother, and she developed her taste for chocolate as a high school student working part-time for See's Candies. Her experiments with cannabis in chocolate began in 2010, while she was finishing up her studies at UC Berkeley. There she found the Slow Food movement — a roommate worked for Alice Waters — as well as an abundance of marijuana.
"You would walk down Telegraph Avenue and see people selling space cakes and different forms of edibles," she says. "I had all of this really amazing food and cannabis around me. So I thought, put them together and make cannabis gourmet." In 2013, Lavorato was accepted to the Rome Sustainable Food Project, which was founded in 2007 under the guidance of Alice Waters, at the American Academy in Rome. There, experience cooking in a commercial kitchen and planning menus helped prepare her to launch her company.
She came up with the idea for her fleur de sel caramels as an alternative to edibles in the form of perishable baked goods. "I can't eat an edible quickly," she says. "Chocolate has an amazing shelf life and everyone loves it, so I decided to teach myself how to make candy."
The language and science of the drug has come a long way since Lavorato's days in Berkeley. Producers can isolate different chemical compounds to highlight a plant's flavor profile, and places like Cornerstone Collective in Eagle Rock, a research-based cannabis collective, refer to flower "varietals" instead of "strains." And Marigold Sweets, with an aphrodisiacal website that references Alice B. Toklas' famous recipe for hashish fudge and includes an image of a woman enjoying chocolates and mulberries in a bubble bath, is identified as a "cannabis confisserie."
Lavorato is very conscious of the complex history of the industry. She openly discusses the politics of legalization, frequently attends Los Angeles City Council meetings, and makes an effort to support female growers in a male-dominated field where "it's rare to find a woman with her hands on the plant."
A $36 package of Marigold Sweets, a square black box, embossed with a gold floral emblem, feels and looks more like an elegant gift of jewelry than a four-pack of chocolates. Beneath the lid, a layer of black tissue conceals a square of gold paper — think Wonka's golden ticket — which you lift to find four handsome organic chocolates, caramels dusted with thick flakes of sea salt or latticed peanut crèmes with a nut center. A single chocolate contains 25 milligrams of cannabis — Lavorato also makes 15-milligram cinnamon toffee — and dosage must be carefully considered. "You can always eat more," her website cautions, "but never less."
Lavorato herself is "very sensitive" and prefers small amounts of cannabis. "One of my favorite things to do is eat 5 milligrams of chocolate and go to yoga," she says. "I feel relaxed and I know that the peak isn't going to be too much to handle. If I have 15 milligrams, I'm still OK, but it's not quite as leisurely, it's more of a commitment." There's no formula to calculate how much an individual should consume, she says, which means you have to take it slow to figure out your ideal dose.
Marigold Sweets are sold at Cornerstone Collective, and Lavorato hopes that the recent success of Proposition 64 will allow her to expand her reach soon. For years, she's been waiting for the opportunity to be compliant with the city, and looks forward to eventually having her own commercial kitchen and a full product line — "so that I can employ and be able to affect my community, creating jobs, paying taxes, and donating to charities," she says. But how and when she'll be able to grow depends on the city's rules for permits, packaging and distribution moving forward. If Los Angeles doesn't end up providing opportunities to small businesses like hers, "that's fine, that's the city's choice. I'll go to another city," says Lavorato.
"Have you seen the movie 'Chocolat'? You know how she travels around and every town she's in, she makes chocolate? That's kind of like me."
---
Get our weekly Tasting Notes newsletter for reviews, news and more.
You may occasionally receive promotional content from the Los Angeles Times.