The story behind Burgers Never Say Die (the burger pop-up with the 2-hour wait) and its new Silver Lake restaurant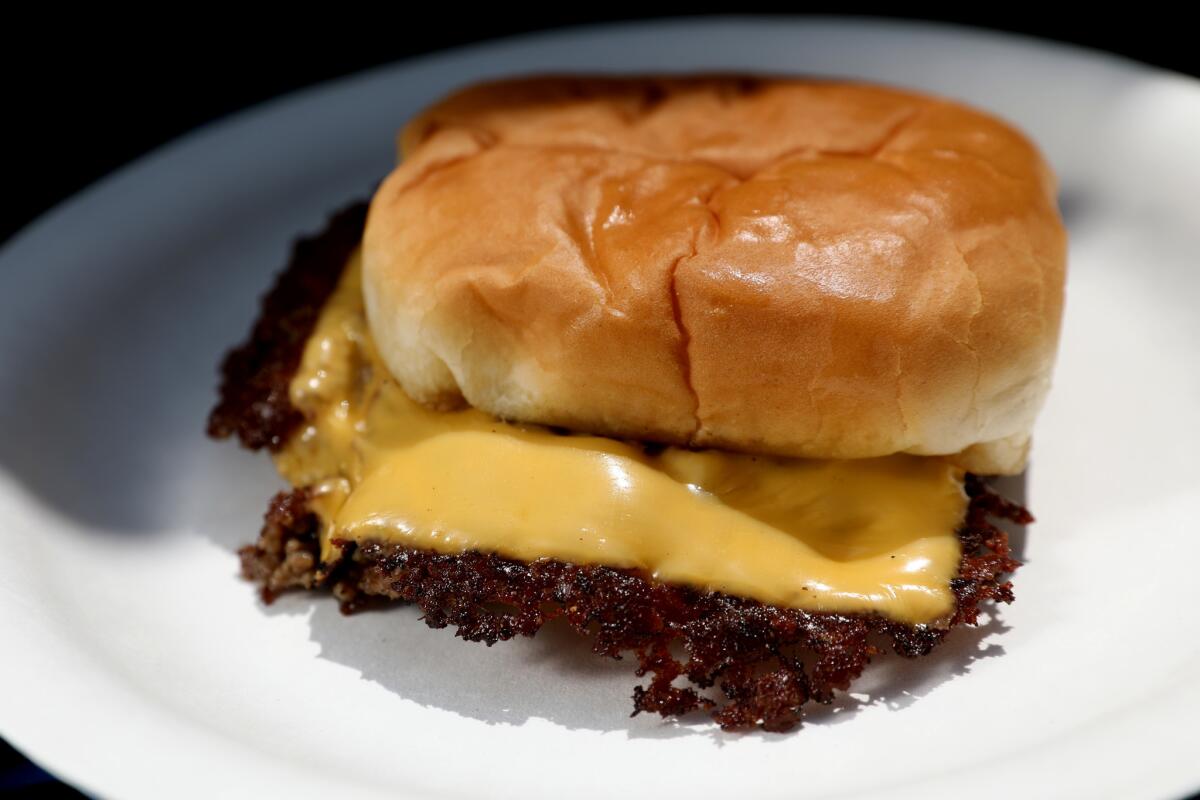 Is this what a McDonald's double cheeseburger was meant to taste like?
That thought invariably comes to mind when you bite into one of Shawn Nee's double cheese smash burgers. The only thing Nee says he knows how to make, the burgers have prompted two-hour-long lines at his Hollywood backyard pop-up, Burgers Never Say Die. They've become so popular that this fall, Nee will open his first bricks-and-mortar on Glendale Boulevard in Silver Lake.

For the record:
10:30 a.m. Sept. 6, 2018This story incorrectly stated that Nee was a vegetarian. He didn't eat red meat for a long period of time.
Nee is sitting at Silverlake Coffee on a recent afternoon, contemplating the runaway success of his burger pop-up.
"I don't believe anybody when they tell me they like the burgers," he says with a shake of his head. "I'm not a cook."
While he may not be professionally trained, Nee, who has a union job working on the television game show "Let's Make a Deal," makes some of the most-coveted smash burgers in Los Angeles. When he and his $7 double cheeseburgers pop up on the side of his East Hollywood home, or at a bar or restaurant, it creates a frenzy among his 13,000 Instagram followers. The burgers often sell out within an hour.
At first glance though, Nee's double cheese smash burger looks, well, pretty unremarkable. It is served on a paper plate, usually pressed up against one side. There may be a little pickle juice strewn across and a smudge of ketchup.
But Nee's burger tastes like the first day of summer, of backyard barbecues and neighborhood swim parties. There's an inherent nostalgia in its simplicity that's comforting on the deepest of levels.
"I don't believe anybody when they tell me they like the burgers.
— Shawn Nee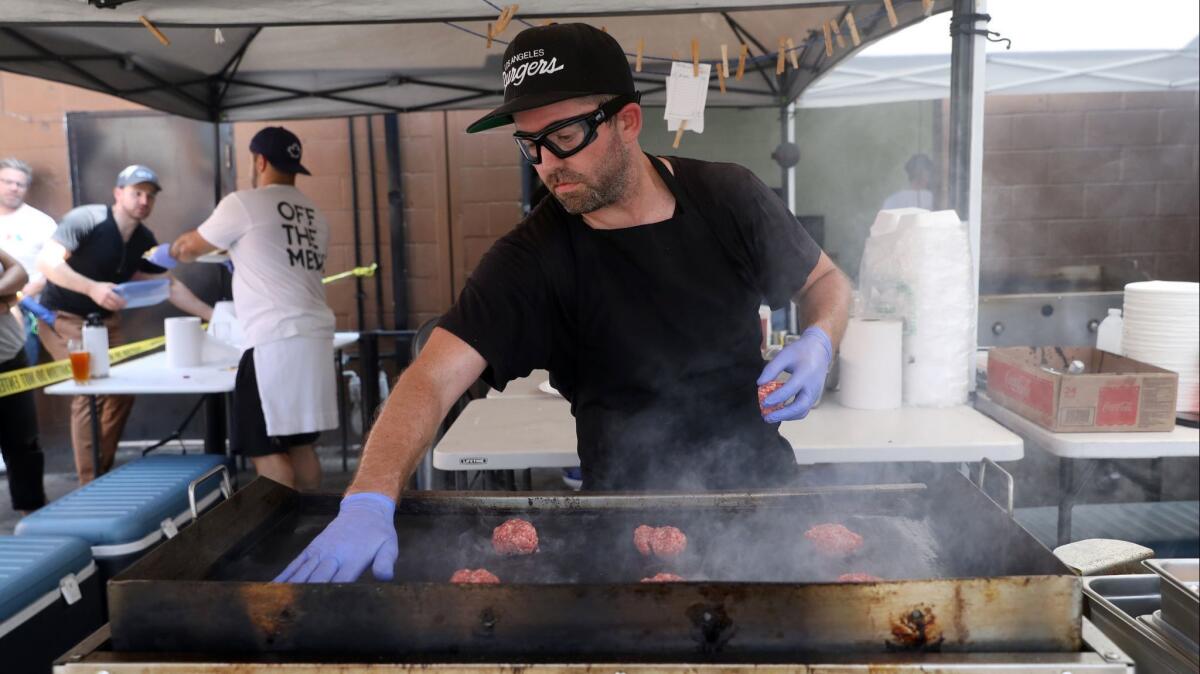 The patties are smashed into near oblivion, with two ultra thin layers of beef that caramelize and crisp up around the edges. A friend smartly dubbed the jagged edges "meat lace." The cheese is American, which means it turns into goo and melts in a way only American cheese can. The bun, of the grocery store, squishy variety, molds to the meat, soaking up just enough grease to make it perfectly pliable. And it is dressed simply with sour pickles, minced white onion and a squirt each of ketchup and mustard.
A day later, a week later, a month later, it is that lopsided double cheeseburger you will use to measure every other burger going forward.
While the burger may seem simple, it took Nee more than a couple of years to perfect, and he's still tinkering with it.
"I basically read just one article about smash burgers and then I just started," says Nee, who has gone through dozens of versions of smashers, buns, cheese, meat-to-fat ratios and sizes of diced onion before deciding on the current iteration of the burger. And he has someone who runs a steel company specially make his smashers, which look like bent pieces of metal with a handle attached.
When he started his pop-up in his home a little more than a year ago, he was simply trying to make burgers for friends and family. He and his wife, Julie, got the idea while driving around Los Angeles eating burgers, one of their favorite ways to spend the weekend.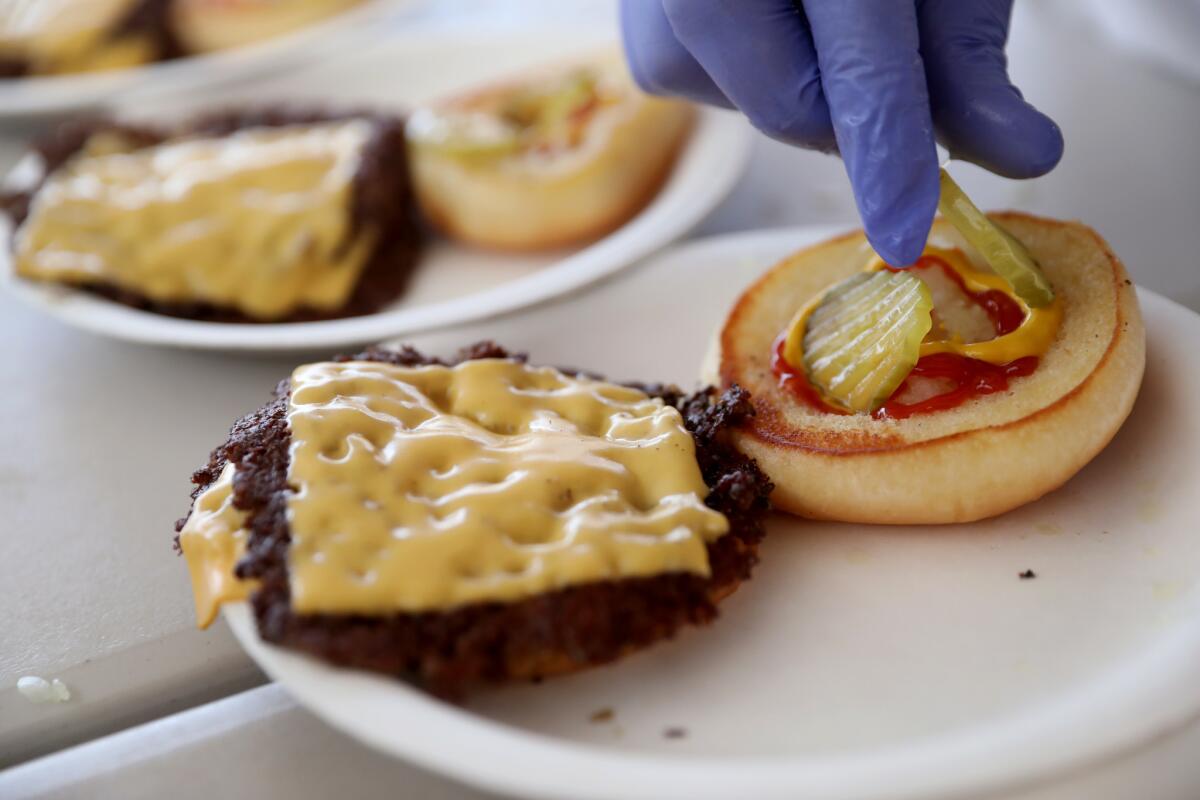 As more people started to show up, he enlisted the help of his babysitter and a couple more friends to help out. Eventually, Nee, Bonnie Amos, Gary Winterboer and Brad Stemke formed the Burgers Never Say Die crew. The quirky bunch dressed up in burger hats and socks and wore pins with characters from the Netflix show "Stranger Things" to cook burgers on Sundays at Nee's house.
"When I hit 50 followers on Instagram, I thought it was the biggest deal ever," says Nee.
While there's a definite '80s theme that coincides with Burgers Never Say Die (there are Battle Ship and Connect Four games on the pop-up tables), Nee says the name isn't actually a nod to the "goonies never say die" line in the 1985 movie "The Goonies."
"I was watching 'Lord of the Rings' and I thought wouldn't it be so cool to do a T-shirt with a wizard and this beam coming out of it and under it says 'Wizards never say die?' " says Nee. "I thought I'm just going to call it Burgers Never Say Die. Many people were, like, you can't do that. I tend not to listen to people for the most part."
When Nee recently popped up at Glendale Tap bar, the last pop-up before opening his restaurant, the line stretched down the block.
"I don't wait in line for much," said 35-year-old Ryan McGuire. The former cook said he learned about the pop-up from Instagram. "I hate lines, but it's the fact that it could be something amazing and intriguing."
Nee seems genuinely surprised by the crowds that form. The 42-year-old moved to Los Angeles from Boston 20 years ago to work in film and television, was a self-taught photographer, and didn't eat red meat for a time.
"It's one of those stories where it like takes you half your life to figure out what you're supposed to do," says Nee.
The bricks-and-mortar Burgers Never Say Die will serve a double burger, single burger and a grilled cheese (but Nee says it will be called something else), fries and soda. At least one off-the-menu item that was available at the backyard pop-ups will also be available. And he's working on three more menu items he's not yet ready to reveal.
"I'm bringing the backyard into the kitchen," says Nee, whose space is outfitted with three griddles, a six-basket fryer and a machine so he can grind his own meat throughout the day.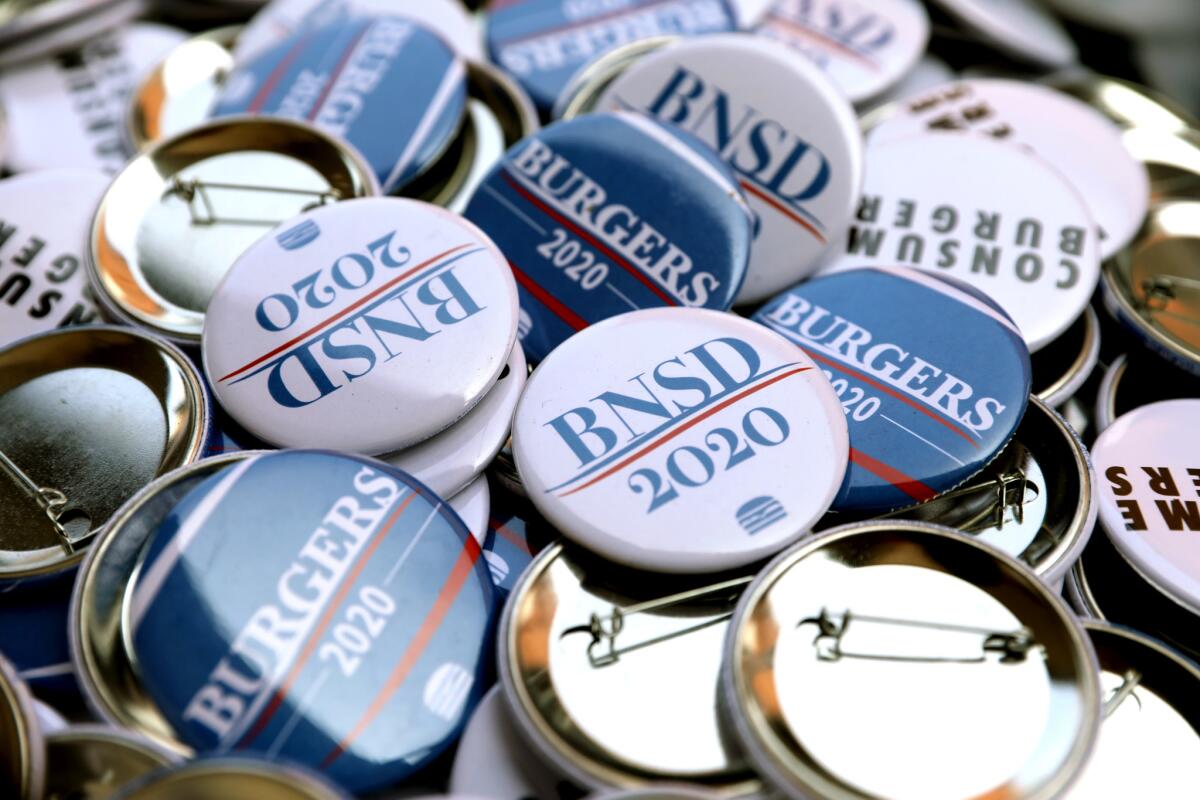 The building features a mural of his burger crew, pixelated like '80s video game characters on the side of the building, by the artist the Wolf Council. And while this may be the first Burgers Never Say Die bricks-and-mortar and Nee's first foray into the restaurant business, there are loose plans for more in the future.
"This is location one, and it will evolve like everything else," says Nee. "It's just weird to think that it's become what it is. It's humbling."
2388 Glendale Blvd., Los Angeles, www.burgersneversaydie.com.
Instagram: @Jenn_Harris_
Get our weekly Tasting Notes newsletter for reviews, news and more.
You may occasionally receive promotional content from the Los Angeles Times.