Where to celebrate Nowruz, the Persian and Zoroastrian New Year celebration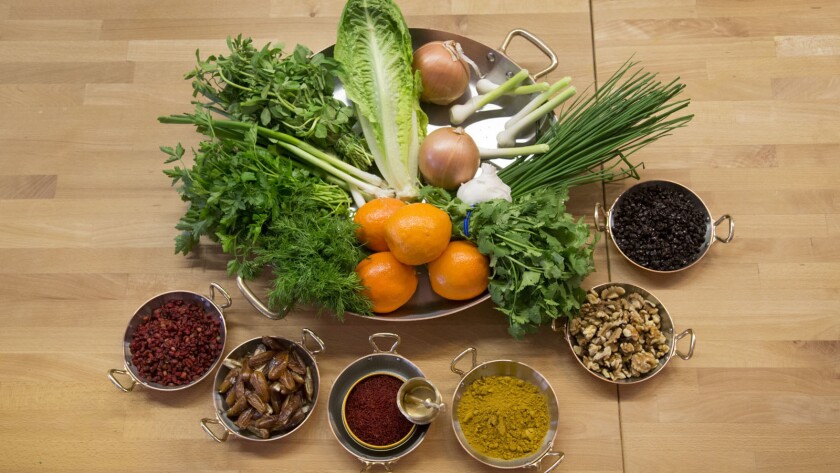 For Iranians, Nowruz (also spelled Nerwoz or Noroz) is a 13-day celebration of the new year. The word translates as "new day" in Farsi, and the festivities begin when spring starts. This year, Nowruz begins on March 21. The holiday is also considered a holy time for Zorastrians, Kurds, Tajiks, Afghans and other cultures. If you're looking to celebrate around Los Angeles, here are a couple of options:
Spring
When chef Tony Esnault of Spring in downtown L.A. teamed with his mother-in-law, Shamsi Katebi, for a special Nowruz dinner last spring, Times restaurant critic Jonathan Gold wrote it was "one of the best meals" he had experienced in 2017. Esnault is once again welcoming Katebi into his kitchen for a two-night Nowruz event on March 23 and 24. The five-course prix-fixe menu starts with kuku sabzi, a labor-intensive dish that involves a garden's worth of fresh herbs, eggs, walnuts and barberries. It's served with sangak bread and Katebi's own yogurt. Next is sabzi polo ba mahi, a duo of smoked and pan-seared white fish with house-made pickles. The fish is followed by reshteh polo ba mahiché, slow-braised lamb shank with basmati rice, toasted wheat noodles, dates and raisins. For dessert, faloodeh va bastani, rose water and lime noodle sorbet with rose ice cream, and a shirini tea course of samovar-brewed black tea with baklava, marzipan and a cookie.
Dinner is $95, with an optional wine pairing for an additional $38. There will be a live performance by an Iranian classical trio as well. Reservations are recommended. 257 S. Spring St., Los Angeles, (213) 372-5189, springlosangeles.com.
Farhang Nowruz festivals
If a large event is more your speed, there's the 10th annual Farhang Foundation Nowruz Festival at UCLA on March 11. The nonprofit foundation works to celebrate and promote Iranian art and culture.
The day-long celebration starts at Royce Hall and Dickson Court at noon and includes a parade with colorful costumes, a performance by the Djanbazian Dance Company, a haft sin display (the traditional table full of different items that represent things such as love, health, evolution and fertility) and an Iranian tea house. Admission to the outdoor activities is free, and tickets can be purchased for the different performances. 10745 Dickson Court, Los Angeles, farhang.org.
The foundation is also hosting a Nowruz festival in Irvine on March 24 at the UCI Claire Trevor School of the Arts. The event will include a Persian tea ceremony, dance and musical performances and a haft sin display. The festivities start at noon. Admission to some of the events is free. Tickets are required for some of the performances. 4002 Mesa Road, Irvine, farhang.org/events/nowruz/annual-celebration-of-nowruz-in-orange-county-march-25.
---
Get our new Cooking newsletter.
You may occasionally receive promotional content from the Los Angeles Times.