How one Northern California winemaker is coping with the catastrophic wildfires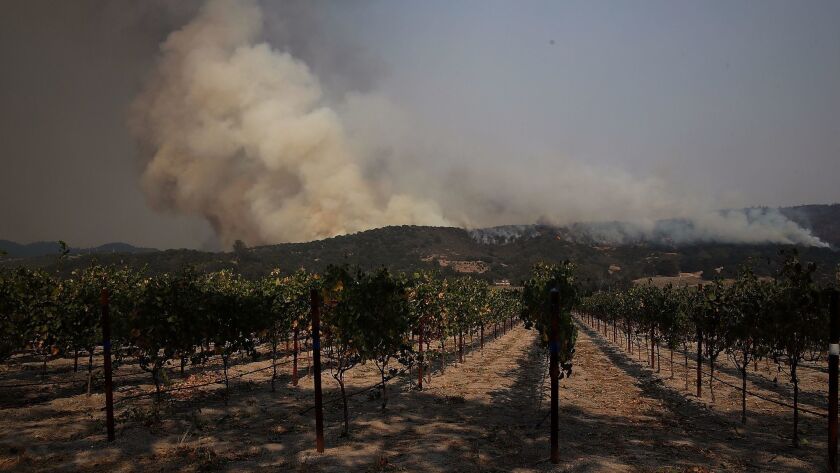 Reporting from San Francisco —
On Tuesday, with devastation all around him, and without knowing what else to do, Siduri Winery's Adam Lee walked 2½ miles to his winery in Santa Rosa.
Lee walked through the Coffey Lane neighborhood. What he saw stunned him. Where once there had been houses, now lay smoldering piles of rubble and ash, skeletons of cars and charred trees. Nearby, a Hilton Hotel, the historic Round Barn, the Fountaingrove Inn and several shops lay in ruins.
"I don't know what a nuclear zone looks like, Lee said, "but this looked like the devastation after a nuclear bomb strike."
Across the North Coast of California, vineyards and wineries were burning, 15 lives had been lost, with many fires still raging out of control.
Hundreds of wineries have been affected, as have their staffs, vineyard workers, office and maintenance crews and tasting room teams. Thousands of wine industry professionals, from winemakers to executives, importers, logistics workers, suppliers and pickers, have lost homes and workplaces. Wineries and vineyards in Calistoga, Stags Leap, Atlas Peak, Coombsville, Sonoma Valley, Bennett Valley and as far away as Mendocino have been affected.
Signorello Estate, White Rock, Stags Leap, Paradise Ridge and Gundlach Bundschu wineries all have suffered catastrophic damage, according to reports. One of the most alarming images of the last few days was of the roofless stone walls of Signorello Winery, on the Silverado Trail, containing an inferno.
By some fluke, Siduri Winery, in an industrial park west of Highway 101, was spared. On Tuesday, Lee, assistant winemaker Ryan Zepaltas and cellarmaster Luke Henderson were assessing the situation.
Wineries that have been spared will do what they can to pull together what's left of the harvest sequence. Most of them will do so without the use of power. It will be a time of triage, improvisation and cutting of corners, as they try to salvage their growing season.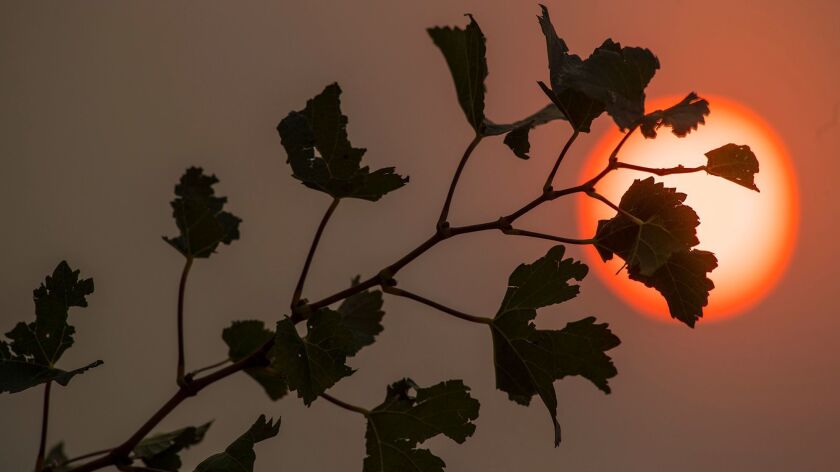 The harvest was nearly complete. But on Sunday, the fires moved into the area so quickly that several scheduled picks in Sonoma and Napa, many of which occur at night, had to be called off for workers' safety.
For Siduri, it had been a quick harvest and, for Lee, whose winery is largely devoted to the early ripening Pinot Noir, most of his fruit was already in, fermented and pressed off. His wines now reposed in barrels, well out of harm's way.
But because Siduri draws fruit from all over the state, there were still tanks from late-ripening sites that hadn't finished fermentation — and the winery had no power.
That's a huge concern for a modern winery, which relies heavily on temperature-controlled tanks and storage vessels, as well as a host of monitoring devices to keep tabs on the progress of fermentation. Lee's first priority was to cool down those tanks. So he and his team wrapped and packed the vessels with dry ice. The ice will not only slow fermentation but it will also buy him time.
The next issue, says Lee, was to determine how far along fermentation was. "We could look back to our data," he says, "and see where these fermentations were a few days ago. But we really don't have any means of measuring sugar or temperature right now. It might be ready to press off, but we can't press it."
So once the team assesses the readiness of the juice — not an easy feat without electronic instruments — they'll devise a system to drain the tanks. "We're working out a plan," says Lee, "so that at the very least, if the wine's ready, we should be able lift the bins with a forklift and let them drain by gravity. We won't get nearly as much juice, but it will be very good."
As he says this, Lee seems to catch himself. "When you have to walk through a neighborhood where people died," he says, "it doesn't feel all that important."
ALSO:
Fires strike a blow to the wine industry in Sonoma and Napa counties
Destructive fire turns suburban tracts into burned-out wasteland in Santa Rosa
Death toll climbs to 15, missing person reports soar as Northern California fires continue to rage
---
UPDATES:
1:33 p.m.: This article was changed to update the number of deaths.
This article was originally published at 1:20 p.m.
---
Get our weekly Tasting Notes newsletter for reviews, news and more.
You may occasionally receive promotional content from the Los Angeles Times.