Why blending wine is one of the fastest growing trends in the industry
For better or worse, and in some cases both, American wine drinkers are in thrall with the Blend. The wines, composed of three, four, five or more unidentified and often disparate red varieties, emblazoned with flashy names and at times lurid identity systems, represent one of the fastest-growing segments in the country.
The trend has big wine companies scrambling to capitalize on demand. The Prisoner brand, a Napa Valley blend conceived in 2000 by a young winemaker named Dave Phinney, has been sold twice in the last seven years, most recently to the world's second-largest wine company, Constellation. And one year ago Phinney sold his own label, Orin Swift (from which the Prisoner had been freed, so to speak, in 2009) to the world's largest wine company, Gallo.
For the big wine companies, with their vast vineyard holdings and surplus juice, the trend has been downright liberating. Tied neither to variety nor place, the wines can be made from anything, come from anywhere, and consumers no longer seem to care about what they don't know.
In their marketing too, wineries have been liberated: A blend's anonymity grants them permission to use whatever identity system a company wants, though the Prisoner, with its dark imagery and mysterious contents — the label reproduces a shadowy prison etching by Goya — has inspired more than a dozen edgy, discomfiting copy-cat brands, with names such as the Banished, the Pessimist, the Troublemaker, Freak Show, Beast, Vicious, Eruption, Ravage and Apothic — all of which seem more at home on a library shelf of French existentialism than nestled in a wine rack.
But make no mistake: What's in the bottle is utterly angst-free. To a bottle, the wines project lush artificial cherry flavors, bits of vanillin and oak, soft tannins — and usually a palpable level of residual sugar, serving to mask whatever flaws may lie within.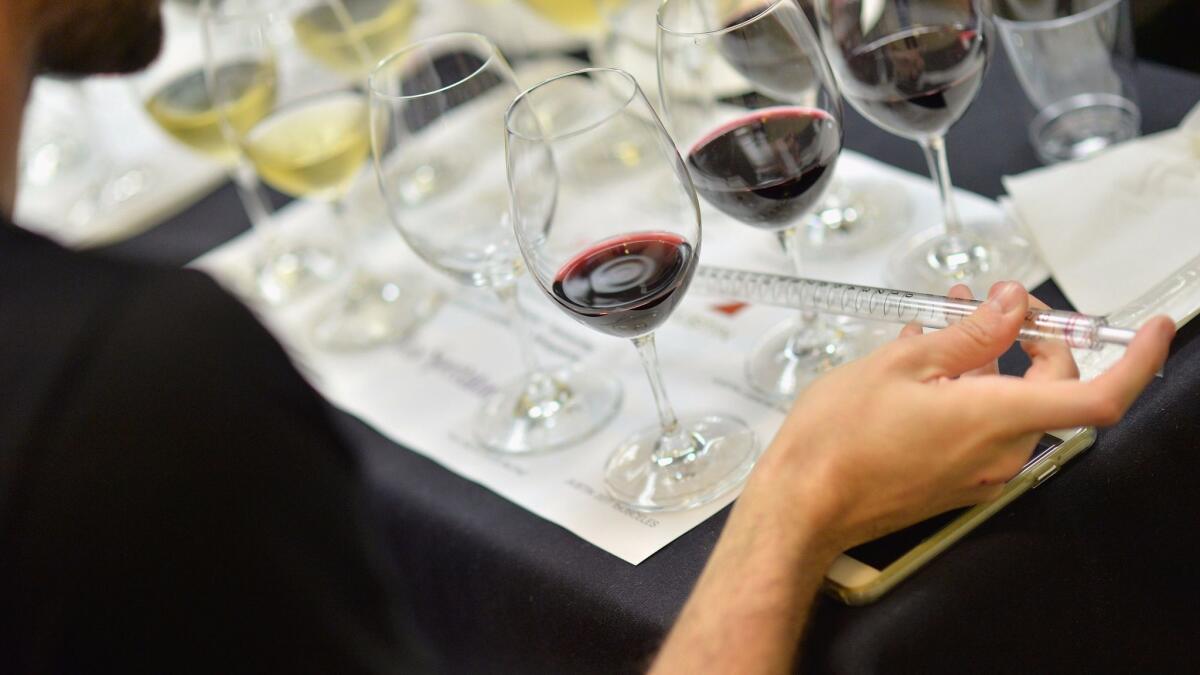 Some wineries — among them Apothic and Menage a Trois — sell multiple versions, based less on the bottle's contents than on a mood, with subheadings such as Dark, Velvet, Midnight and Silky. Much like flavored vodka, they're built to broaden an already broad target. And also like flavored vodka, the wines manage to taste both confected and concocted, built in a lab rather than made in a vineyard. It has some questioning just what is the purpose of a blend at all.
Blends, of course, aren't new. They're part of a global viticultural tradition, forged in the cellars of Chianti, Rioja, Porto, Bordeaux, Champagne; all across the southern Rhône, and even the U.S. and Australia. Such traditions arose from the simple need to compose the best wine a vintage would allow.
If in a warm vintage, for instance, your Grenache came in too ripe, you could leaven that exuberance with a little Mourvedre, or add some depth with Syrah, acidity with Counoise, and so on. You could correct flaws, restore balance and otherwise improve upon nature (or human error) by blending.
In the '80s, Cabernet-based blends debuted with their aspirational, upmarket name brands: Dominus, Insignia, Opus One. American Rhône producers took a more prosaic approach, as those varieties became popular and producers experimented with blends, informed by French tradition and practice.
Randall Grahm of Bonny Doon was the first to introduce an American Rhône blend with Cigare Volant in 1984, a Chateauneuf-du-Pape-inspired knockoff composed mostly of Grenache, Syrah and Mourvedre. Many others have followed in his footsteps, from Tablas Creek, whose partners, the Perrin family, are from Chateauneuf, to Seth Kunin's blend Pape Star.
Steve Edmunds of Edmunds St. John Wines also took the Rhône Valley as his model for his blend Rocks and Gravel. For Edmunds and others, the act of blending is partly the pursuit of a platonic ideal, one which Grahm describes as "seamlessness" and Edmunds describes as a kind of next-level finesse that a single component might not achieve on its own. "The goal is to make the wine more precise," says Edmunds, "The role players elevate the base, make it more expressive."
Morgan Twain Peterson of Bedrock Vineyards makes several distinctive blends, most of them built off vineyards he owns or manages (such as Bedrock, his home vineyard), all of them a century old or older and planted to multiple varieties — Zinfandel, Petite Sirah, Carignane, Alicante Bouschet, and about half a dozen others. These he'll harvest and vinify together, making field blends that are, to his mind, as distinctive as a fingerprint.
"No matter what goes into the wine," says Twain Peterson, "it smells and tastes like Bedrock first and foremost. The signature of the vineyard is always there."
Phinney says that the Prisoner started out as an homage to the field blend. But when a tank of Napa Valley Zinfandel finished fermentation with a surfeit of unprocessed sugar, he decided to blend it into something workable. The modest mistake went on to become an industry standard; that initial 285-case production is now pushing 200,000 annually.
The Prisoner is no longer Phinney's, and neither, technically, is Orin Swift, but he'll still be making wines for the latter brand and the wines will, by and large, adhere to the same principle.
"At its core, the blends ethos is designed to make the best possible wine," says Phinney. "We get to keep blending until we think we have best we can make." Gallo's vineyard resources, behind him, he feels, will only make the brand even better. "If we're not making appreciably better wine in the next 24 months," he says, "we should quit."
ALSO:
Meet Helen Johannesen, the wine director behind five hot L.A. restaurants
Why one L.A. wine expert has Georgia on his mind. The country, that is
California's vineyards are coming back from the brink of disaster thanks to the winter rains
Get our L.A. Goes Out newsletter, with the week's best events, to help you explore and experience our city.
You may occasionally receive promotional content from the Los Angeles Times.