Review: Grand Harbor caters to seafood tastes in the $10 to $10,000 range
Fresh lobster congee at Grand Harbor in Temple City.
(Liz O. Baylen / Los Angeles Times)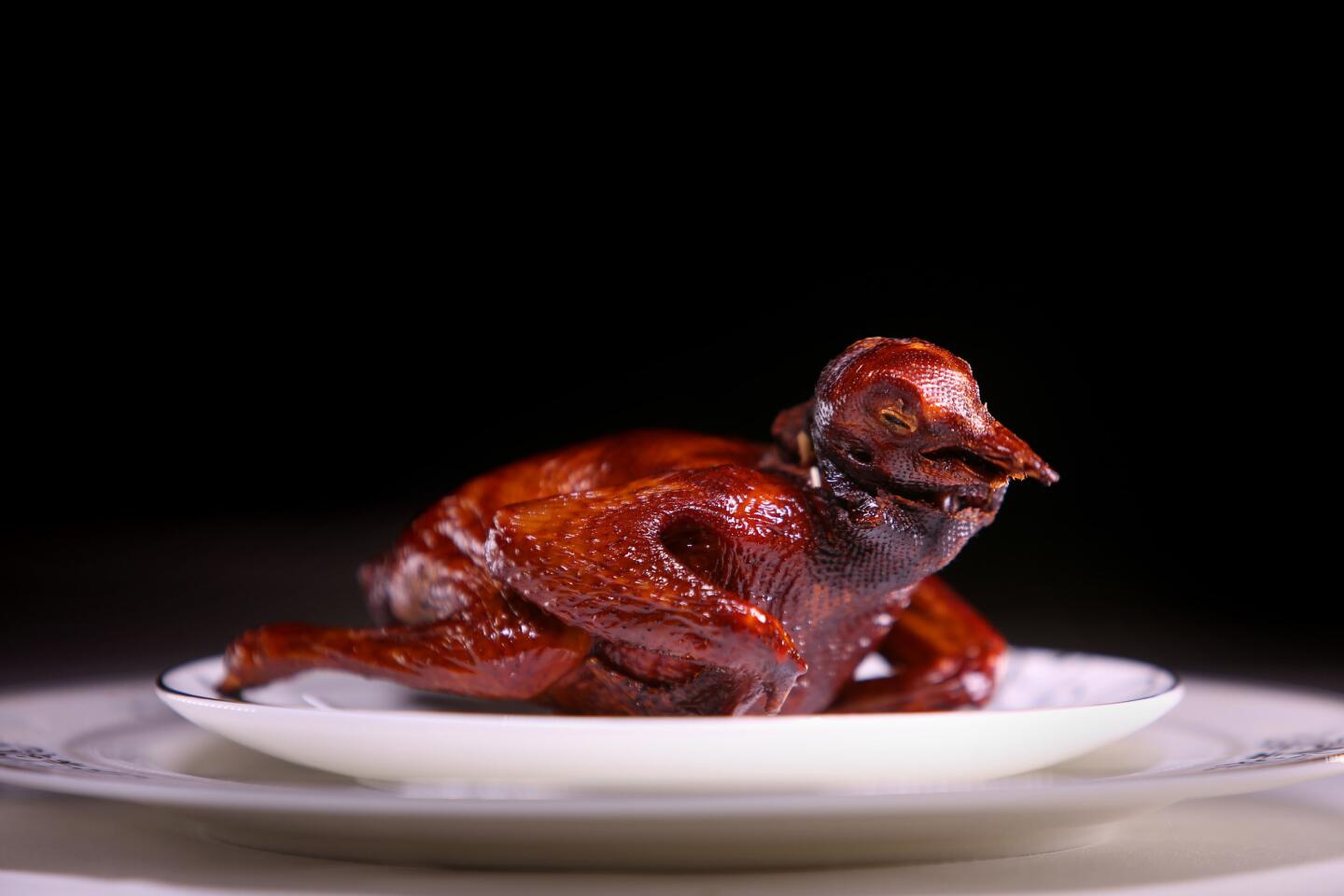 The deep-fried tender squab.
(Liz O. Baylen / Los Angeles Times)
Huge chandeliers and an elaborate mirrored ceiling greet diners at Grand Harbor, Jackie Zhou's new Hong Kong-style seafood restaurant in Temple City.
(Liz O. Baylen / Los Angeles Times)
The signature pineapple buns dish.
(Liz O. Baylen / Los Angeles Times)
Dark chicken in herbal soup.
(Liz O. Baylen / Los Angeles Times)
One of the restaurant's dining rooms.
(Liz O. Baylen / Los Angeles Times)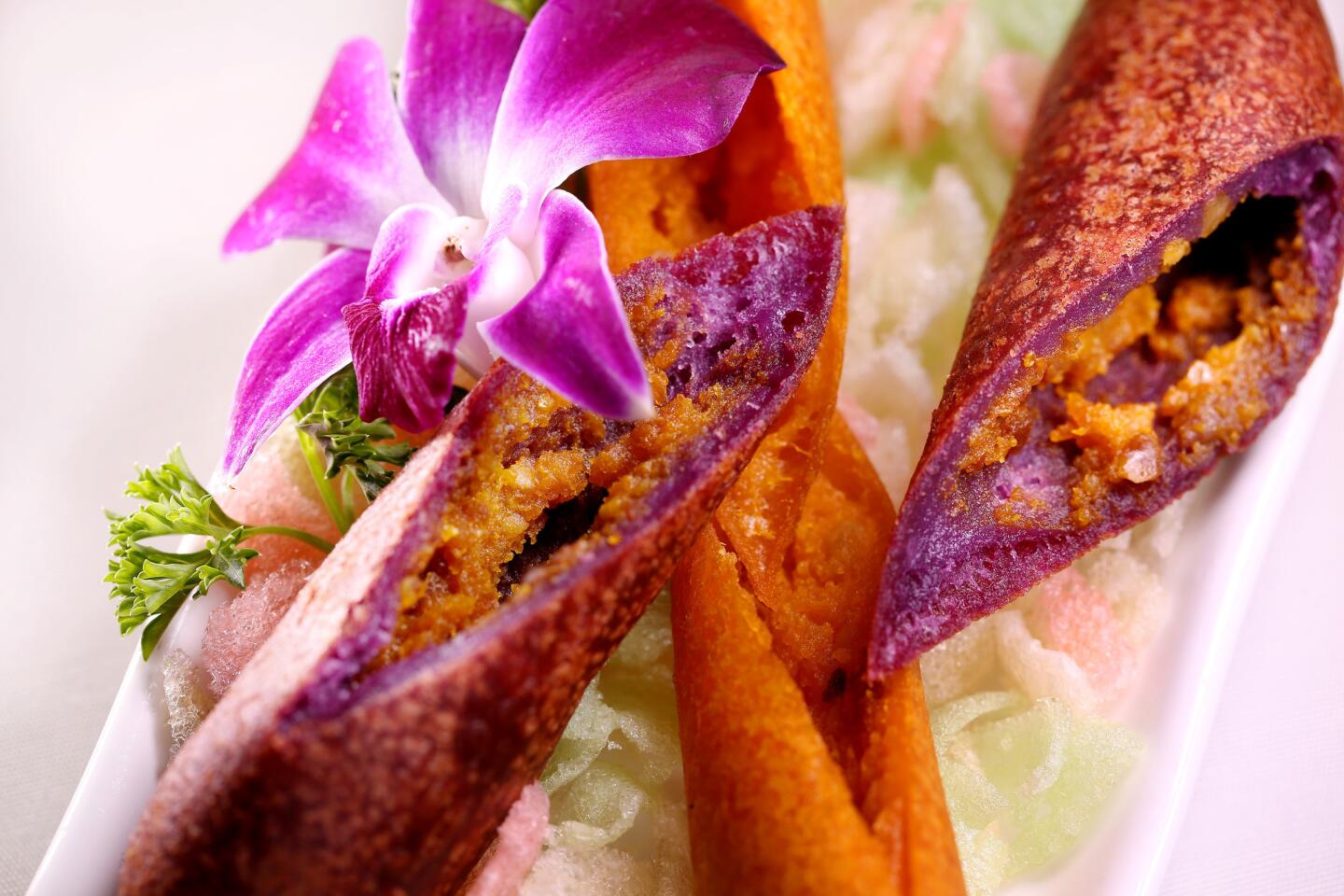 Yam rolls.
(Liz O. Baylen / Los Angeles Times)
Fried egg tart balls from Grand Harbor in Temple City.
(Liz O. Baylen / Los Angeles Times)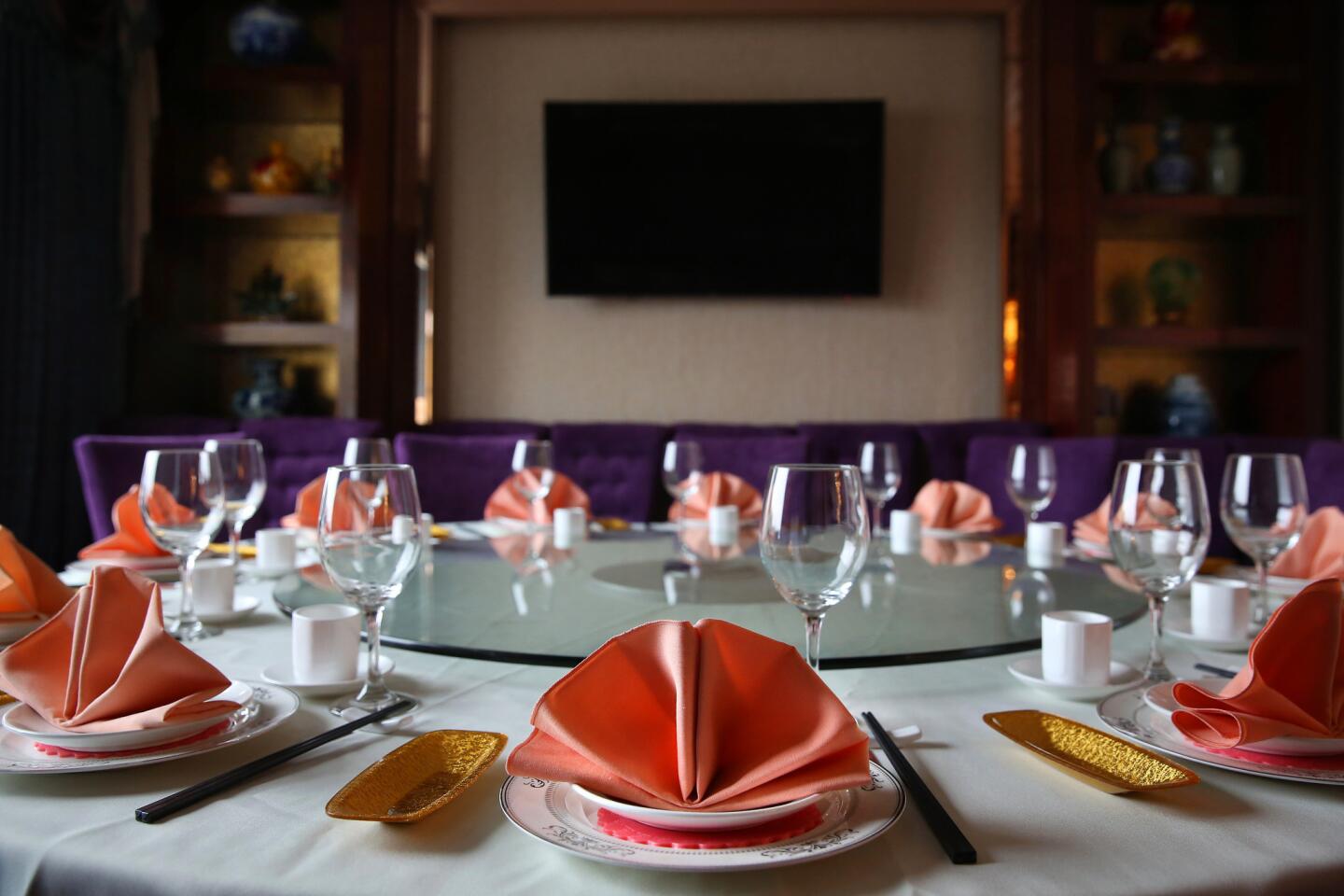 A table setting at Grand Harbor.
(Liz O. Baylen / Los Angeles Times)
Shrimp and sticky rice on lotus leaf.
(Liz O. Baylen / Los Angeles Times)
A look at the Grand Harbor menu.
(Liz O. Baylen / Los Angeles Times)
Grand Harbor's takeout restaurant, BBQ to Go, is located nearby in Temple City.
(Liz O. Baylen / Los Angeles Times)
Los Angeles Times Restaurant critic
The first thing you should probably know about Grand Harbor is that its top-tier tasting menu costs $9,388, which is a pretty good price for a used Sentra but an awful lot of money for a meal for 10. You aren't going to get that particular dinner — there is a perfectly opulent banquet menu for $418 — but its existence is a statement of purpose, an inference that a meal there might be worth that kind of money, as well as a hint that you may be out of your league.
Grand Harbor is the new Hong Kong-style seafood palace from Jackie Zhou, who also runs Happy Harbor in Rowland Heights and the even more extravagant J Zhou Oriental Cuisine in Tustin. Zhou is a protégé of Yeung Koon Yat, a famous Hong Kong chef sometimes known as the Abalone King for his prowess in braising the expensive sun-dried whole shellfish.

For the record:
12:06 a.m. Oct. 1, 2023This review states that Grand Harbor is from Jackie Zhou. The restaurant is owned by Joe Liang.
"It's said that if a person eats abalone with fish maw to celebrate Chinese New Year, the reward is a house full of gold and silver," my wife, and then-Times food editor, Laurie Ochoa wrote in a 1995 profile of Yeung. "A person might need that reward to pay for sun-dried abalone." The premier abalone at Grand Harbor, whose picture decorates the menu, costs upward of $600 and requires a week's notice. If you should happen to taste one, let me know how it is.
SIGN UP for Jonathan Gold's Counter Intelligence dining newsletter >>
"No, not that one," a manager told me when I attempted to take an Instagram of an attractive fish in the live tank. "You want the one in that tank over there." He pointed to a gorgeous, pale fish speckled with blue dots like a late afternoon sky painted by Seurat. "From Australia. The taste…" His voice trailed off. "If you were going to have one fish, it could be the one."
So you are led to a table in the enormous restaurant, dominated by huge chandeliers and an elaborate mirrored ceiling like the ones you imagine you'd find in Macao casinos. You can hear bits of karaoke drifting from one of the banquet rooms and see spaniel-size lobsters disappear into another. You try to stifle your class resentment for a moment; unless you are actually from Hong Kong, the high-roller sea cucumbers, bird's nests and double-boiled hasma probably aren't your thing anyway.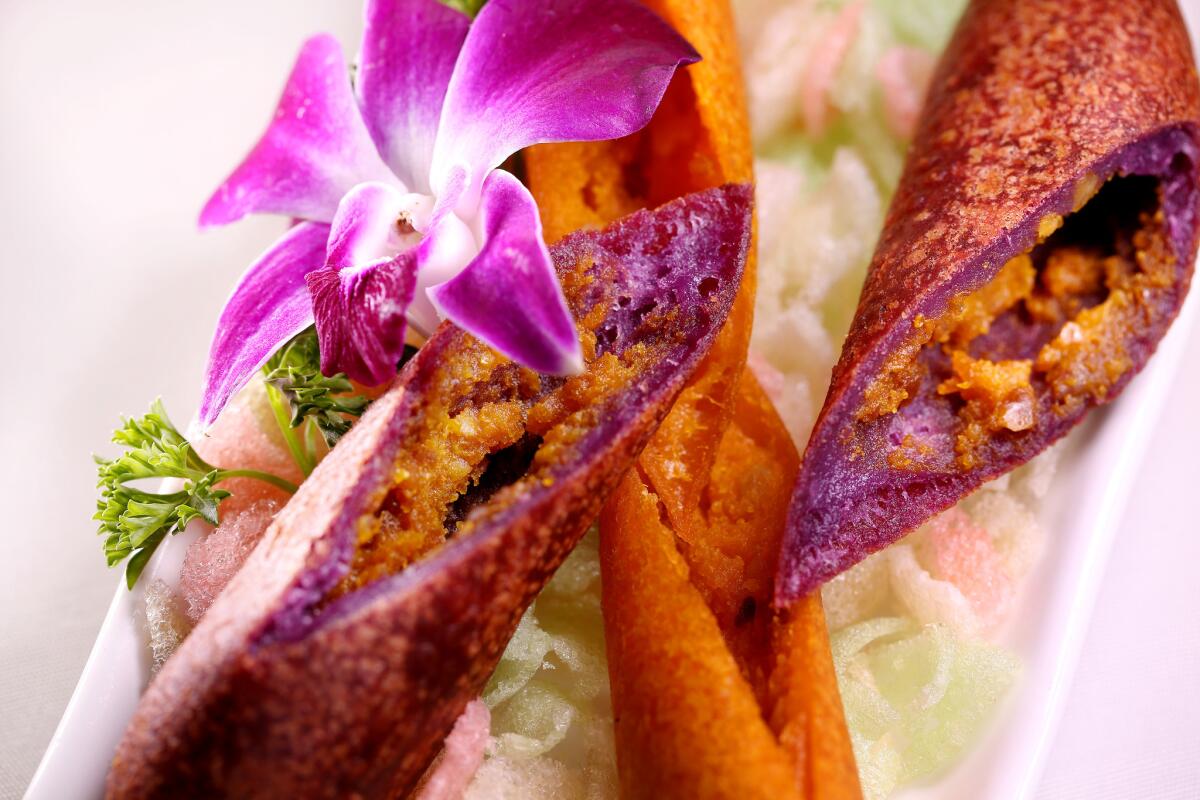 The menus come, and you are flabbergasted by choice — there is a family menu offering things like calamari fried with spicy salt, diced string beans stir-fried with bits of pork, and noodles sautéed with seaweed, which are fine as things go, although you may wish you were at a restaurant like Seafood Palace that really cares about this level of cooking. ("Famous Roasted Duck" is nicely marinated, but it may remind you of the tepid ducks that tend to make the rounds at dim sum.)
The next menu lists seasonal specialties at a somewhat higher price. You really do want the "signature roast pork entrée," which is a small plate of beautifully crisp roast suckling pig flanked by marinated slivers of cucumber and a crunchy heap of sliced jellyfish curls dressed with sesame oil. The squash stir-fried with celery and cashews is fresh and delicious; the eggplant cooked in a clay pot with crumbled pork and salty bits of dried fish is a little oily, but nice.
Then you get to the varsity menu: big, glossy photographs; a lot of missing prices; and half a dozen ways to have your crab prepared, all of which are good. So you take a leap — even if some dishes are expensive, they tend to feed a lot of people. Lobster and crab are often on special; on my last visit, a big crab lightly fried with sliced ginger and scallions ended up being less than $25, feeding eight. And somehow, you survive.
So there is a huge tureen of black-chicken soup flavored with ginseng and other herbs, consommé clarified and glistening, concentrated and pure. (You may be offered the whole chicken itself, intact from cockscomb to feet, and while it is a little beside the point, the soft flesh is tasty enough with a few drops of soy.) The chicken steamed in lotus leaves with Chinese sausage is wonderful, as is the shattering skin of the roast squab. You may get peapod leaves tossed with gingko nuts and chewy strips of dried tofu; poached Chinese greens with oyster sauce; or a rococo construction featuring bamboo pith. I really liked a dish of thin noodles pan-fried into a crunchy disk frosted with a bit of what tasted like thickened egg-drop soup and a handful of beef nuggets, and sliced into wedges as if it were a Chinese pizza.
Once I tried to order a bowl of geoduck, longnecked clam, cooked in congee, and the waiter was good enough to point out that the dish was made with a whole live animal, and that I was probably looking at a $150 bowl of porridge. Suddenly, the live lobster congee, on special at $10.50, started to look like a real bargain. It was delicious. And the steamed whole fish tends to be perfect, a just-gelled essence of itself, barely touched with soy and ginger. Even with a local thornyhead instead of the Australian beauty, you are living in a house of gold and silver.
As with most grand Hong Kong seafood restaurants, the dim sum served mornings, ticked off on checklists instead of ordered from carts, is excellent. If you are still yearning for abalone, Grand Harbor's steamed abalone dumplings, each topped with a whole baby abalone, are a fine, and economical, place to start.
::
Grand Harbor
A new Chinese restaurant in Temple City has a $9,388 tasting menu, but plenty of dishes for the rest of us.
LOCATION
5733 Rosemead Blvd., Temple City, (626) 280-2998.
PRICES
Dim sum $3.08-$7.99 (more for specialty items); dinner: $8.99 family menu; seasonal menu $9.90-$29.80; more — often much more — for live seafood and specialty dishes.
DETAILS
Dim sum, 10 a.m. to 3 p.m. Monday to Friday and 9 a.m. to 3 p.m. Saturday and Sunday; dinner nightly, 5 to 10 p.m. Credit cards accepted. No alcohol (for the moment).
RECOMMENDED DISHES
Baked pork bao with abalone sauce; fried chicken knees with spicy salt.
MORE JONATHAN GOLD:
Warm up with dizi at Nersses Vanak in Glendale
Andy Ricker's Pok Pok brings a genuine taste of Thailand to L.A.
At Viviane in the Avalon Hotel, Michael Hung's French cooking is clean and soft
Get our L.A. Goes Out newsletter, with the week's best events, to help you explore and experience our city.
You may occasionally receive promotional content from the Los Angeles Times.